3
minute read
We were talking T20 scorecards on Friday and this led to a discussion about whether the traditional form is actually fit for purpose. Our point was that in a T20 match, it's not just 'how many' and 'how quickly' – it's also about when runs are scored and when wickets are taken.
We were subsequently directed towards Mihir Vasavda on Twitter. Mihir writes for the Indian Express and they have apparently been presenting IPL matches rather differently. You can see a sample page here.
Of obvious relevance to our 'what happens when' line of thinking is the overs-runs graphic at the bottom, which presents an overview of runs and wickets in each innings over-by-over.

This, in our opinion, gives a better overview of the respective teams' performances, although it lacks the detail about which players contributed.
For that, it's back to the traditional scorecard, but even here there are a couple of innovations. For a start, the team totals are immediately followed by tallies of sixes, fours and dots, which gives you a feel for how each side went about its task.

There's also a chunk of editorial placed at the relevant chronological point within the scorecard proper.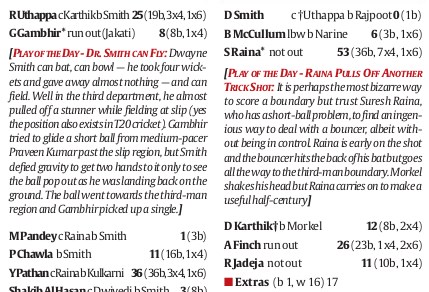 Other informative little segments in the same sidebar include one allowing you to compare performance across the three main phases of the innings…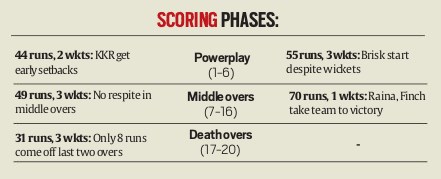 … a Zero/Hero section focusing on dot balls…

… and 'Swing Period' which seems to be about shorter phases of play where each side appeared to be taking the initiative.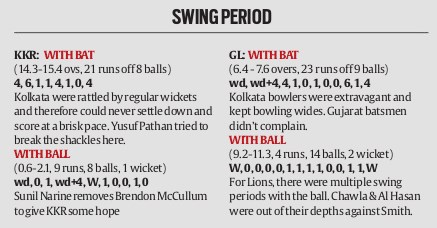 Now this is obviously all supplementary to a traditional scorecard, but it does tell the story of the match in a simple and intuitive way – which a traditional scorecard doesn't.
You don't have to read a full report, you can just quickly scan for key information and we're sure that the more familiar you become with this way of presenting the information, the more quickly you can pick up the key details.
Hat tips to Marees and Whistling Dogs for steering us towards Mihir and more of a bow to the Indian Express's Daksh Panwar who is apparently responsible for coming up with much of this.
We're sure other newspapers have their own great ways of presenting and elaborating on T20 scorecards, but this struck as being a particularly good example worth sharing.