12
minute read
The 2019 IPL is getting underway. It is the 12th edition. Last year we took a look at whether the IPL deserved it reputation. This is that article.
Back in 2008 the IPL was a bombastic upstart that threw huge sums of money at all the big name players. Now it is a bombastic-yet-fairly-well-established competition and it only throws huge sums of money at some of the big name players, but also at a few players who you don't really know all that well.
Things have changed but things also haven't changed. Either way, it's a good time to take a look at the IPL's reputation to judge whether or not it's deserved.
One of the challenges of attempting to do that is that it's quite hard to pin down the IPL's reputation. The tournament is vast and sprawling and different people have very, very different opinions on it.
We took the not-at-all scientific approach of asking a bunch of people who happened to be on Twitter on a Saturday afternoon to try and sum up the IPL's reputation. After that, we cherry-picked answers that we felt had the ring of truth about them. The end result was a series of different qualities, each of which we will now examine.
This is not a short article, but hopefully it is the kind of article where you are happy that it's long because you find it to be fun and enjoyable and not the kind of article where you're forever checking how much you've already scrolled through and how much scrolling you still have left to do.
Here are some commonly mentioned aspects of the IPL's reputation and analysis of whether or not they are deserved.
(1) The IPL is over the top, gaudy and ostentatious
Here's a shot from eight seconds into this year's IPL theme tune video.

At this point, you're quite legitimately concluding that what's about to follow is probably not going to be a work of extraordinary subtlety.
This is ten seconds in.

Hitting a flaming ball with a cricket bat initially seems kind of ludicrous, but two seconds later they've already made hitting a flaming ball with a cricket bat look like a very reserved way to promote a cricket tournament. It does after all greatly focus on cricket, rather than on tigers.
Our favourite part of the tiger shot is the disclaimer beneath which states: "These are stock shots and no animals were harmed in the making of this film."
They say that because this is what happens next.

The tigers blew up!
Or at least an explosion was displayed at the exact moment that the tigers walking out of the fire towards one another would have touched noses. Maybe it's a logical leap to conclude that we're meant to see this as exploding tigers, but we put it to you that it's a logical leap we are encouraged to make.
This is a very important example of how big things are marketed in India.
Here is a thing that no-one in India has ever said about marketing a big thing: "It's good, I like it – but do you not think that maybe it's just a little bit too much?"
No-one has ever said that. No-one will ever say that. Subjected to an assault of singing, dancing and explosions, people are far more likely to say: "Maybe we should have more singing, dancing or explosions."
Then someone else will turn to them and say: "Let's have more of all three."
Everyone will nod and agree and then at some point someone will suggest the addition of tigers.
Here is another very minor, low-key example of the phenomenon. It is nice and small and manageable and easy to understand. When they named the Chennai franchise, they concluded that calling them 'Kings' would be insufficient, so they went ahead and called them 'Super Kings' instead.
Complaining that Indian entertainment is over the top, gaudy and ostentatious is like complaining about India's geographic location on this planet. What do you honestly expect anyone to do about it?
If you have a problem with the over the top, gaudy and ostentatious nature of Indian entertainment, here are your options:
Deal with it
Fail to deal with it
Technically, you could also ignore it, but we're writing this from the perspective that you're in some way interested in the IPL and are doing your best to enjoy or endure it. As such, those are your two options.
(2) The IPL is a slogfest
This is a bit of a 'yes and no' which we are aware is not an especially satisfying way to deal with such a thing.
Yes, the IPL is kind of a slogfest, because it is a Twenty20 cricket competition and Twenty20 cricket is kind of a slogfest.
No, because when you say 'slogfest' there are connotations to your use of that word. It is very rare for someone to speak in complimentary terms about something they are labelling a slogfest.
The original pejorative description of Twenty20 cricket was 'hit and giggle'. This has fallen out of use a bit because it makes the format sounds like a fun, knockabout, amateur sort of thing.
This is in no way appropriate any more because people are pumping millions of moneys into these franchises. We'll tell you what people pumping millions of moneys into something don't at all enjoy: giggling from the people paid to produce results. Giggling implies that you're not taking things at all seriously and if someone's invested millions of moneys, that isn't going to go down well.
So the slogging. The crux of this issue is this: in cricket, runs and wickets do not have set values. The value of each fluctuates from game to game, and, in a more general way, from format to format.
In the shortest format, wickets don't really have much value at all until the point you lose your tenth wicket and aren't allowed to continue scoring runs. Runs are the meaningful unit of currency and with reduced likelihood of being bowled out due to the constricted nature of the game, there is greater incentive to try and hit fours and sixes. That is how the game is built.
To explain why it's not just slogging, let's think of a 'slog' as being a wild hack where there's just as much chance of being dismissed as hitting a six.
(1) If all 11 batsmen hit exactly one six and play no other scoring shots before getting out, the team will make 66, which is pretty much guaranteed to be a losing total.
(2) If all 11 batsmen hit exactly two sixes and play no other scoring shots before getting out, the team will make 132, which is okay in some circumstances, but probably also a losing total.
(3) If all 11 batsmen hit exactly three sixes and play no other scoring shots before getting out, the team will make 198, which is good enough to win most matches.
Our point is that a batsman can't mindlessly swing at everything. If his decisions are inevitably weighted towards runs and away from preservation of his wicket, then there is still a decision to be made every ball. It is not just a slogfest.
Additionally, bowlers and fielders also play cricket.
(3) The IPL has incredibly passionate fans
Okay, we're going to address this one by telling you two stories from when we went to watch Bangalore Royal Challengers v Deccan Chargers in 2010 (a colourful time during which we wrote this). The first story is from when we were at the match. The second story is from when we were at a hotel.
Story One. Here is a not-very-good photo from when were at the match. Sorry about the quality. We seem to remember that cameras were banned and mobile phone technology was not-so-good back then.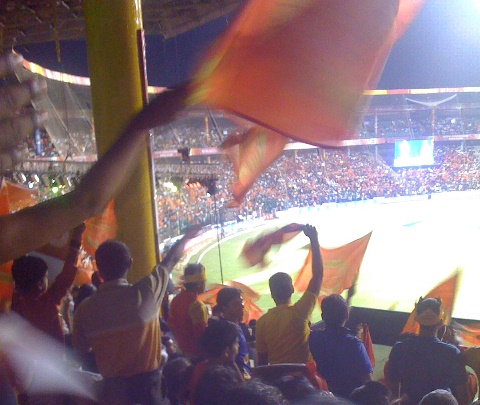 We just wanted to give you a small flavour of what the crowd was like. You will notice that a lot of people are waving flags and at least one person is wearing a crown.
You also cannot hear the crowd. We'd gone there with our friend Tronco and when the RCB batsmen first walked out, it was loud enough that we could scream "this is loud" directly into his ear and he still couldn't hear us. Whenever anything happened from then on, it got louder.
The boy who was sitting next to us was certainly passionate. He told us he was supporting both RCB and DC, but in reality he was supporting sixes. He didn't even clap for most fours, but when there was a six, he was out of his seat, eyes bulging, nearly falling over. It was very weird. He wasn't bothered about wickets either and it was hard not to conclude that his love for the DLF Maximum was entirely detached from its significance in the match.
There was also a middle-aged guy a few rows in front who was very definitely passionate. It was much less clear whether he was following the match too closely. He was mostly just into dancing.
He was dancing to everything. At the time, this seemed very strange to us because we grew up in a world where even sitting down on a chair in the pub is considered effeminate. In the world of our early adulthood, pubs were for standing in and nowhere in the world was for middle-aged men to dance. (Look, we're not saying we agree with this view or that most of the people who populated this world weren't dicks, but this was the environment and we have inevitably internalised many of the values whether we like it or not.)
After a while, we started to notice that Dancing Man was representative of a certain proportion of the crowd. Everyone was having a very, very good time, but the noise was constant in a way that wasn't necessarily all that related to what was happening on the field of play.
We can't say what the actual split was between people who were dead into the game and people who were just dead into the experience. Personally, we remember and cherish the experience and honestly don't know who won the game. It's worth mentioning that it was a very good-natured crowd too. We can't imagine any of the players were getting abuse.
Story Two. A little while later, we had to spend ten extra days in the hotel because we couldn't get home because of the ash cloud. We were on our own by this point and so took to chatting about the IPL with the staff. There was one guy who was very definite that he was not a cricket fan and not an IPL fan either.
Almost immediately after saying this, he dissected Harmeet Singh's technique when bowling his leg-break slower ball and followed that up with a dissection of the same bowler's technique when bowling his flipper slower ball. We are an actual professional cricket writer and we're still not fully sure who Harmeet Singh is.
It seems that in India, the average person is far more likely to know their cricket shit.
This is hardly surprising because during the IPL, cricket can be hard to avoid. We picked up a copy of the Deccan Chronicle one morning during our stay. Six and a half of the 16 pages were devoted to IPL news of some form. There had been bombs at Chinnaswamy Stadium, but that only warranted a page and a half – the rest was all Lalit Modi and Shashi Tharoor, match reports and opinion.
The ash cloud got 150 words. Mark Ramprakash's divorce got 100.
(4) The IPL has too much advertising
There are few parts of the IPL that haven't been sponsored. Grounds are sponsored, shirts are sponsored, highlights reels are sponsored. They've even found advertisers for moments, like for a six or for a 'perfect catch'. This means that corporate names can also lodge themselves within the match commentary.
After the match, there are awards – all of which are sponsored and many of which are flimsy and very obviously made-up purely to secure yet another sponsor. Man of the match is fairly conventional, but to this we can add 'stylish player of the match', 'super striker of the match' and doubtless a few others that we haven't the will to find out about right now.
There's an official strategic time-out partner. There are co-presenting sponsors. There are any number of ill-defined associate sponsors.
They've even named an 'umpire partner' – something which might come as very shocking news to some of the umpires' actual partners.
Umpire's wife: "Are you having a parallel relationship with Paytm?"
Umpire: "I, um… what?"
But it's only on the TV coverage where you get the full IPL effect. Ad breaks are punishingly frequent and last time we watched it, they were doing a thing where they occasionally shrunk the live action picture so as to display banner ads at the bottom and down the side.
The ad break ads (it says a lot that we needed to invent that term) were mostly for aspirational stuff. Phones, LCD TVs, Mont Blanc pens and plush furniture featured heavily.
Let's quickly do some TV advert awards.
Our all-time favourite Indian TV ad. It was from 2003 or whenever the hell it was we first went over there. It was for Rupa Jon pants and featured a man in white Y-fronts who advertised his sole garment by saying: "You're number one!" He accompanied that statement with a bold, joyful finger point to emphasise his message. It really was very entertaining. We can't emphasise that enough.
The most jaw-droppingly perplexing ad that we saw while watching IPL matches on TV in 2010. As we remember it, the guy was a hangman and he'd had a bad day hanging people (a successful day really in terms of doing his job, but in a more meaningful sense a bad day because his job was to hang people). He walked home feeling all bad and then when he got home he switched a solitary lightbulb on and felt slightly better because of the fact that he had either (a) a lightbulb or (b) power for the lightbulb. (We're honestly not sure how much of this is accurate due to it being a long time ago and because the final slogan was in a type of writing that we cannot read.)
The ad that best sums up an entire country that isn't India. In Canada we once saw a prime time TV ad which suggested that the viewer might want to "impress all of your friends with a giant rig" – that's 'rig' as in 'truck'. Oh Canada.
Anyway. Yes, clearly the IPL has too much advertising. We could probably have done this one a bit quicker.
(5) The IPL is overrated and overhyped
This is to some degree connected to (1) and (4).
Of course it is overhyped because that is how the IPL presents everything. It would be very odd indeed if the one solitary thing it didn't oversell was itself.
Of course it isn't going to be shy about taking opportunities to talk itself up. It would be very odd indeed if, in amongst advertising 10 million other things, it neglected to advertise itself.
The IPL thinks that it's the best and has always thought that it's the best. There are two aspects to this that warrant our attention.
Firstly, the IPL is, and pretty much always has been, the best T20 competition. It is the best-funded and therefore the best-staffed, both in terms of players but also in terms of people trying to work out smart ways of winning cricket matches. So yes, the IPL is within its rights to think it's the best.
What's changed is how people regard T20 competitions. Initially, 'best T20 competition' was a bit like saying 'best-looking deep sea fish' because it was a label that didn't really have any value in broader terms.
Now, thanks to all the great players and thinkers who have been involved for a decade, 'best T20 competition' pretty much means 'most sophisticated and forward-thinking cricket competition'.
However much or however little you value that, T20 competitions are unarguably far more important to the game than they once were and the IPL is the most significant among them.
(6) The IPL is too powerful
The idea here is that the IPL is a talent sucker; that other parts of the sport are losing players and becoming devalued as a consequence.
You could argue that the arrival of the IPL represented a very obvious tipping point for a sport that had already spread itself too thinly and was asking too much of its players. Cricket's foremost domestic league lasts seven weeks. That is not, by the standards of most sports, unreasonable. The problem, really, is what was already happening.
International cricket long ago lost sight of the idea that it is supposed to be about big occasions where the best players play the best players and everyone is at their best.
County cricket has also been affected, but it only expanded deeper into April in the first place to allow even more international cricket to take place.
The IPL could see the end of the philosophy of 'more of everything' in cricket and that isn't such a bad thing.
(7) Most people outside India are at best apathetic about the IPL
A common refrain from outside India is that they don't care about the IPL and can't even find a way to care about the IPL. This is not the same as no-one caring about the IPL because it is quite obvious that in India very many people care about the IPL. (This division of caring makes total and perfect sense because it is, after all, the Indian Premier League.)
The fact that people are even discussing this is a measure of the league's significance. No-one in England is following the Ranji Trophy too closely. No-one's following the Logan Cup or the Lankan Premier League. Foreign leagues are foreign. The fact that in its 11th season the IPL is suffering unflattering comparisons with the NFL in the US or the English Premier League is really kind of an achievement.
So, in relative terms, people outside India actually care very much about the IPL because they mention it and sometimes think about it a little.
So, with all of that in mind, does the IPL deserve its reputation?
Having weighed up the facts and pondered the detail, we would have to go with 'sort of'.