We were supposed to tell you about this competition a few weeks ago, but basically forgot about it.
Philosophy Football have launched a philosophy cricket range starting with the words of CB Fry.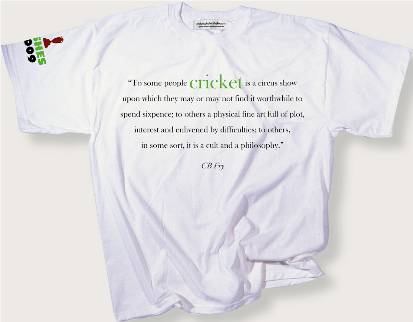 CB Fry captained Sussex and England; played football for Southampton, Portsmouth and England; equalled the world record for the long jump; was one of the great cricket writers; stood for Parliament; and could jump backwards onto a mantlepiece from a standing start. He was also offerered the throne of Albania. Quite a man.
The T-shirt is available from www.philosophyfootball.com but there are five to win in what Philosophy Football had branded their 'Lord's Test competition' thinking that we might have put this up sooner. It's open until the 31st of July though, so you can still enter.
Name the bowler who took 8 for 43 at the 1981 Headingley Ashes Test
Email your answer with name, address and preferred T-shirt size to admin@philosophyfootball.com