2
minute read
668 Neighbour Of The Beast sent us what can only be described as a monumental match report. You people are picking on us because we admitted that we felt bad when we had to edit stuff out.
Here's the shortened version: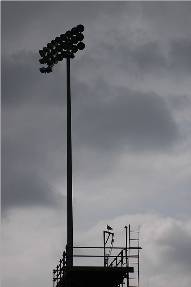 As part of this year's getting out and seeing new grounds thing, I thought I would go and watch Durham at their most southerly fixture. Its always difficult for them this far south.
Despite the recent run of bad weather, ice cream stocks are still low. I couldn't get either a blue bubblegum or a cherry ice lolly and had to settle for an apple one. I rode out my resentment by sitting in a deck chair. I found the blue stripy assembly and also the ice lolly rather soothing. I heartily recommend both.
Day two had all the makings of a disastrous day – time obsessed man was on my bus. I wasn't prepared for him being around on a weekend 214 and had sat perilously close and within his firing line. Luckily for me some new-in-town Scousers had drawn the shorter straw by sitting even closer, cheerfully taking the full brunt of his continual circular time-based questions.
They have a WAGs enclosure at Hove (to exhibit them properly, or perhaps to keep them away from the knitwear fanatics?). It's a wooden construction; a cross between a rabbit hutch and a Swiss-style chalet, with a garden furniture area. It reminded me of the time I spent a summer living in a similar wooden prefab – a 'cricket pavilion' as it was apparently described in the sales brochure.
Yesterday, Big Steve walked past, not looking grumpy at all and I told him I thought he was 'just fantastic'. He said: 'Thank you'. He must have held onto that thought because today he was just that – fantastic. I then went and visited the beach and the pier. I had several pisco sours for tea.