< 1
minute read
668 Neighbour of the Beast writes:
Cricket festival season and so to the outground of Guildford – a venue where you and the boundary rope can become acquainted. It's quite spiritual to sit on the grass and not look at the back of an advertising hoarding.
Sadly, on a less spiritual note, large swathes of prime rope side development are given over to corporate zones, to the detriment of paying punters, of whom there were lots. Curse those corporate 'rope hoggers'.
As it's one of those intimate grounds, you can also acquaint yourself with some of the bad habits a team exhibits. Like the legion of Surrey players huddling outside the pavilion for a smoke. No wonder they were a bit lethargic in the field – nicotine depravation playing tricks with their minds no doubt.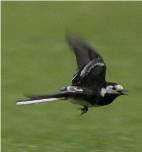 The Guildford pied wagtails are much less fearful than most. Needless to say the cricket did not distract them in the least from the important business of catching flies on the outfield. I think they may have a nest to the east of the ground.
There was a strange incident. It was rather dark and rained for some length of time, but blokes dressed in white were on the pitch. Perhaps with all the substances in their blood they thought they were playing some other sport.
I've since learned at another outground that Durham are rather partial to burgers.