2
minute read
Sam writes:
Angry clouds greeted my arrival at the second day of the Guildford cricket festival. A colleague had promised a press pass would be waiting for me "at the gate." Predictably, no such pass materialised, and said colleague was incommunicado, away on an all expenses paid trip to Spain. Something to do with pre-season training for a non-league football team. After much faffing, the stewards let me in, pointed me towards the media tent and told me to "get set up."
A friend of mine arrived, we did a circuit of the ground, it rained for a bit. At lunch we went and got some beers from the beer tent. A pint of TEA for him and a pint of On The Rails – a strong, dark ale – for me. I purchased a cheese and tomato sandwich tightly wrapped in cling film for £2, and a slice of lemon drizzle cake for another £1. We also had some Pringles and a Twirl.
There were some corporate tents. They had words written on them like 'Investec' and 'Allianz'. The Mayor of Guildford seemed to have one, and he appeared to be entertaining the chair of the town's Chamber of Commerce. Lots of men were standing around in suits and pink shirts. They didn't appear to be very interested in the cricket.
Just before tea we got some more pints, then it rained again. We guessed that would be it for the day, so headed to a pub which boasted a 'gentleman's corner' and a locked door that had the words 'the back room' written on it. Then on to a cider festival where there was a battle of the morris dancers competition.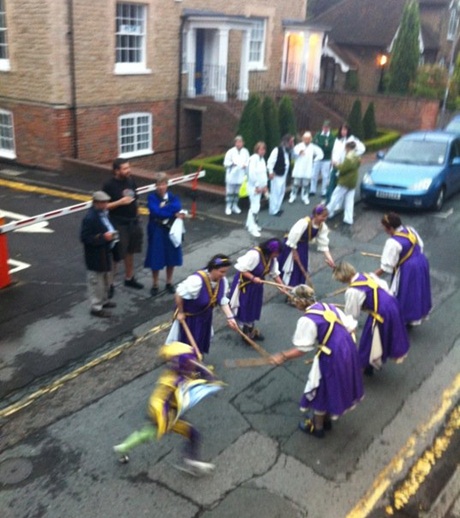 We thought about going for a curry but we were tired so we went home.