2
minute read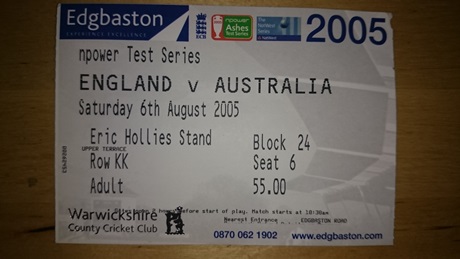 Dandy Dan writes:
The week before this Test, Will and I had been on a stag WEEK in Dublin. During the planning stages of this trip we had both been excited about this prospect. However, the reality was somewhat disappointing. The kindest thing to say is that the rest of our party weren't much fun. This culminated in a rather drunken Wednesday evening with Will awkwardly falling out with one of the other guys. The following day we sat on the sofa, quite hungover, watching the first day's play of the second Test whilst the rest of the stag party drove to the other side of Ireland. For us, it was the best day of the week.
We had tickets for the third day's play so flew into Birmingham on the Friday to meet Will's brother and associates. We immediately had more fun than on the stag.
Now despite being a fan since childhood, I had never been to a Test match before so day three was breaking my Test-watching virginity. I was obviously looking forward to this. The sands of time and the flow of ale have somewhat clouded my memory, but this is roughly what I can remember. Bullet point format might be easier here rather than trying to string these flashbacks together in any form of cohesive text.
The guy who I sold my spare ticket to made the rather poor decision to leave at lunchtime. To be fair, it wasn't looking good.
A couple of guys dressed as Eighties wrestlers took turns to power slam each other on the walkways. This was met with huge approval by members of the crowd.
I danced with a group of strangers at the end of the day's play behind the Hollies Stand repeatedly singing 'Michael Vaughan's Barmy Army!' (Is this too much cricket chat?) We really did spend a long time doing this.
Will got on an Aussie fan bus and started singing songs about Freddie.
Price made a rather poor decision to not join us on the town in Birmingham and got the train back to London (Possibly on demand of his then girlfriend).
I remember being in the Walkabout and Will having a chat with Jimmy.
The following day I undertook a frustrating journey on a train trying to get WAP signal on my phone to find out what was happening. Will had managed to get a ticket for day four and amusingly ended up sitting next to the Aussie fans whose bus he had serenaded the previous evening.
Alas, this was before the time of the camera phone so no digital memories were captured. Strangely, such a memorable day doesn't appear to have that many memories (well, within the boundaries of this reporting format). As first experiences of a Test match go however, this was quite good.