3
minute read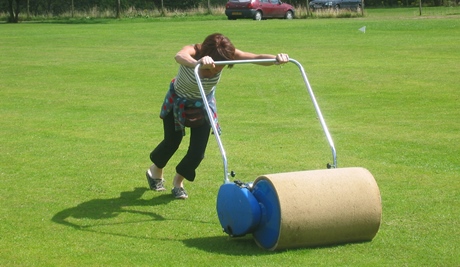 Ged writes:
A change of venue for the Heavy Rollers Test match jaunt this year; in the absence of a Test match at Edgbaston, we opted for the first three days at Chester-Le-Street.  Nigel "Father Barry" White, Charley "The Gent" Malloy and I were the three regular rollers on display. Daisy joined us to make a fourth, honorary roller.
Charley "The Gent" was especially skittish in the evenings.  He tried to sell Daisy several lines of bullshit about the Heavy Rollers' exploits over the years and also took great pride in explaining his persuasion techniques for getting exactly what he wants when booking rooms, tickets, nets etc.
"You have to find the right person in authority and then gently persuade them; it's just transactional analysis basically…"
By contrast, Nigel "Father Barry" White seemed quite subdued this year.  He seemed especially irked when Charley tried to convince Daisy that Nigel is a top rate singer. I had never heard Nigel sing.
When we met Nigel at the ground just before the start of day three, he seemed like a man transformed; pumped even. The first bars of Jerusalem blared through the speakers and Nigel was off, singing Jerusalem at full pelt. Impressive singing too – more "Barry White" than "Father Barry".
It transpired that Nigel's mood had been improved by none other than Jonathan Agnew. Nigel had come to the ground very early in order to buy a personally signed copy of Aggers' new cricket anthology at an early morning book signing. Back in the mists of time, Nigel had played in a friendly match against Aggers and had dropped him on his way to a rare 50. Aggers didn't remember batting that well, nor the specific drop, but he did remember playing in those friendly games and reminisced briefly with Nigel. Aggers then emblazoned Nigel's copy of the book: "To Nigel – even Geoffrey's mum would have caught that," which amused and pleased Nigel very much.
Charley "The Gent" studied the book and inscription very carefully before saying: "I fancy one of those for my boy. Let's go to the shop at lunch."
Of course, at lunch there was no actual Aggers book signing, but a pile of pre-signed copies available for purchase.
"I want a personal inscription," said Charley to a sales assistant, showing her Nigel's copy. "Look, he's inscribed my friend's copy. I want him to inscribe my copy too."
"I'm sorry," came the reply, "but Aggers isn't coming here again today.  He's in the media centre doing his radio work.  He's coming here for another book signing early tomorrow morning."
"But I'm not here tomorrow" said Charley. "I'll be on my way home. Please take my copy of the book up to the commentary box and get him to inscribe it for me there. It's the least you can do."
"I'm really sorry, I cannot help you there," came the predictable, polite reply.
"But it's for my boy." Charley cried. "Just a short inscription – corridor of uncertainty, grandmother, stick of rhubarb, something along those lines." Charley continued to mumble, with decreasing confidence and increasing incoherence.
Nigel counselled Charley kindly. "The metaphorical umpire has lifted the finger, Charley. Tuck your book under your arm and stride away from the metaphorical crease while you still have your dignity."  Nigel then gently guided Charley out of the shop and back to his seat.
Daisy couldn't stop laughing when Nigel related this sad tale. Charley disappeared a couple of times during the afternoon and evening sessions; we guessed he was returning to the shop to have another go. But Charley was silent about the matter for the rest of the day, so we suspect that his fail-safe persuasion techniques drew blanks that day. Goodness only knows what the shop staff made of Charley "The Gent," mumbling Boycott Bingo phrases while seeking Aggers' personal inscription.