Ged Ladd writes:
Bunty is a big cheese in Jagdalpur – he and our guide Jolly's family have just opened this new Bastar Jungle Resort and we were their first English guests. Soon chat turned to cricket. "Oh you like cricket", said Bunty. "You must visit my hotel in town on Sunday. Have some lunch there. It overlooks the City Cricket Ground and there's a big game on that day. You can do some commentary."
I took the last comment to be a turn of phrase, as in "let us know what you think of the game". As it turned out, we needed to switch our itinerary around a bit, so we found ourselves at a loose end between a tribal village visit early in the morning and a Sunday afternoon "market" (more like a fun fair) later in the day. So we decided to pop in, have a drink and watch a little cricket in the shade, during the hottest part of the day.
Bunty greeted us warmly and I was immediately struck by the sight of a sizeable crowd in the main stand (perhaps 1,500 to 2,000) and the sound of live commentary in adjective-rich, received-pronunciation English.
The next bit happened very quickly. Bunty hurriedly said: "Your commentary stint is starting at the end of this over. You cannot get down to the commentary tent from here. This is my nephew Rinku. He is the Jagdalpur wicketkeeper. He's a very good boy. He'll drive you round."
Within seconds I was on the back of Rinku's Yamaha being driven round the block to the commentary tent.
I was soon in the commentary tent and a few seconds later, Daisy arrived on the back of a Hero Honda. The scorer started whispering a whole load of stats about the match position and the commentator warmly welcomed a guest commentator all the way from England.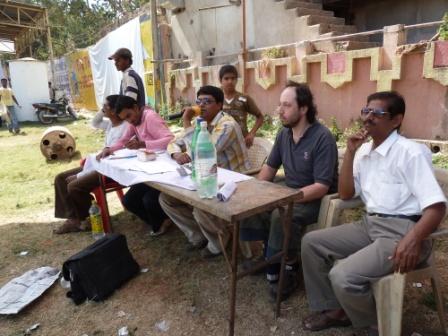 I was live. I said how delighted I was to be there and what a beautiful day it was here in Jagdalpur. I commented on the trees within the boundary and compared that aspect with Canterbury. I described the cricket as best I could.
Towards the end of my stint, I described a delivery thus: "I'd like to tell you what happened that ball, but I'm completely surrounded by reporters and photographers so I cannot see a thing".
It was true. The throng of journos moved aside so I could finish my stint, but once I was done commentating, both Daisy and I were interviewed at length several times.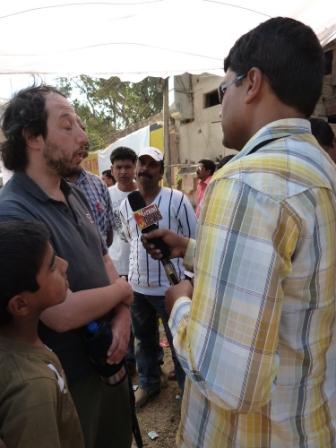 The next day, in the City museum, we were quietly discussing the meaning of cowrie with the curator when his assistant ran up to us all excitedly and showed me and Daisy our picture on the front page of her paper.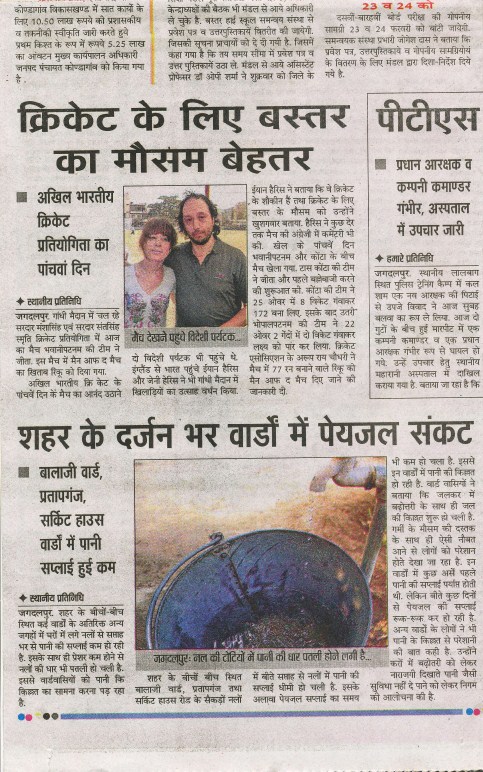 We made the front page of New India, the back page of the Bastar Sun and we are told that our TV interview was broadcast on City Cable Network television.