2
minute read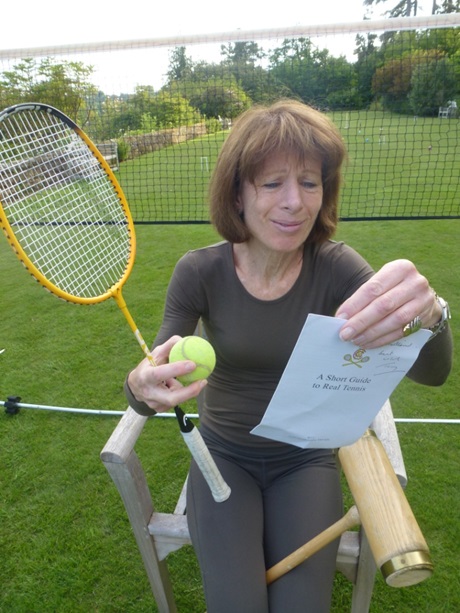 Ged writes:
Two days after my last-minute-dot-ticket-office, cocktail-avoiding day at the Lord's Test with Charley the Gent Malloy, I returned for my long arranged Sunday visit with Daisy. The weather forecast had been dreadful, but we woke up and indeed arrived at the ground on a beautiful sunny Sunday.
Daisy and I had an event-free circuit walk during lunch, but when we attempted similar at tea, we ran into Mr Johnny Friendly, walking the other way.
"Hello you two," said Mr Friendly, stopping to chat with us. "Are you enjoying the cricket?"
"Oh yes indeed, Mr Friendly, very much so," said Daisy politely, before enquiring: "Have you been watching the cricket or playing your beloved real tennis?"
"Mostly the latter," replied Mr Friendly. "I can't get enough of it these days."
"I saw a television broadcast about real tennis only yesterday," said Daisy. "The rules sound fiendishly complicated."
"Not at all, young Daisy," said Mr Friendly with his kindly voice. "The rules can be set out on a couple of pages; indeed there is an MCC leaflet that explains it all. Would you like a copy?"
"Nothing in the world should give me quite so much pleasure," blurted Daisy, slightly exaggerating her Jane Austen-style manners.
Unfortunately, you see, Daisy comes from almost the right kind of family, which, after making a modest fortune through trade, then packed Daisy and her sisters off to almost the right kind of school. You should not scorn or reproach such people, dear reader. Daisy is a very good sort of girl; you should wish her extremely well and be happy to see her respectably settled. No doubt, there are men who might not object to her.
"Then you shall have a copy of that MCC leaflet," said Mr Friendly with his benevolent voice.
"Ey up, tha's reet gradeley," said Daisy, getting so excited and confused that she muddled Jane Austen, the great early 19th Century novelist of manners, with Jane Austin, sister of the mighty Ian Austin, the greatest all-round cricketer that Haslingden, nay, even the whole of Rossendale, has ever produced.
"Hello you three," said Mr Friendly, turning away from us. He was greeting some friends or acquaintances, no doubt far more important folk than us. Soon Mr Friendly was in deep conversation with those people.
We wandered on, thinking that Daisy's real tennis rule leaflet hopes had been thwarted. But two days later, by means of that magnificent institution, The Royal Mail, a personally autographed copy of the MCC Real Tennis Rules, together with warm wishes from the Friendly family, arrived at our humble little hovel on the western fringes of London. Now that's class for you.
Send your match reports to king@kingcricket.co.uk. If it's a professional match, on no account mention the cricket itself. If it's an amateur match, feel free to go into excruciating detail.