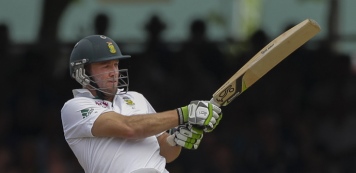 We were going to do a half-arsed box-ticking update today, pointing you towards Cricket Badger and our latest Cricinfo Twitter round-up, but the latter seems in no hurry to appear, so we thought we'd better write summat.
Let's talk about AB de Villiers, who despite being a vehement letter-C denier has gained a (c) for this series at least. Will he make a decent captain? People generally seem to think he's the best man for the job. This is faintly surprising to us because we've got a vague and distant memory of de Villiers being described as something other than razor-sharp.
Perhaps it's a false memory. Perhaps it was just a joke that took on an exaggerated form inside our head where de Villiers was so dense you actually wanted to strike him for his relentlessly frustrating lack of comprehension.
Either way, it's a total myth that he's great at everything.