< 1
minute read
The leg stump is the poor man's stump. We think it's time it got equal rights.
How often have you heard the following, or similar, after an LBW appeal:
"Hawk-Eye shows that would have just clipped leg, so that's probably a fair decision."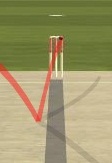 No it isn't. If it's hitting the stumps, it should have been given out. If it was just clipping the off stump, you'd say the batsman had got away with it.
It seems like Hawk-Eye needs to show the ball twatting right into leg stump, clipping middle, before a batsman's really out. Bullshit.
We've heard that they keep leg stumps in a separate place in the groundsman's shed; leg stump ghettoes where the roof leaks and it's draughty.