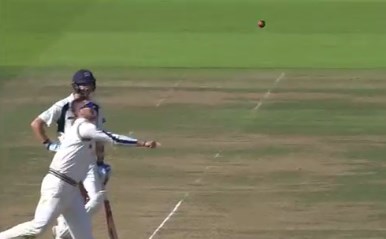 At one point today, Middlesex and Yorkshire ceased slithering against each other and began to slither together. Working independently, neither would reach the MacGuffin. Working together, they could get close – at which point it would become 'every man for himself' in a bid to wrest the prize from Somerset's less-than-vicelike grip.
The joint slither manifested itself as Yorkshire's two opening batsmen dobbing the ball up in the expectation that each ball would be clubbed to the fence. The fact that Middlesex lost three wickets during this heap of bollocks passage of play did at least mean the crowd had something to laugh about while they waited for a declaration and the recommencement of hostilities.
When that moment came, Yorkshire managed to produce little more than a light slapping. With nothing to lose, they persevered with this approach long after it made sense. Middlesex dispatched them with a Toblerone Jones hat-trick which allowed them to saunter over to Somerset and snatch the MacGuffin.
This is the moment @tobyrj21 will never forget – when he bowled @RyanSidebottom to win the title for @Middlesex_CCC! https://t.co/uXy4iNJOuE

— County Championship (@CountyChamp) September 23, 2016
At the bum end of the table…
Hampshire utterly failed to bowl out Durham, lost the match and got relegated. Mark Stoneman and Scott Borthwich were the run-chase heroes, which is great news for Surrey, who have flashed the cash and signed them both.