2
minute read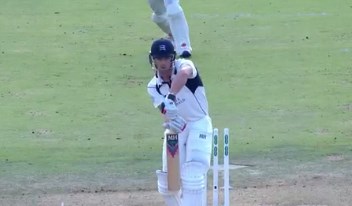 We can't help but feel that our coverage of the denouement of the County Championship is getting a little niche.
In the previous instalment of our four-day mud-slithering analogy, Yorkshire had lost ground to Middlesex and Somerset because they for some reason needed to go and pick something up before making their way towards the MacGuffin. We hypothesised that the something might be a pair of gloves with a special MacGuffin grip on the palms. What else could it possibly be?
In real life, it was the bonus point earned from reaching 350 inside 110 overs. Against the odds, they made it, thanks largely to a quite majestic innings of sturdy clomping from Tim Bresnan. Having been 32-3 and with a man who normally bats at seven or eight up at five, it was quite the performance.
Even better than that, the moments leading up to that 350th run were cricket in its purest form. Middlesex appeared to be bowling to deny Yorkshire the bonus point, even though it had precisely zero bearing on their own Championship hopes. If anything, it was in their interests for Yorkshire to get it as it would effectively prevent their opponents from ever settling for a draw.
A tense stalemate saw a number of overs eaten from the game with neither side benefiting.
And then they went off for bad light.
Marvellous stuff.
Come the restart, Yorkshire got their run and then added plenty more. After a couple of Middlesex wickets, it was hard to avoid the impression that they were, if not ahead, then at least slithering at greater speed than either of their rivals.
Somerset won their match in the end, so they basically have their hands on the MacGuffin already. The only question is whether they should have stopped to pick up a pair of gloves like Yorkshire did. They can't go back now though. Their journey is over.
All of which means…
A Yorkshire win gives them the County Championship
A Middlesex win gives them the County Championship
A draw gives Somerset the County Championship
There's a little more slithering in this season yet.
Meanwhile, at the bum end of the table
Warwickshire look likely to beat Lancashire barring a prolonged rearguard. However, both sides will be hoping that Hampshire fail to beat Durham.
The day started well in that regard. First of all it pissed it down, after which Durham scored more and more runs and took more and more time out of the game. A draw seemed increasingly likely – but that was to reckon without Hampshire's desire for 'quick runs'.
While quick runs also brought quick wickets, the likelihood of a draw has receded markedly.
The situation for these three times is something like…
Anyone who wins is safe
Hampshire almost certainly need to win to be safe
A Hampshire win would mean Lancashire go down if they lose and Warwickshire go down if the match is a draw