Sam writes: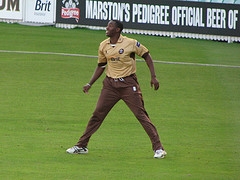 Having blagged two free press tickets to the last Pro40 game of the season at The Oval, we met outside the Alec Stewart gates on a rare day of bright sunshine in an otherwise dreary English summer.
With the Vauxhall End half of the ground closed off for an unexplained reason, we took our seats in the Peter May stand and quickly realised that the sun would be in our eyes for most of the first innings. But we're lazy, so we cracked open a couple of Scrumpy Jacks and settled in.
Lunch consisted of more beer, a ploughman's sandwich, a banana, an apple and a packet of Sainsbury's basics mini muffins. In these tempestuous economic times, it's time to go back to basics in more ways than one.
By the tea break, the sun had moved round a bit and was now burning the right side of our pale white necks, which were dangerously exposed.
Drifting away in a haze of sun and cider to dream about the glory days of Martin Bicknell and Graham 'personal problems' Thorpe, my companion woke with a start when Claude Henderson landed a skull-endangering six just five rows in front of us.
The sun finally set behind the empty new stand. The early evening shadows were beginning to creep across the ground and a palpable sense of malaise threatened to engulf us all.
The match ended and we trudged towards our respective trains, immersed in la petit mort of another summer ended, with dirty thoughts of the IPL and the Champions League confusing our tender, naïve minds.