< 1
minute read
Jo-Fitz writes:
The eagerly awaited official switching-on of our new floodlights.
Rain. Bugger.
Not enough rain to get rained off (unfortunately, given the eventual result) but enough to turn the match into a mutant spawn ThirtyFive25.
I arrived at half time (sorry, came over all 5Live there) and marvelled at the way that the sun setting behind the Fox Road stand made Trent Bridge look like Centurion Park. Our new floodlights are damned lovely and a darned sight sexier than those at both the nearby Forest and County grounds.
I sat in the New Stand (still unnamed due to the lack of a willing sponsor) to get the best view of the floodlights, which in retrospect was a mistake as my chips got wet during the downpour in the second innings.
The rain looked pretty spectacular when backlit by the lovely new floodlights. These are going to be six columns of perpetual electric joy and wonder.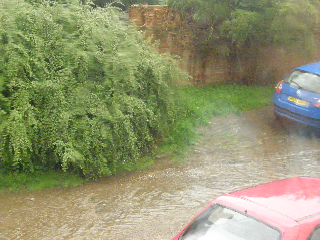 Harmison S. signed a lot of autographs for the hoards of munchkins.
Harmison B. seemed to be on ball retrieving duty on the cover boundary and was conspicuously indifferent to no-one wanting his autograph.