< 1
minute read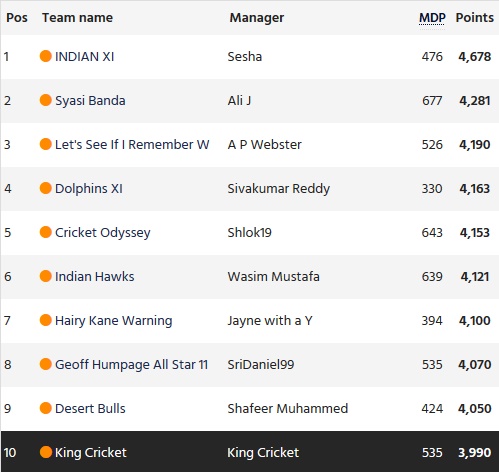 The King Cricket Champions Trophy fantasy league eventually attracted 74 teams – so many, in fact, that after a couple of games we started to think we might look bad if we didn't get in amongst it and actually try and do well.
We eventually secured a top ten position, which seems respectable enough that we should be allowed to continue writing this website.
However, the winner of all the respect/resentment from their peers was Sesha, whose INDIAN XI positively walked it – unlike the Indian XI, which famously got battered in the final.
Maybe if it had been a fantasy knock-out, things would have panned out differently. But it wasn't. It was a league and Sesha won.
Just as importantly, here's the arse-end of the table – a full bottom ten, no less – where Deep Cower secured an almost equally impressive losing margin over (under?) Hippity, who is a green bunny.
Well played these people, particularly Alphamonkey who secured negative points from the final and so secured the highest step within the sunken podium trench.