2
minute read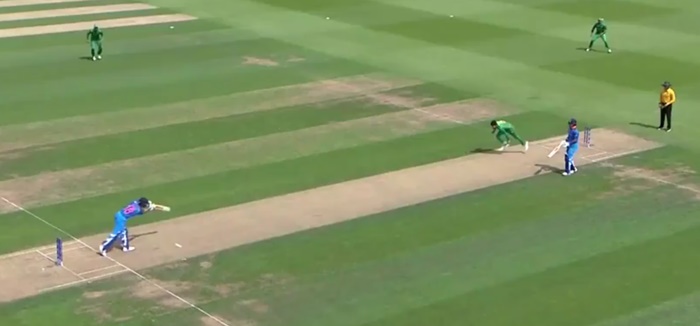 Scrape into a tournament through being ranked eighth in the world, throw in a few debutants, win the thing.
Quite often you get to play Pakistan. Occasionally you have to play Pakistan. India suffered the latter.
How in blazes?
If we were to imagine that winning a cricket tournament involved repeatedly writing the word WIN on a piece of paper, then Pakistan do not issue their players with pens.
The Pakistan approach is to take a whole bunch of magnifying glasses and then throw them into the air hoping to hell that the sun's rays strike them at such an angle and at such a moment that the refracted beams scorch the letters into the page without incinerating it. This normally results in a lot of broken glass, but not always.
Fakhar Zaman, the opening batsman who made a devilishly effective hundred in the final, made his one-day international debut last week. Shadab Khan has played five first-class matches. Pakistan also managed to shrug off dropping the finest one-day batsman in the world in the time it took Mohammad Amir to walk back to his mark. Somehow it all worked out and India were not just beaten but positively monstered.
How do you win a one-day tournament in 2017?
The narrative ahead of this competition, at least in the UK media, was that modern one-day cricket is all about hitting sixes and making 400 on flat pitches. This storyline coloured perceptions to such an extent that the national team felt hard done by when they were asked to play a semi-final on a used pitch.
'That's not the way one-day cricket is supposed to be,' they seemed to say, as if there were an official diktat about such things from the governing body. 'Make the version of the game that we're good at the only permissible version,' they added.
But it turns out modern one-day cricket can be many different things.
In the end, the team that won the Champions Trophy was the one that cobbled together the most effective bowling attack, as is so often the case.
Pakistan may well have aspired to build their game around heavy run-scoring, but that never really became an option. A friend of ours maintains that using moisturiser makes your skin "lazy". Similarly, we wonder whether Pakistan's bowlers have actually benefited from knowing the value of a run.
Which isn't to say the Pakistan batsmen didn't switch it on in the knockout stages, despite suspicions that they lacked the switch, let alone a power source. The truth is that the team – the unit, if you will – did a lot of things well. This was a three dimensional win.