2
minute read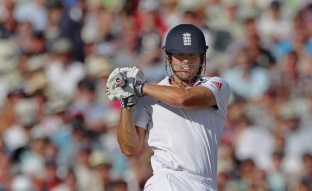 Like a tired bear in winter, let's try and put this to bed for a few days. Maybe it'll have to get up again at some point next week to go for a wee, but we're kind of hoping that we can concentrate on the New Zealand series from now on.
As far as we can tell, this is how it's gone…
Colin Graves told Kevin Pietersen that if he came back and played county cricket and maybe made a triple hundred, he couldn't see why he wouldn't get back in the team. He said this because he genuinely couldn't see why he wouldn't get back in the team.
Then, while Graves was in the Caribbean, he discovered that England's captain, Alastair Cook, was adopting a 'him or me' position on the issue. Not mad keen on having Joe Root as Test captain just yet, the ECB opted for 'me' in favour of 'him' and tried to ham-fistedly make the best of that.
Kevin Pietersen came back, played county cricket, made a triple hundred and requested his place in the side. Andrew Strauss broke the news to him.
This is perhaps why, at the press conference the following day, Strauss said that Pietersen wouldn't play for England 'this summer', while adding that he couldn't offer guarantees beyond that. He was basically just acknowledging that there are two possible scenarios.
England win the Ashes, Cook stays, Pietersen remains excluded
They lose, Cook goes and Joe Root – who has just been named vice captain – takes over
Cook presumably feels the presence of uppity Pietersen with his inability to keep his trap shut makes captaining the side impossible. If the public comes to accept the version of events outlined above, he may come to reclassify that particular 'impossible' as merely 'very, very difficult' in comparison to what he is likely to experience should England start losing this summer.
Strauss said of Peter Moores that every game had become a referendum on whether he should continue to do the job or not. It would be like that, only a hundred times as vitriolic and a thousand times less dignified.
Here's the real nub of the problem
The main problem, as we see it, is that some people seem to think that being England captain is a big deal; like it somehow elevates you above all other England cricketers. If Alastair Cook didn't see captaincy as something to aspire to, he could have acknowledged that it wasn't especially his thing at the very outset and instead busied himself with the greatly more important job of scoring Test runs. Pretty much everyone would have liked him more for it.
You'd never get this kind of thing with Pakistan. Pakistan would have had about nine different captains by now and everything would have been much less chaotic as a consequence.