County cricket news
18
Bit disappointing that lots of southern Africans hit runs and pretty much nobody English did. Bit disappointing that Rob Key didn't get to celebrate.
Rob's had a lot of near-misses this season, what with this, the Twenty20 Cup and his being mentioned regarding the England captaincy. Near misses are still misses though and Rob needs some hits.
Perhaps he should talk up his winters in Perth. England's selectors are suckers for an exotic cricketing education. Tell them you were born abroad and they think you know some secret that will make you good at cricket. Tell them you were born in East Dulwich and they sigh and think: 'He's one of us. He doesn't have the secret knowledge.'
Rob does have the secret knowledge. He has so much secret knowledge. He knows how to levitate, he knows where the Holy Grail is and he knows how to repel slugs in the garden without recourse to chemicals.
18 Appeals
2
Even by our knee-high standards Rikki Clarke's selection as 'one to watch' has been ill-judged.
He has been worth watching in a faintly soap opera kind of way, we suppose. It's one thing to play badly (in the second division), it's another to resign the captaincy, but it's really going some to drop yourself – which is what Rikki did at one point this season.
We'll discard him for next season and he'll turn into Don Bradman and Waqar Younis's bastard offspring, just you watch.
2 Appeals
5
This is perhaps a more interesting development than you might think.
You might not have heard of Simon Marshall. He's a leg-spinning all-rounder whose particular brand of non-spinning spin gave him great success in this year's Twenty20 Cup: 14 wickets at 13.57 at 7.26 an over. He's a snappy fielder too, so that's a full set of strings to his bow (bows have three strings it would seem).
We're told that all the money's in Twenty20 and that counties will build their squads according to ability in this format from now on, but that clearly isn't the case here in the North-West.
Of course we don't necessarily run organisations according to 'reason' in these parts.
5 Appeals
3
A slightly callous post title that we're not that proud of, but what are we going to do? Rewrite it? As if.
Lancashire have finally decided that they have too many ageing fast-medium all-rounders in their side and Dominic Cork, as the elder of the two, is the man to go.
It's a bit sad for Cork who was a great cricketer and is still a very good one. But his presence was always a bit infuriating at a county with a youth academy that seems to churn out fast-medium all-rounders almost exclusively. Tom Smith, Kyle Hogg and Steven Croft have all waited unreasonably patiently for the last few seasons.
So now we've got the answer to the question we asked back in March: How will the ageing all-rounders of tomorrow get enough experience to keep the ageing all-rounders of the day-after-tomorrow out of the side?
3 Appeals
32
Rejoice poverty-stricken victims of Sky. Cricket's going to be free again. Top Welsh terrestrial station S4C have bought the rights to five Glamorgan matches. All the other stuff's still on Sky, mind.
A spokeswoman for the BBC explained their decision not to bid for any of the 35 packages available:
"We have always said that any bid for live Test cricket is subject to value for money and ability to schedule. In our view neither of these criteria were met."
We're not entirely sure what the ECB could have done to help the BBC fit Test matches into their schedule. Tests are played in the daytime in summer and last for five days. If the BBC's bid's always going to be subject to that, then they're out aren't they?
We're massively disappointed that none of the terrestrial channels made an effort to get the Friday night Twenty20 tournament. We really believe that having live Twenty20 on the telly on a Friday night could do wonders for the sport.
32 Appeals
17
The Board of Control for Cricket in India, the BCCI, wishes to run a Champions League featuring Twenty20 sides from around the world. The BCCI backs the IPL Twenty20 league and says sides featuring players from the rival ICL can't appear in its Champions League.
Various county cricketers have played in the ICL, so the England and Wales Cricket Board, the ECB, is unhappy. They're also unhappy because the BCCI want half the money from this Champions League.
The BCCI are sick of the ECB now and have told them to piss off. The ECB have said, 'fine, we'll go – but we're starting our own Champions League and it's going to be better than yours'. The BCCI said: 'Do it. We'll see whose is best,' and then they've each taken it in turns to say 'fine' as the ECB have stormed out of the building in a huff.
The question is, have the ECB irritated the BCCI so much that the BCCI will crush the ECB's Champions League or have the ECB pissed off the BCCI so royally that the BCCI will crush the ECB's Champions League and the EPL and whatever else takes their fancy.
Because they can. India brings in three quarters of the money in the game and that fact wins pretty much every argument.
In a way it'd be best if there were two Champions Leagues, because then they'd both fit the Champions League template, which of course dictates that there should be as few champion teams as possible.
Champions leagues should really be stocked with 'big' teams who owe their status to repeated appearances in the Champions League, not sides who've ever actually won anything.
17 Appeals
14
Some of you are doubtless under the impression that we like Rob Key because he's a ruddy-faced barrel of a man, but that's not why at all. That's just a bonus.
The real reason why we like Rob Key is because we think he's a fantastic batsman. One of his biggest strengths is a real, genuine sense of perspective. Steve Waugh once said of him: "He doesn't give a shit about much".
Waugh meant this as a compliment, going on to say that it meant he wouldn't get overawed by anything, which is invaluable in top-level sport.
Rob pretty much just likes playing cricket and doesn't really worry about things that are out of his hands. He was asked about qualifying for the multi-million pound Twenty20 Champions' League. Kent's appearance is in doubt due to their fielding ICL players during the Twenty20 Cup.
Here's his answer: "How do I feel about qualifying? I'm not too bothered."
Update: He also said about the Champions' League: "Until I get some plane tickets and they say this is it, I could not care."
 
14 Appeals
11
A last ball win is never bad, even if it condemns your hero to defeat. To be honest, we're a bit disappointed that Rob didn't have some anger to vent. He vented well enough last year and Kent won then.
Owais Shah doesn't seem to be getting sufficient recognition for his innings. We can only assume that Owais Shah isn't popular with anybody. Most reports are on about Tyron Henderson, because he laid the bowling to waste in Middlesex's semi-final and because he bowled the last over in the final.
Henderson did go for 58 runs off four overs in that final though. Everyone knows that, right? And Owais Shah hit a 35-ball 75. Everyone knows that too, right? Okay. Just so we're clear.
The strangest part of the day was probably Durham's batting in their semi-final. Did they know that it was Twenty20? Did they know how many overs there were to go? Someone in the Durham camp had clearly decreed that a par score was about 31 and the batsmen ambled around from that point on.
It was just the sort of brain dead pig-headedness we like. It would have been even better if they'd been chasing. We're declaring Durham the moral winners. The moral they've won is: 'never bat like idiots'.
11 Appeals
8
Match reports are still welcome. The guidelines are: don't write much and don't mention the actual cricket.
668 Neighbour Of The Beast writes:
Seduced by advertising? Never! But the comfy retro chairs looked inviting. To Riverside, home of the Durham Doodahs.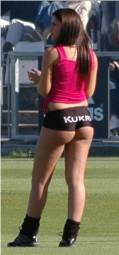 The scorecard stated entertainment provided by the Durham Allstarzz. The eight Allstarzz did their uncoordinated jigging around either side of the players' entrance by the corporate boxes and membership seating at the end of overs. You could tell they were not npower girls as only two of them were blonde.
They were wearing short, disappearing-up-the-arse-crack shorts and being curvy they actually had fleshy buttocks to show. As these shorts are made by Durham's kit provider of next year, I'm now rather looking forward to the warm-up sessions before matches. Collingwood should look especially good.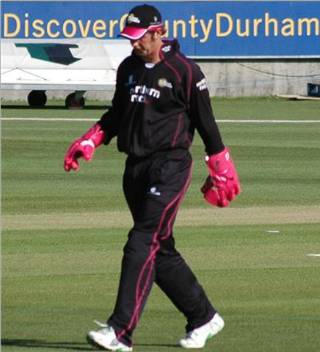 Mustard had a set of rather fetching bright pink gloves. The small group of vocal Leicestershire fans sang 'he's wearing marigolds', but the entertainment wars were well and truly won by the gloves, as they sailed off conspicuously at regular intervals.
Boundary fielder, the Oddbod-like Kruger was exhorted by vocal Durham fans nearby, 'Freddy, Freddy give us a wave' – and he did. Just.
The distinct northern avifauna, despite its monochrome nature remained splendidly indifferent to all forms of cricket related entertainment. Jackdaws and oystercatchers being new to the cricket ground list.
Even in the sun, on the longest day of the year, the Riverside is freezing.
8 Appeals
6
Liam Plunkett took 3-16 as Durham FINALLY made it into the Twenty20 Cup semi finals.
With three superlative overs behind him, Plunkett's surely in line for a Test recall. That's a whole opening spell for England these days.
6 Appeals