County cricket news
11
A last ball win is never bad, even if it condemns your hero to defeat. To be honest, we're a bit disappointed that Rob didn't have some anger to vent. He vented well enough last year and Kent won then.
Owais Shah doesn't seem to be getting sufficient recognition for his innings. We can only assume that Owais Shah isn't popular with anybody. Most reports are on about Tyron Henderson, because he laid the bowling to waste in Middlesex's semi-final and because he bowled the last over in the final.
Henderson did go for 58 runs off four overs in that final though. Everyone knows that, right? And Owais Shah hit a 35-ball 75. Everyone knows that too, right? Okay. Just so we're clear.
The strangest part of the day was probably Durham's batting in their semi-final. Did they know that it was Twenty20? Did they know how many overs there were to go? Someone in the Durham camp had clearly decreed that a par score was about 31 and the batsmen ambled around from that point on.
It was just the sort of brain dead pig-headedness we like. It would have been even better if they'd been chasing. We're declaring Durham the moral winners. The moral they've won is: 'never bat like idiots'.
11 Appeals
8
Match reports are still welcome. The guidelines are: don't write much and don't mention the actual cricket.
668 Neighbour Of The Beast writes:
Seduced by advertising? Never! But the comfy retro chairs looked inviting. To Riverside, home of the Durham Doodahs.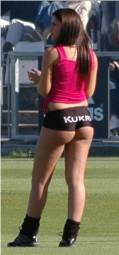 The scorecard stated entertainment provided by the Durham Allstarzz. The eight Allstarzz did their uncoordinated jigging around either side of the players' entrance by the corporate boxes and membership seating at the end of overs. You could tell they were not npower girls as only two of them were blonde.
They were wearing short, disappearing-up-the-arse-crack shorts and being curvy they actually had fleshy buttocks to show. As these shorts are made by Durham's kit provider of next year, I'm now rather looking forward to the warm-up sessions before matches. Collingwood should look especially good.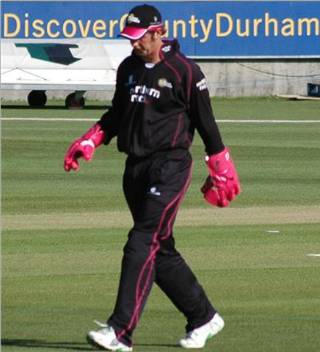 Mustard had a set of rather fetching bright pink gloves. The small group of vocal Leicestershire fans sang 'he's wearing marigolds', but the entertainment wars were well and truly won by the gloves, as they sailed off conspicuously at regular intervals.
Boundary fielder, the Oddbod-like Kruger was exhorted by vocal Durham fans nearby, 'Freddy, Freddy give us a wave' – and he did. Just.
The distinct northern avifauna, despite its monochrome nature remained splendidly indifferent to all forms of cricket related entertainment. Jackdaws and oystercatchers being new to the cricket ground list.
Even in the sun, on the longest day of the year, the Riverside is freezing.
8 Appeals
6
Liam Plunkett took 3-16 as Durham FINALLY made it into the Twenty20 Cup semi finals.
With three superlative overs behind him, Plunkett's surely in line for a Test recall. That's a whole opening spell for England these days.
6 Appeals
10
Because this is about Andrew Flintoff.
Flintoff hid a blinding fifty and produced match-winning bowling figures of 3-17 off his four overs in Lancashire's stunning Twenty20 quarter final victory over Middlesex, which might conceivably not have happened.
One thing's for certain though, a man/boy who doesn't know the difference between a W and a V didn't hit a hundred for Middlesex. Nope. No sirree. No way.
Ssh.
10 Appeals
5
Joe Denly hit a hundred. Go No Pants. Steve Harmison took four wickets. Durham still lost by a mile.
Essex beat Yorkshire.
The end.
5 Appeals
15
Not literally under his captain. That would be painful, even allowing for Rob Key's new, racing snake physique.
Against Surrey, Martin van Jaarsveld hit two unbeaten hundreds and took 5-33, even though he'd never taken more than two wickets in an innings before.
When asked what precipitated this rare spell of form, he responded:
"I've been having trouble with my backlift of late. I was trying to iron things out in the nets when Rob came past, mumbling. I think it was some sort of incantation because there was a sudden, blinding light and the next thing I know I'm in the physio's room and my lunch money's gone.
"Pretty much the same thing happened the next day and the day after that. By the first day of the Surrey match I was feeling a bit light-headed with having missed the majority of my meals, but there was a calmness in my delirium and everything just clicked."
Van Jaarsveld then added: "The bowling was a fluke though."
15 Appeals
17
We've come up with an ingenious plan that will make England's bowling attack the envy of the world: tell each of the bowlers that he's playing for Durham.
Seriously. Tell someone – anyone – that they're playing for Durham and they'll take wickets. The presenters of Loose Women could take wickets in Durham shirts. Higgins from Magnum PI could get a five-fer.
Hell, even Ajit Agarkar could take wickets for Durham, just hand him the ball and point him at the stumps and he'd flatten batting line-ups like a steamroller flattens a plasticine Matthew Hayden voodoo doll.
Who's Durham's most successful bowler thus far this season? It's impossible to tell.
Steve Harmison maybe, with 29 wickets at 23.10? That would be good enough for most sides.
Liam Plunkett's just come back. He's taken 6 wickets at 19.83. Mark Davies is doing Mark Davies things – 15 wickets at 21.93. Graham Onions has 13 wickets at 14.15.
That's one whole overperforming bowling attack already, but there's more. Ben Harmison has chipped in with nine wickets at 23.55 and Paul Collingwood has five at 12.40.
But still we're not done. There's also Callum Thorp.
Callum Thorp is a 33-year-old Australian who's played just 28 first-class matches. In that time he's taken 79 wickets. To put that in context, Steve Harmison, at 29, has taken 572. Even Paul Collingwood's cracked 100.
Callum Thorp has taken 20 of his 79 wickets this season at an average of 17.65.
Someone tell us, does the Chester-le-Street pitch resemble that bit in our garden where we had a go at returfing?
17 Appeals
13
He is both a cad and a bounder and you should beware his dandy ways. We'd say that Jade was a girl's name if it were, in fact, a name at all.
24 first-class wickets at 40.62 and somehow he bowled Rob Key first ball.
Some facts about Jade Dernbach:
(1) His nickname is obviously – and also correctly – 'Dirtbag'.
(2) He looks like a gone-to-seed Cristiano Ronaldo, only far less ugly.
(3) He would spend his last £10 on hair products. FACT.
One other fact that we like is that according to Cricinfo he was educated by St John the Baptist. At least that's the way we're choosing to read it, even if it is factually inaccurate.
13 Appeals
3
It's okay – it's a good line. It's the line you have to cross to get written about on King Cricket.
Tim Bresnan has been having one of those quietly productive seasons in which our Ones To Watch seem to specialise. Despite having taken more wickets than anyone else in division one so far this season – 29 at an average of 23.34 – his 5-94 against Durham yesterday was remarkably his first five-wicket haul.
Complementing his quietly productive bowling has been some quietly productive batting: 295 runs at an average of 49.16 with two fifties and no hundreds.
Liam Plunkett is making his first County Championship appearance of the season in the same match after playing a few Twenty20 games over the last few weeks. Plunkett is having a Bresnanian match himself. He took 3-70 and hit 68 not out, batting at nine.
3 Appeals
8
Give Simon Jones a mop and present him with a flexible rear appendage and he will GET TO WORK.
Jones took 5-30 against Leicestershire yesterday, clean bowling eight, nine and ten to finish the innings. It's not the first time this season he's bulked up the wickets column by polishing off tail-enders, but the overall impression we're getting is still of a bowler clefting county cricket in twain.
That's right. You heard. Clefting county cricket in twain.
8 Appeals