2
minute read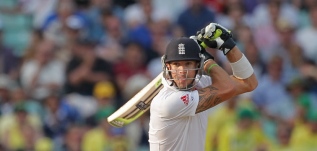 The Kevin Pietersen saga is often described as a soap opera. This is quite accurate because the defining feature of a soap opera is that IT NEVER ENDS. Okay, Crossroads and Eldorado did, but you get what we're saying. For the most part they just rumble on, day after day, setting up contrived storylines and having them play out.
Kevin Pietersen's triple hundred today was neither proof nor irrelevant. It was an impassioned and noteworthy innings against the worst first-class county. He can't help who he plays. All he can do is score a few runs. Today he did that in about as convincing a manner as possible. The second-highest score in the innings was Kumar Sangakkara's 36.
More is needed, but on this evidence more is highly likely to arrive. What strikes us most is that Pietersen was at his most exciting early on in his career when he had it all to prove. Back then, there was real steel underpinning the carnage. If his sense of being wronged has brought that back and precipitated some sort of driven final fling, then excellent.
Very few batsmen possess the qualities required to make you think you might be about to see something you've never seen before. Very few batsmen play the kinds of innings you feel compelled to send text messages about. It's not about playing outlandish shots or scoring heavily, it's a combination of brutality and endurance, a way of manhandling a match and pointing it in a new direction.
Brian Lara explored new territory, so when he got going you couldn't really feel confident about where things were going to end. There is something of that in Pietersen. Today a hundred wasn't enough; and a double hundred wasn't enough; and his highest first-class score wasn't enough. Plenty of players have hunger, plenty of players have ability. Very few sit at the farthest extremes of the spectrum on both counts.