3
minute read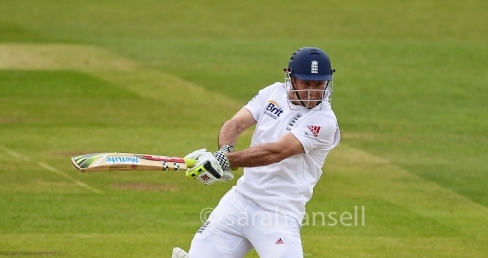 What may eventually prove to be Kevin Pietersen's final six scoring strokes in first-class cricket were, in order, 1, 2, 3, 4, 5 and 6. At that point, there was nowhere left to go.
A friend of ours was referred to a heart specialist once. As he sat in the waiting room alongside lots of sad looking folk, Unbreak My Heart started playing on the radio. Point is, plenty of things that you'd roll your eyes at if they happened in a sitcom actually do happen in real life.
Witness the ECB's public relations efforts. A script editor would rip such a story apart for being too contrived, too convenient, too obvious to pass as comedy. Kevin Pietersen is allowed to believe that if he returns to England and makes runs in the county championship, he may be considered for selection. He makes 326 not out and that night – that very same night – he is told that actually, no, he will not be considered for selection.
The news is leaked, obviously. It always is. It is leaked at the exact same moment that the ECB Twitter feed publishes a link to highlights of Pietersen's innings. The next day, the ECB officially unveil their new director of England cricket, the man who has made the decision to continue to omit Pietersen. It is Andrew Strauss, a man who once called him a cunt on TV; a man who, for all his qualities, is considered the embodiment of the establishment by those feeling disenfranchised and alienated by that very establishment.
Strauss says that Pietersen is not going to be selected any time soon because of trust issues. He later adds that he offered him a consultancy job with the one-day side, which Pietersen declined. Apparently trust is not required for that sort of a role.
If you can, temporarily suppress your feelings about Kevin Pietersen. Find a way of pretending that you're a dispassionate observer tasked with repairing the ECB's tattered image. They are, after all, considered a toxic brand even by themselves.
If the notion that the ECB is a cosy old gentleman's club, a sort of pseudo-masonic quasi-incestuous backslapping coven, then that notion had to some degree been confined to certain individuals. Whether they were truly the guilty parties or not, people like Paul Downton and Peter Moores had been infected with this cancer, but they had recently been excised. Giles Clarke is about to depart as chairman and while he will retain influence, the arrival of Colin Graves had at least felt progressive.
Now, somehow, against the odds, the cancer of negative public perception has been allowed to spread. And not just subtly and by stealth, but like something from an unusually gory B-movie. People are being eaten alive. A three-time Ashes-winning captain has become public enemy number one among a large swathe of England fans. The new coach is tainted by the new-old regime even before being sounded out about whether he might maybe like to think about possibly perhaps applying.
Rights or wrongs of the selection or non-selection of one player aside, how in the hell does an organisation find a way to shoot itself in the foot like this; a prosthetic foot it only received following an identical shooting incident just last year?