2
minute read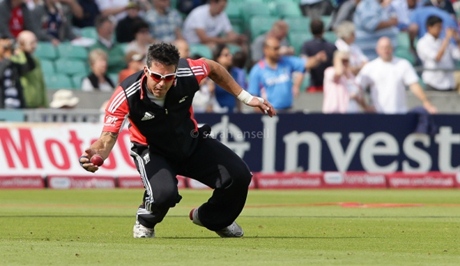 In the first Test, Kevin Pietersen was again dismissed in the nineties going for a big shot to reach his hundred. He did the same against South Africa over the summer.
There are a number of people (Nasser Hussain's one) who are angry at Pietersen for this. They say he could be losing England matches.
We're of the opinion that in an ideal world, he wouldn't play those shots. We also think that maybe – just maybe – Kevin Pietersen getting out in the nineties isn't the greatest of England's failings right now.
You can almost look on this tendency of his as a mark of his quality in a strange sort of way. If Alastair Cook got out for 97, we'd think: 'There's a chance of a hundred gone begging'. When Pietersen's out for the same score, we think: 'Oh well, he can always get one in the next match if he feels like it.'
It seems like no big deal. For most players the difference between 97 and 100 is monumental. Hundreds are commonplace for Pietersen so the difference is just the three runs.
Pietersen has actually been dismissed in the nineties four times now. He could quite easily have 19 hundreds and eight fifties. Bearing that ratio in mind, it's not unreasonable to assume that his two unbeaten fifties might have become hundreds as well, which would make it 21 hundreds to six fifties.
Look at it like that and you realise he's on another level (he's not on Another Level though – that would be hideous). Maybe a batsman of that ability should be making sure he doesn't get out in the nineties after all.