3
minute read
Ashes Cricket 2009
is an action cricket game, as opposed to a strategy game. It's probably the best cricket game going of that type.
Batting
Weirdly, batting's actually better than bowling. In previous cricket games, batting has largely been about getting frustrated and smashing the joypad because your idiot batsman set off for a run when the ball was in the keeper's gloves or because you finally missed a yorker after facing six overs of them. In Ashes Cricket 2009, there's none of this. More importantly, it actually feels like real batting.
The biggest compliment we can pay this game is that it really helps if you know a bit about cricket. For any given delivery, you have three decisions to make:
Front foot or back foot
Defensive shot, attacking shot, lofted shot or 'using your feet'
Direction of shot
Your margin for error varies according to how sensible a shot you're playing. Aim a drive at a wide outswinger or play against the spin and you'd better get your timing bang on. Play a straight half-volley back past the bowler and it'll be much easier to time. The upshot is, you look at the field and weigh up the percentages. It's like actually playing cricket, only you're not unfit and uncoordinated. Not until you get to the tail anyway.
Equally important is that the game doesn't automatically punish you if you play a crap shot. Edges might not carry, mishits sometimes evade fielders. It all adds to the sense of realism.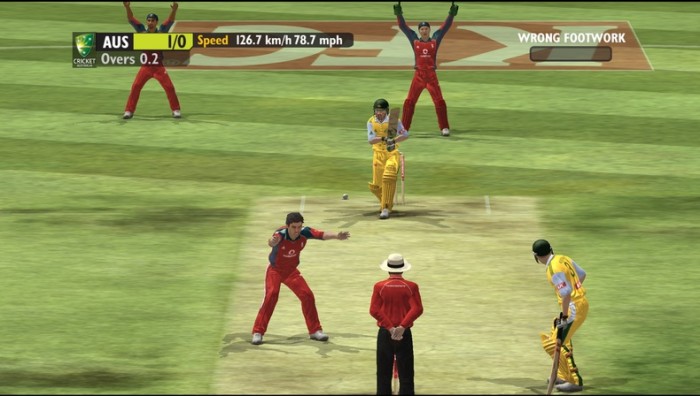 Bowling
To be honest, bowling is where Ashes Cricket 2009 falls down, which is a shame, because it promises a lot. There are loads deliveries on offer and it depends on the bowler and the playing conditions whether you can use them or not.
The bowling mechanism is good as well and at first you feel it's just as good as the batting. It feels like you're working the batsman over, trying to set him up. You're bowling to your field and all's going well. Then suddenly, it all goes mental.
I don't know what it is, but after about eight overs, the opposition batsmen engage the long handle and switch off their brains. The ball flies to all parts, there's a run-out every three overs and there's NOTHING you can do about either of those things. At that point, it's impossible to suspend disbelief and that's no good.
Fielding
We're shite at it. For catches, the ball approaches a fielder in slow motion and all you have to do is press a key at the right moment, as indicated by a red, amber or green colour around the ball. We favour the red immediately after the optimum green.
Is it worth buying?
We'd say so, yes. Twenty20 matches are largely immune to the demented slogging when you're in the field, so that's not so bad. Plus, you then get to gauge a run-chase, which is where this game's at its best, because you're constantly balancing risk and reward; picking your times to go over the top and making sure you score off every ball.
You can get Ashes Cricket 2009 from Amazon
for not a huge amount of money.