3
minute read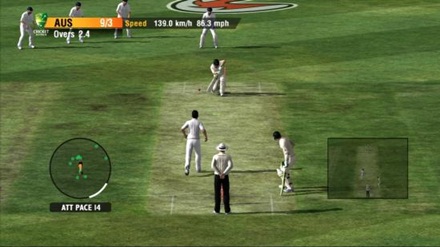 International Cricket 2010
is a rubbish name, but it's a great game.
Batting
The batting in Ashes Cricket 2009, the last version of this game, was excellent. It's now slightly better with greater control of each shot's power. If you don't try and knock the leather off the ball, you've less chance of getting out.
You work your way into the game taking singles, before unleashing drives and pulls when you're well-set. Specialist batsmen are less likely to edge or miss as well, so you'll find yourself marshalling the tail. These developments make batting more tactical. They make it better.
Bowling
The bowling was decent in Ashes Cricket, but not great. It's far better now. The huge leap forward is in the fact that the opposition batsmen don't suddenly think they're in a Twenty20 match after eight overs (unless they are). It seems all the more realistic for that.
You find you really have to work for your wickets too. You can't just keep bowling full balls, because the batsmen seem to get wise to it. You actually have to set the batsman up, trying different ploys to get the better of him.
How about a career mode?
Our one reservation is that playing  a Test match is pretty arduous. The tactical side of things is great, but you quite simply can't be bothered playing as all 11 batsmen. It's fun for a bit, but after half an hour, you really want a bowl, so you skip the innings.
Why do you have to play as every player? The game would be infinitely more engrossing if you had just one player under your control.
What would that mean?
First of all, your player could develop over time, giving the game a narrative and keeping you hooked. Early in your career, you would bat down the order and get a few overs and then according to how you performed and how you chose to train your player, you might get more responsibility.
Having one player would make each match a more manageable size, as you'd only play the parts you were involved in. It would also mean that you encountered different situations. Maybe you'd come in to bat needing to score at five an over; maybe you'd need to bat time. Maybe you'd come on to bowl needing to take a wicket or maybe you'd need to keep the runs down.
Training
Training would be a great addition. Your player's batting would be poor at first and you'd struggle to middle the ball, but as you progressed, he'd get better and you could start playing more shots and longer innings. As a bowler, you'd get fitter, more accurate and maybe quicker. You'd also learn new skills or refine existing ones: doosras, googlies, swing, reverse swing.
All of this would make a game more absorbing and it would give the player a reason to keep playing. We'll settle for five per cent of all profits if someone makes this game. Ta.
Until then, International Cricket 2010
is about as good as you're going to get. Buy it from Amazon
.