We're reviewing Ashes Cricket 2009
at the moment. It's actually pretty good, although we're going to play it a bit more to check there's no massive flaws that ruin the illusion.
There was a slower ball bouncer in the original Brian Lara Cricket which would clean bowl cowering batsmen every time. We couldn't play the game after we found that. We had to leave the house and speak to people instead. It was horrendous.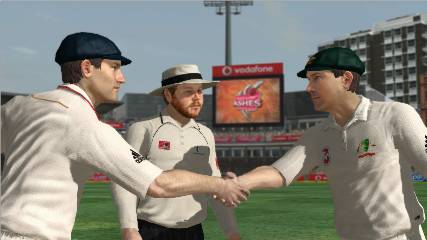 So far, we've found that batting's harder that bowling – but it always is in these games. Our World XI side got past 50 in our first innings though, which is way better than you usually manage with a new cricket game. Nevertheless, we do make one recommendation if you're going to get the PC version of Ashes Cricket 2009: grow some additional fingers.
Between directing your shot; choosing to play off the front foot or back foot; and then playing either a defensive shot, attacking shot or lofted shot, you're having to make use of at least one unreliable finger. Apparently you can move around the crease as well, but our batsmen have been more Inzamam-ul-Haq than Jonty Rhodes thus far.
Buy it from Amazon now
if you can't wait for our proper review.