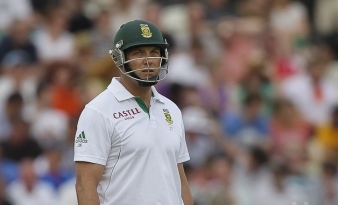 Congratulations, South Africa. Prepare for people to delight in your fall.
In recent years, the Test rankings have been a kind of schadenfreude production line. One nation gets to the top and promptly celebrates and then everyone else celebrates even more heartily when the team in question drops down again.
It doesn't seem to matter whether you were ahead by miles for many years, like Australia, or whether you merely nosed ahead for a brief period, like India and England. As soon as you're technically first, the bullseye is applied and the pot shots begin.
It's a good system. Everyone gets a turn and everyone gets a laugh as well.
"The hunters become the hunted"
A lot of players use this phrase when they're trying to tell you that it's harder to stay at number one than it is to get there in the first place. This is, quite honestly, horseshit.
Reaching and remaining number one are the exact same thing: you have to win slightly more than anyone else over a prolonged period of time. It's actually easier to stay top in the short term, because you've already got more points than anyone else and therefore have a slight buffer.
We're not sure we believe that the opposition up their game just because you're ranked number one either. Cricketers are generally quite keen to win cricket matches whoever they're playing. Also, when you're far and away the best, the opposition are intimidated. Nineties England sides LOWERED their game when playing Australia.
In recent years, India, England and South Africa have all earned the right to call themselves the number one Test side, but they haven't gone beyond that. If they're honest, their status has generally been at the mercy of injuries, poor form or even just the future tours programme.
Great teams earn leeway for themselves, but no-one has achieved that of late. If remaining at number one feels harder, it's because your status is inherently fragile.