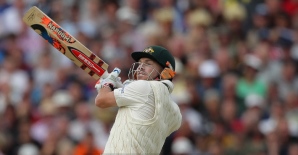 David Warner paid his own tribute to Phil Hughes by flaying a whole series of fours in the air through the off side. Chris Rogers then provided the context by demonstrating just how hard it is to middle the wide ball angling across a left-hander. Edged to slip? Where was the open-faced scythe to the boundary, man?
Warner's 10th hundred in 33 Tests takes his average within a spit of 50. He did for the opening bowlers to such an extent that India were relying on Ishant Sharma to bring the run-rate down. For all Sharma's qualities, that's usually a sign that things have gone horribly wrong.
India's other bowler was Karn Sharma, a legspinner, who was making his debut. We presume R Ashwin has again been omitted on the basis of his poor overseas record – something that he is going to struggle to correct from the dressing room. Thus far, Karn Sharma's built a piss-poor overseas record of his own, but there's little point judging him on day one of an Australian Test match. He does appear to have moobs, however.
The other big news was Michael Clarke retiring hurt. The injuries are coming with the frequency of Warner boundaries these days and we're starting to think we might not see much more of Australia's captain. We daresay he finds it rather frustrating. We do and we have pretty much nothing vested in his career.
Clarke's opposite number was Virat Kohli because MS Dhoni is slightly injured and slightly resting ahead of the World Cup. From what we saw, Kohli can do stern-faced pointing in sunglasses with the best of them. He did however lose the toss, which is something to work on before his next match as captain.