< 1
minute read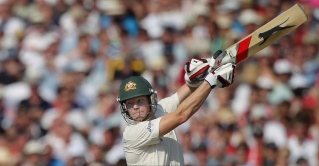 It's possible that we jumped the gun in saying that we might not see much more of Michael Clarke. We've reached this conclusion on the basis that he made a hundred as recently as today.
Watching Clarke teeter and gallumph about, it's clear that the spirit is willing but the tendons are inflamed, but you can get a long way with spirit – just ask Steve Smith.
We've previously said that at some point we'll come to terms with Steve Smith's run-scoring. We're not sure we're quite there yet, but a good innings is at least no longer a surprise. In fact, we've reached a point where we're faintly outraged when he's omitted from the Australia side. He pretty much always scores runs and he tends to do so in the right sort of manner for the situation as well.
Good cricketer. Weird batsman, weirder bowler, but good cricketer.