String writes:
I went to the fourth day of the Pakistan test at the Oval with Price, Dandy Dan and our friend Will. Anticipating sun, and wanting to protect my thinly covered scalp, I decided to wear my Ashes hat from the 1993 series. My Dad bought it for me at the Oval Test of that summer, though it's a bit smelly these days. I spent much of the morning saying that Phil Tufnell had taken a hatful of wickets in the '93 test. The internet has since told me that he wasn't actually playing.
We arrived at the ground quite early, giving us plenty of time to appraise Mike Gatting's appearance in the npower booth. We decided that smug and sedentary were the most descriptive terms. We'd been settled in for about half an hour or so when a bunch of blokes turned up to sit just along our row from us. We sat there enthralled as one of their number proceeded to drink beer out of anything that would hold liquid. A shoe? Check. A selection of hats? Check. A sock? Check. The pointless, small plastic pouches on lanyards that they gave us when we entered the ground? Check. The rest of the day they spent creating beer snakes, though they displayed a stultifying lack of subtlety, having their snake confiscated roughly every 30 minutes.
At lunch, Will and I wandered down to see if we could bowl Gatt behind his legs with a pork pie, but failed to get within 22 yards. Price ate the most horrible picnic ever. We all then mocked Will for looking a bit like Arsenal goalkeeper Manuel Almunia, but mostly like a tramp. He was wearing the same clothes for a second day running, exhibiting many beer stains from Friday night.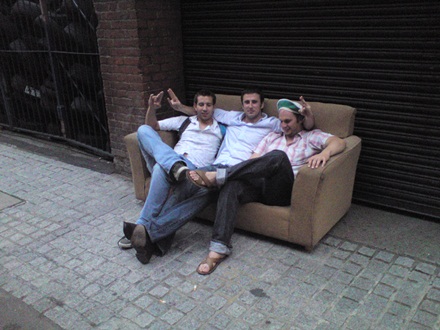 For reasons I won't go into here, we left the Oval at about mid afternoon and decided we would aim for a favourite pub of ours, the Royal Oak in Borough. Our numbers had swelled as our friend Harry had arrived. We decided that we should spend the afternoon making our way to Borough visiting pubs with trees in the name. Luckily, there is a Royal Oak near the Oval, so we started well.
It also marked a high point.
Thereafter the theme didn't really hold up to scrutiny. The Windmill (tall and made of wood), the Artichoke and Camel (general vegetation) were two of the more cogent links we could agree on. Dandy Dan spent most of the journey demanding a piggy back to the next pub, though he redeemed himself somewhat by opening a toilet cubicle door forcefully into Price's head. By the time we reached the Market Porter by Borough Market, all links to trees had long since been forgotten.