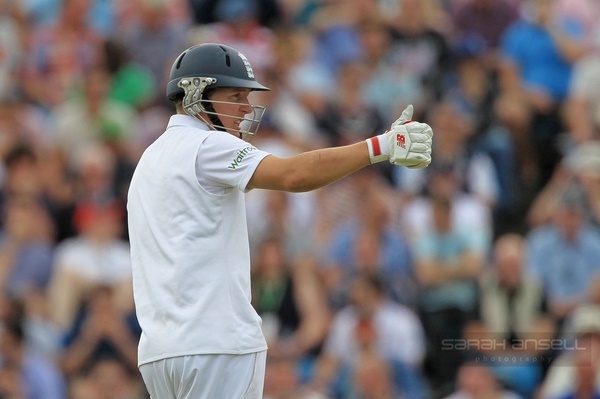 When a player is dropped during a home series, there's only one way back into the side. They perform well in first-class cricket, they tell themselves they've proved the doubters wrong and they return mentally buoyed.
When you're dropped on tour, things can pan out differently. Gary Ballance has just been dropped at the very start of a five-Test tour of India. Forget being a professional and selection and non-selection being part and parcel of a career, the man himself will feel that he has been evaluated and found wanting. It is a straightforward rejection of him as an individual.
And this guy is now the reserve batsman; a guy who may have to come back into the team should someone else fall ill, sustain an injury or fail.
The treadmill
People talk about international cricket being a treadmill, but let's appropriate that metaphor and use it differently.
When you're playing cricket, you're not on a treadmill – you're moving. Hopefully, you're scoring runs and moving forwards, but you could also be having a hard time and edging towards the trapdoor. Either way, things are changing.
Out of the team, you can still make progress one way or another by playing domestic cricket, but on tour, nothing happens – nothing meaningful anyway. You bat in the nets and it can feel like things are changing, but without testing yourself out in the real world, you're basically putting in a load of effort and going nowhere. You're on a treadmill.
Captains and coaches seem increasingly happy look at performances in the nets when picking a side, but we're not convinced that the players themselves feel the same way. They still talk about everything being different 'in the middle'.
Net worth
Gary Ballance is looking at a lot of net practice over the next few months and should he return to the side, nothing will have changed in terms of his results in competitive cricket matches.
He has been dropped because England think there's a whole bunch of batsmen who are better than him. If one of those suffers a similar fate later in the series, Ballance probably won't feel like he's earned back his Test place. He will feel like he's been returned to the side thanks to proximity, because another player has been even worse than he was when he was last rejected. It's hard to imagine a player in that frame of mind really sticking it to the world.
We're delighted that Haseeb Hameed is playing a Test match. At the same time we can't help but feel that there may be further changes to come. The decision to send Gary Ballance on tour and then instantly drop him from the team means this England squad is already looking rather thin.