< 1
minute read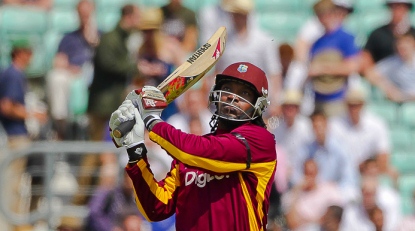 We'd say that Chris Gayle's biggest achievement today was looking like a relatively small person. The route to achieving this wasn't easy. He first had to hit a double hundred and this then allowed him the opportunity to stand next to Ian Bishop at the post-match press conference.
Bishop appears to have spent his time since retirement growing, such that he now looks like a bigger than life-size version of a human – all in proportion but built to completely the wrong scale. We're desperately hoping that England get to play the Windies and that James Taylor puts in a match-winning performance.
Shortly after Gayle had exited the pop-up stage, Jason Holder made an appearance. Miraculously, he was taller than Bishop, but looking at his spindly physique, it was obvious what had happened: someone had stretched him.
Also today, Shane Warne used the phrase 'absolutely salmon trout' to mean 'out'. Combine this with all his talk of cherries, poles and globes and it's obvious that the man is somehow entirely unfamiliar with the language of cricket.