3
minute read
D Charlton writes:
When myself and the soon-to-be Mrs D Charlton were enjoying a holiday in South-East Asia, I realised that it was the India-South Africa second Test at Eden Gardens. So, I decided to try and find the score.
I've had previous trouble finding the score in Italy and Lapland, so this time I came prepared. I brought my iPhone.
I took a second away from finding spiritual enlightenment at Wat Phra Kaew in Bangkok, fired up the iPhone, and waited. It was then I saw the sign.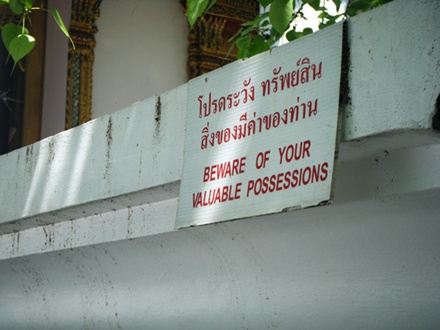 So I was being ware and I realised that my most valuable possession was my iPhone – and the temple was warning me away from its dangerously ambiguous scorecard. I did the only prudent thing in the face of such ancient, religious advice and ignored the iPhone.
Outside the temple, I still didn't know the score. I thought I best ask someone. This one chap, in a smart cap, came past and asked if he could help. I told him I was looking for the score of the India-South Africa second Test at Eden Gardens.
He said, in perfect English, that his cousin was at the ground. He'd give him a ring and ask. He picked up the phone and started talking. It all seemed too perfect. And it was then I saw the sign behind him (that's him on the left).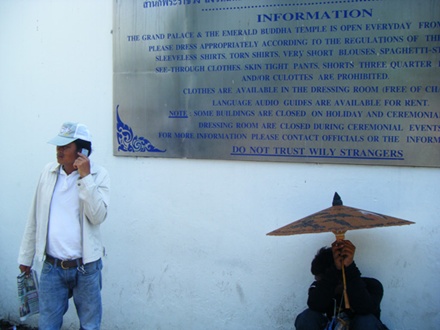 I made my excuses and left.
Later, bereft of any information, I realised that either South Africa or India or cricket was the winner. So, now in Vientiane in Laos, I decided to go to a victory monument – in honour of this great win. Here it is: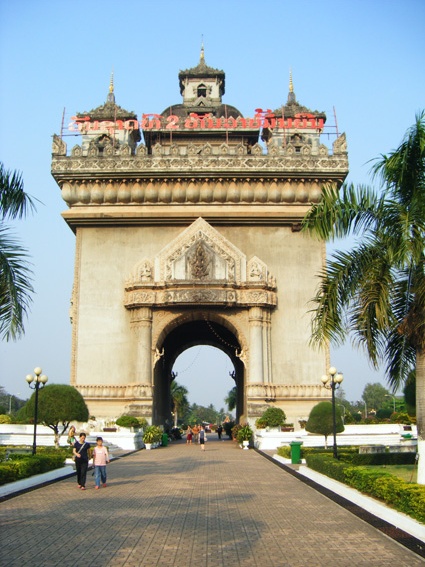 If King Cricket had a victory monument, we all agreed, it would look much like this, and the King would commission a helpful description underneath – much like this:
I also asked this Laotian pig what the score was. He didn't seem too bothered and continued to look for roots to chew on. I have a feeling we may have chewed on him later.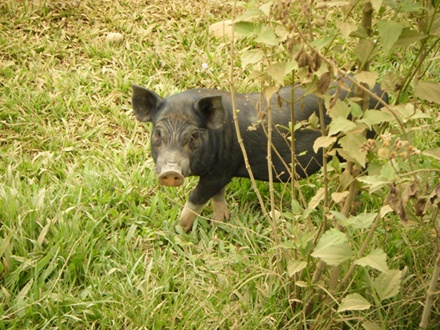 Finally, back in Thailand, I had run out of ideas as to where to find the score. And then, as if by magic, I saw another sign and I knew which website I had to visit: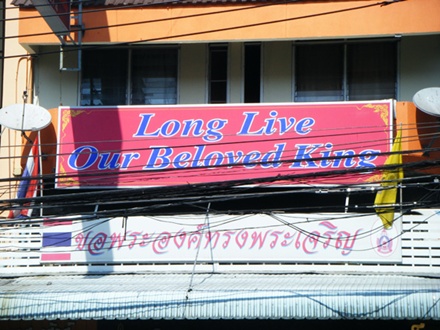 Send your match reports to king@kingcricket.co.uk and on no account mention the cricket itself.