2
minute read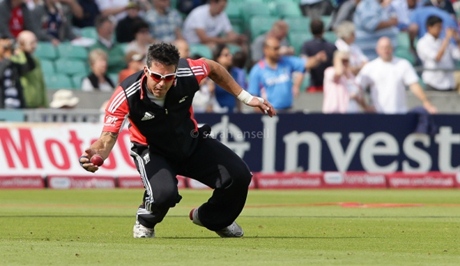 Kevin Pietersen EXCLUSIVES and REVELATIONS are about to rain down on us in the run-up to the launch of his autobiography (apparently most of it's about him – the egotist). The latest salvo in English cricket's biggest shitfight of recent times comes in the form of his interview with The Telegraph.
Feel free to have your say in the comments, but we found it all surprisingly low key. We're promised THE TRUTH now that the confidentiality clause in his severance agreement has expired but it increasingly seems like a situation where fairly small stuff grew to seem like big stuff for a bunch of coaches and cricketers who had to spend morning, noon and night together.
It's just one guy's story and while some of it is certainly self-serving, other aspects ring true. We'd actually forgotten about the England team's fielder abuse of a few years ago, but it definitely happened and it's interesting to see that it was a big thing for some players. Shouting at those who misfielded or dropped catches always seemed childish and counterproductive but Pietersen portrays it as being one aspect of something broader and deeper-rooted – although he doesn't really give other examples. Similarly, you don't need to have seen more than one Andy Flower interview to know that the allegation that he built 'a regime, not a team' is probably quite a fair assessment.
But none of this is really shocking. It doesn't seem like petty squabbling, so much as mundane squabbling. The mystery is how it all came to seem like such a big deal that the ECB and Pietersen ended up pitted against each other. Maybe if the England cricket team weren't such a 365-day-a-year thing, everyone involved might have retained a bit more perspective.