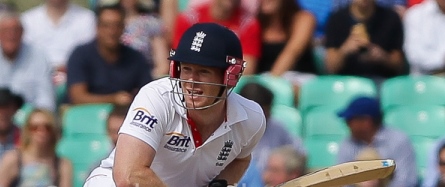 In a run-chase, pressure doesn't just come from the bowling you face. It comes from the relationship between the bowling you face and the runs you need. We haven't yet seen England's defence of 310, but our initial feeling is that Eoin Morgan's belief that the bowlers were at fault for the loss to Sri Lanka is simplistic.
We saw England bat. We saw a classic one-day finish preceded by a stumblesome plateau. 28 runs were scored in 10 overs and while you do get these lulls even in these modern high-scoring days, it seemed unjustifiably quiet. Nothing happened against Angelo Mathews and Tillakaratne Dilshan for whom bowling is a secondary skill.
If Morgan himself came to the party, he arrived with an apology. He wasn't drinking because he had work in the morning and he was really sorry but he'd also have to leave quite early. He stood in the corner for an hour, spoke to no-one and then left with 27 runs off 47 balls. It was so pointless you wonder whether England would have been any worse off if Chris Woakes had come in at five. At least Morgan could have a go at the slogging for which he is renowned if he batted at eight.
Root, Taylor and particularly Buttler engineered a strong finish and then it was over to the bowlers, but it didn't seem to be a day for the 85mph right-arm seam bowling basket. Moeen Ali took the only wicket and was also the most economical bowler.
Referring to his attack, Morgan said: "When we are firing we are predictably good." We felt sure he was about to follow this up with 'but when we aren't we are predictably bad'. He could also have gone for 'predictable and bad' but he opted for neither. Instead he bemoaned 'one bad ball every couple of overs'.
Maybe he's right – it certainly sounds like England could have fielded better – but maybe England should have made 20 or 30 runs more. Maybe that would have allowed more bad balls. Maybe that would have helped the required run-rate rise.
Or maybe it's all an irrelevance. Maybe England could have got absolutely everything exactly right throughout this World Cup – captain, batting line-up, bowlers, 'execution' – and still not won it.