2
minute read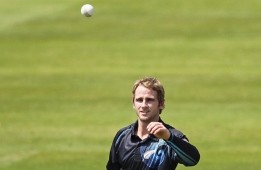 When New Zealand played Australia, the bowlers won and cricket was all the better for it. Runs are not a sensible unit of measurement when gauging the value of the 'product'.
AB de Villiers is a genius and deserves every plaudit that comes his way, but Kane Williamson's 45 off 42 balls pisses all over his 162 off 66 balls earlier in the week.
Okay, maybe that's unfair because de Villiers' knock was also match-deciding in its own way and could only have been delivered by a truly freakish talent. We're just pointing out that in many ways Williamson's innings belongs in the same category.
What's the value of a six? It's not six runs. That doesn't explain it because runs don't have a set value. A run takes its value from the context in which it is scored.
When Brendon Taylor hit a six against the West Indies earlier in the week, those runs represented around 1.6 per cent of Zimbabwe's target total. Not very exciting. When Kane Williamson hit a six today, those runs represented about 4 per cent of New Zealand's target total.
So twice as valuable? No, because we didn't properly assess the context there. Taylor's came in a run-chase that was always destined for failure and so, measured by what really matters, it was all-but-pointless. In contrast, Williamson's came with New Zealand needing six runs to win, against Australia, with only one wicket in hand.
A mishit and New Zealand's bitter rivals would have won. A four and Australia still could have won. That's when a six is a 'maximum' – when it delivers maximum impact.