Ritesh writes:
This was my third game at the ground during this year's IPL. At the previous game, my marriage was almost destroyed when the missus and I had to wait in line for an hour and subsequently had to sit on hard concrete rafters approximately at square leg.
So this time I overcompensated by reaching the ground at 2.30pm for the 4pm match. We got plum seats – about 20 rows back, sandwiched between a very large lady (not said missus) and an elderly constable with a pleasing underarm sweat patch.
Some time later, a bomb went off. The explosion was so loud we could hardly hear the Max Mobile countdown. Here is a picture of the panic in our stand:
The police swung into action upon hearing the bomb blast. They immediately suspended the sale of beer in our stand – a ban that stayed for the rest of the tournament. We showed our support for the prompt police action by waving several brand logos at them.
Meanwhile, our escape vehicle was standing by in case of any further bomb attacks. The tyres seemed a bit unusual, but it couldn't be so bad – IT HAD SO MANY LOGOS.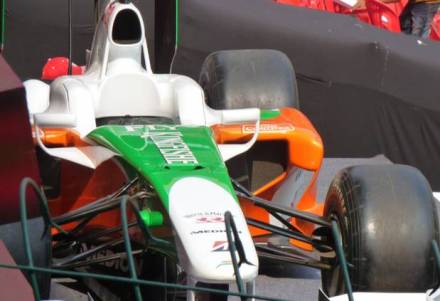 The missus got increasingly anxious as she wasn't able to lay her hands on beer-bottle shaped sunglasses which the kind folks at Kingfisher were handing out. They looked somewhat like this:

As a bonus, here is a picture of Sachin Tendulkar being conspicuously indifferent to terrorism: