Dapper Dan writes:
My day began as most of my days have begun recently:
Girlfriend's alarm goes off at 6.15am, she gets up, goes in shower, I go back to sleep.
Girlfriend leaves for work approximately 7.15am, wakes me up to say goodbye, I go back to sleep.
Sunlight in bedroom wakes me up approximately 10.30am. Turn on TV and check which Top Gear is being shown on Dave ja Vu. Realise I've seen this one at least 50 times so decide to watch This Morning instead. Still coming to grips with the idea of seeing a reasonably attractive, young lady presenting it with Phil instead of the motherly natured Fern. Think I prefer Fern at this time in the morning.
Receive text from Price telling me it was a good thing I laminated the Bat for the Draw cards I'd made for him for his birthday as they'd just been through the wash. I sent him a reply reminding him of the value of checking your pockets before doing a wash.
Checked the post and opened a letter telling me that my unemployed status was to be no more in a few weeks. Therefore decided I should use what time I had left wisely.
After going for a very pleasant ride on my bike, I caught the end of the Twenty20 Champions League opening ceremony. Made me wonder what the world has come to. I missed the very first ball because I was making a cup of tea, but then sat down with said tea and the last piece of apple cake I had made a few days previously to watch the team in the stupid gold helmets bat. I also pondered whether we should really spend all that money on the curtains in John Lewis that we'd seen.
As with most limited overs forms of the game, I quickly got distracted and went to do the dishes. Girlfriend returned home and slyly changed the TV to watch Neighbours and then Home and Away (I was still listening, but didn't notice her act). Was made aware of her sneakiness when the Home and Away theme tune blared out. I politely asked her if my previous listening could be resumed.
Sat down and watched with an unexplainable amount of enjoyment the South African team win. Then decided I was hungry so went to make burgers for dinner. They turned out to be delicious which wasn't a big surprise as I make excellent burgers.
After this I baked another apple cake: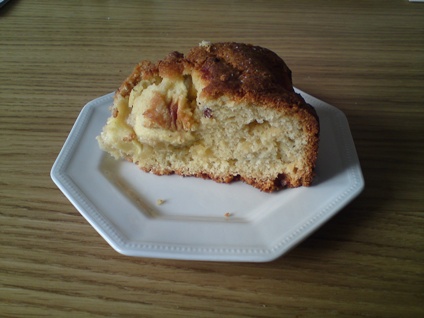 Send your match reports to king@kingcricket.co.uk – but on no account mention the cricket.