< 1
minute read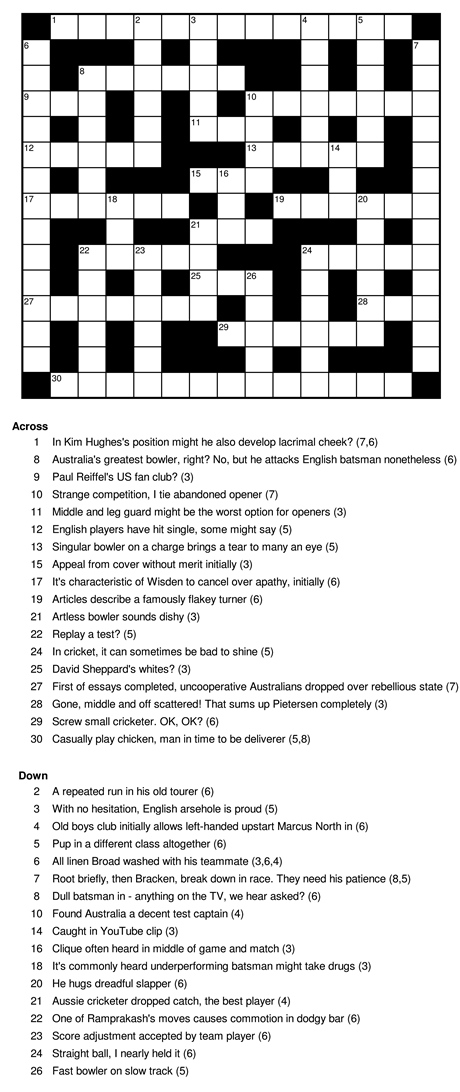 Bert writes:
I've done another crossword. I was going to wait till a full year had passed since the last one, but with the upcoming summer of cricket I thought it would be appropriate to do it now. So here it is – the 2013 King Cricket Ashes and Priestly Vestments Summer Crossword.
The theme of this year's crossword is The Ashes and Priestly Vestments. It's designed for all those who take an interest in Ashes Cricket and Priestly Vestments. I'm sure we've all had many a discussion about Priestly Vestments while sat watching the…
Oh all right, I give up. But you try fitting the names of 14 England and Australia test cricketers into a symmetrical crossword grid without leaving a space that can only be filled with a type of Priestly Vestment. It's not easy, I can tell you. So you've got what you've got, even if one of the answers seems to be "surplice" to requirements (thank you, you're all too kind). Believe me, if you're not au fait with the goings on of minor British celebs over the last couple of decades, it won't be the most obscure answer you have to find.
Suggested References: Chambers 2012, OED 2009, OK Magazine August 2000, Know Your Priestly Vestments 1387 (2nd Ed.)
For answers and explanations, click here.