2
minute read
Sam writes:
Please find attached a picture of several cricket bats in an unusual place, namely a glass case in a shop in Jinja, Uganda.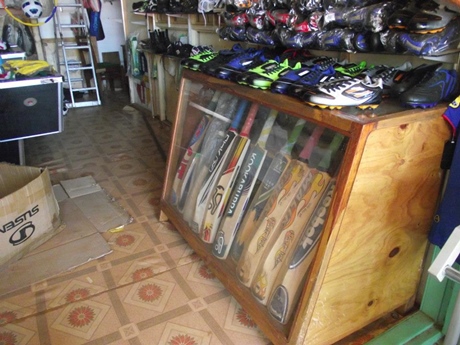 I took this picture as I was walking along the main road in Jinja, which is a fairly small town about an hour's drive away from Uganda's capital, Kampala.
I was with a friend who was looking for a swimming costume. She had entered into a detailed discussion with a shop assistant about the relative merits of a black two-piece bikini. Much as I would have liked to add my tuppenceworth and offer my photography skills should she be inclined to try the garment for size, I felt restraint would be the better part of valour and stepped out into the suffocating heat of the afternoon.
Sharp-eyed readers will notice there are several popular brands of cricket bat on offer here, and even a couple which are mysteriously wrapped in some sort of opaque covering. Uganda, unlike its neighbour Kenya, is not known for cricket. The football boots adorning the glass case only serve to further demonstrate this. You know you see those pictures where one thing juxtaposed with another thing illustrates some sort of poignant symbolism? This is a bit like that. If you squint.
I would say it's unlikely that any of those bats will ever be released from their wooden prison. They will stay there for eternity, or until they rot away, like poor deformed orphan children, staring out into a country filled with youngsters who would kick a tramp's head down the road if they thought it looked like a football.
I may or may not have had a drink with lunch before I wrote this piece.
Until next time, comrades.
Send your pictures of cricket bats and other cricket stuff in unusual places to king@kingcricket.co.uk