2
minute read
Bert writes
It's time to move on. I'm bored with shenanigans. There's only a certain amount of shenanigans a man can put up with. We need to get back to what unites us, which is cricket, not what divides us, which is, er, cricket. Anyway, I don't want to see any more cross words.
Therefore, here is a crossword.
All cricket fans like crosswords. It's one of the things that goes into the rucksack for the day – flask, sun cream, flick-knife, newspaper with crossword. You sit, glance at the cricket, ponder the crossword awhile, glance up, wish you'd watched that hat-trick, then shrug and write REREDOS in 19 across as compensation. This one's even better, because it's a special King Cricket themed crossword. Solving it requires a combination of general cricket knowledge and a deep understanding of this website, plus the twisted mentality bordering on madness of a cryptic crossword solver. In other words, it's for YOU LOVELY PEOPLE. I hope you enjoy it.
There is NOT a FANTASTIC PRIZE for the first correct entry.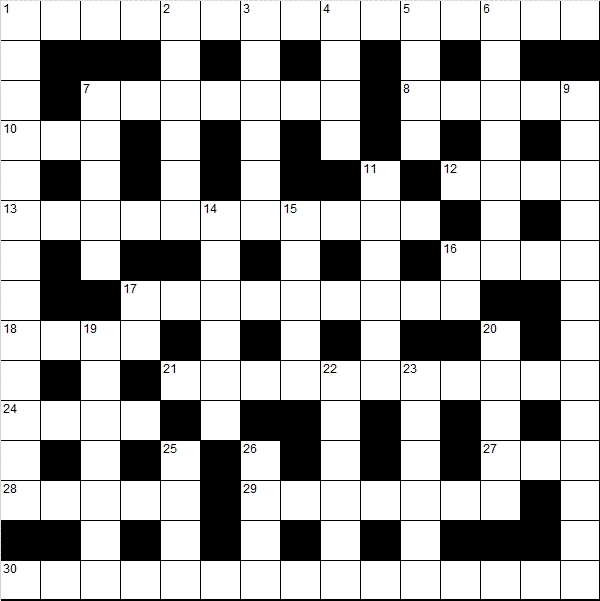 Across
1 Ensuring Cinders stays at home (7,3,5)
7 De Villiers and crew outside party showing midriff (7)
8 Dance as SA left in a mess (5)
10 Kiwi, bespectacled and befuddled (3)
12 Two tests were linked (4)
13 Right dolt manoeuvred to have the money to buy the true home of cricket (3,8)
16 Disagree with "No run", getting into fevered state (4)
17 Deceive about what Mitch invariably does with a ball (9)
18 Useful, short, and in charge of England (4)
21 Relative to a small mass, insect is the biggest thing on the web (4,7)
24 See 16d
27 Hear Brett in meadow (3)
28 Young and without news from Melbourne (2,3)
29 Star batsman, to be frank (7)
30 In acts, animals behaving as we have come to expect (11,4)
Down
1 Execute gamespace skillsets! Where can we find such meaningless drivel? (5,2,6)
2 Not out! Trueman was in a league of his own (6)
3, 20 Cricket is not a chance occurrence (4,2,5)
4 Placed inside batting glove to improve bat control (4)
5 See 17d
6 Keeping Peter Willey's crack partner (7)
7 First half of one day game changed, but it's still a positive point (5)
9 Separated from nation's First Couple – Princess reportedly attracted composer (6,7)
11 A right arse, making single innings deficit (6)
14 Point comes in to dislodge bail – a rapid descent follows (6)
15 Throw, leading to brief affair (5)
16, 24 Skated around scorer's position
17, 5 Mary's confused by initial explanation – is Giles the right man for English cricket? (2,4)
19 Charlton is King! Now see how he dismisses us (7)
20 See 3
22 Kent taking drug brought shame to English cricket (6)
23 Make bat advertisement in paper (6)
25 Singular leaves, but still gets to run through (4)
26 Cute, short short message from chatty cricketers (4)
An Excel version of this crossword can be downloaded here. Answers to follow at some point.
The answers can be found on this page.