2
minute read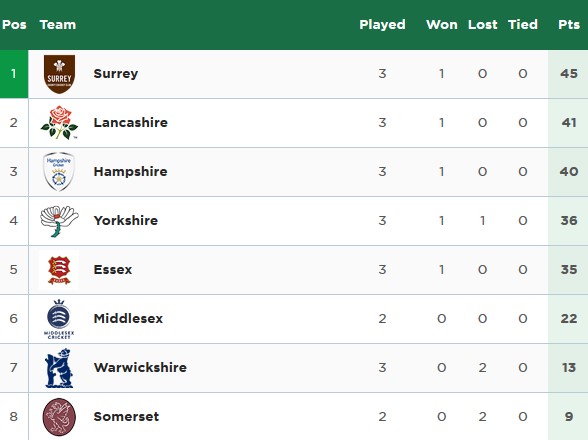 Surrey are still top
Despite drawing with Warwickshire who had attained just three points from two Championship games before this fixture.
The most striking development was probably Ian Bell's dismissal for 99. Was this more or less painful than Misbah-ul-Haq being left stranded on 99 not out yesterday?
The Curran who bowls with the correct arm earns a mention for taking eight wickets in what was basically a match of batting.
Lancashire dispose of Somerset like one of those poisonous animals
You know the ones. They curl up in a ball as if they're dead and when their gleeful foe starts to tuck into them, the lethal poison secreted in their pelt becomes apparent. You sustain a few wounds, but you still win.
Lancashire ensured sufficient time to press for victory later in the game through the simple ploy of allowing themselves to be bowled out for 109 in their first innings. One To Watch, Liam Livingstone, made 68 of those runs – but he never hangs about so it wasn't too time-consuming.
After Somerset had slunk into the lead, Livingstone returned to the crease and made 168, largely in partnership with Jos Buttler's nemesis, wicketkeeper Alex Davies, who made his second hundred of the season. Ryan McLaren then did his reliable old South African seamer thing like some kind of Shaun Pollock tribute act.
A slow start at Lord's
Middlesex did well to inject a note of tension into a match which looked like it was going nowhere inside the very first session. The first three batsmen all made hundreds. Things picked up a bit later on, but not enough.
Gary Ballance is ablaze
While everyone cooed about James Vince's cover drives in the Hampshire v Yorkshire match, Gary Ballance made 300-and-odd runs for once out. These were Ballance's second and third hundreds of the season and also, due to the oddities of the County Championship fixture list, the second and third against Hampshire too.
The second, which was the third, was his first double.
Yes, we did deliberately write that last sentence to be hard to read.