2
minute read
England tour India over the winter. They play two Tests, which is clearly too few. They will also play seven one-day internationals, which is clearly a huge waste of everyone's time.
You can't blame India. The last time England toured, the Test series was drawn while the one-dayers were so painfully one-sided they might as well have been us – seriously, we can just about pull off 'waving' with our left hand, but nothing more complex than that.
Some England fans (read 'the English media') are disappointed by the venues, but we've been to quite a few of the towns and it's not all bad. The one they should be complaining about is bleeding Mumbai. If you want to see a man channelling urine down the inside of his leg and out of the bottom of his trouser leg, go to Mumbai.
Ahmedabad
The first Test's at Ahmedabad and seemingly everyone hates it. We have no idea why. Despite being in Gujarat (and therefore dry) Ahmedabad's a top city. They have camel taxis as well as one of the most underrated tourist sights in the entire world.
In the middle of an industrial estate, with no signs or paying-to-get-in or anything else, is this: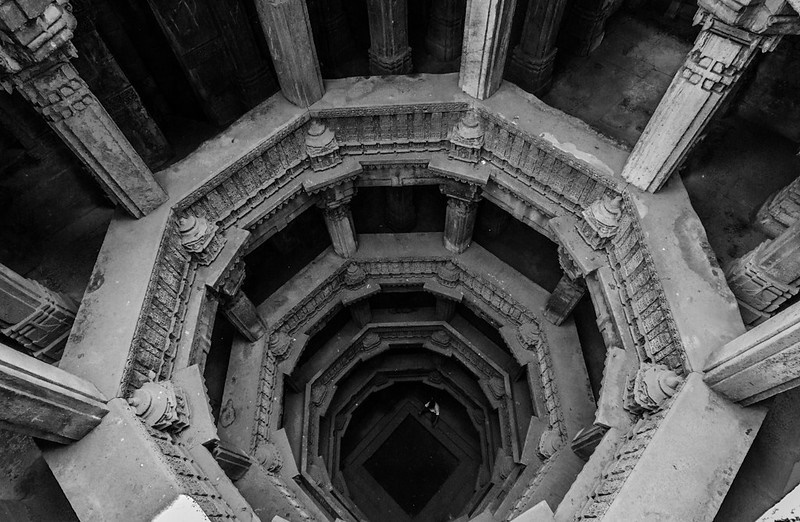 Someone will doubtless correct us, but it's the Dada Hari Vav. It's a well.
You might think of a well as being a ruddy great hole in the ground, but this is a step well. You can walk down it, descending floor after floor until you get to the water. It's dark, it's huge and it's inexplicably elaborate.
Also, if you do go to the Test in Ahmedabad, you can take a holiday on the island of Diu afterwards. Diu is just off the Gujarati coast and they let you drink there. They also don't tax you for doing so, so it's REALLY cheap.
Indore
The second one-day international is in Indore. We've a vague notion that we've been there, but we can't recall a single detail. We were probably changing buses. It might have been the station with the unusably bad toilets, thinking about it. (Note: That's 'unusably bad' not 'unusually bad'.)
If you go to the Indore match, make sure you head out to Mandu which is a ruined city. The great thing about Mandu is that there's a healthy supply of monkeys.
We're not sure if you're aware of our entirely wholesome, but perhaps also slightly insane appreciation of monkeys. It stems from an incident which led to our being accepted as their god.
Mandu is a good place to meet monkeys. Tell them we sent you.