2
minute read
We're going to be upfront about this: today's post is largely a means of trying to exploit our readership in a most-likely forlorn bid to remember a very trivial thing which we cannot currently remember. But let's have a few words about Matt Renshaw before we get into that.
This was going to be another Matt Renshaw piece. Last week Renshaw made 101 out of Somerset's total of 202 and we were very much impressed. This week he made 112 out of 216, which is basically the same thing.
One thing we greatly enjoy in county cricket is when one player is very dominant. This scenario allows us to ignore everything else that is going on and just keep writing about the same player. This makes life an awful lot easier because the County Championship is big and sprawling and our attention is not.
The downside is that eventually we run out of things to say. (And in this case another downside is that Renshaw is an Australian person.)
Fortunately, once we've acknowledged the main guy's brilliance, there's usually a very minor detail from elsewhere in the County Championship that takes our interest and we can just start writing about that instead. (Another thing we greatly enjoy is digressing – although technically, going by the headline, the Renshaw stuff's actually the digression. This next bit's 'the main story'.)
Today Peter Siddle bowled in a woolly hat. Here's a screengrab from footage shot from behind (which, it turns out, is pretty much the worst angle from which to try and clearly distinguish between hat and hair).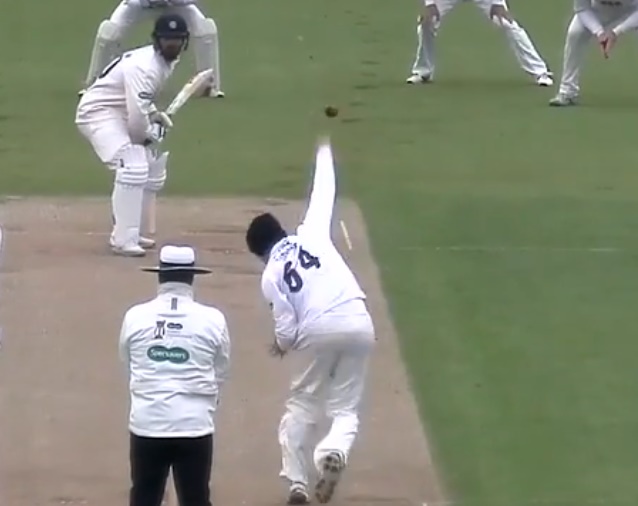 Our position on this is that we prefer seam bowlers bowling in woolly hats to spin bowlers bowling in sunglasses. Beyond that, we haven't yet formed much of an opinion.
It's a matter to give some thought to, certainly, but sadly we have not had any available thought capacity due to an unexpected side effect of Siddle's hat bowling. When we saw him doing it, the first thing we thought was: "This sort of reminds us of that time we saw a player wearing a sunhat on a really cold day but then when we looked more closely it turned out he was also wearing a woolly hat under the sunhat."
Here's the thing. We can't remember who that person was and it's really hard to stop thinking about it. We're so close to knowing. So close.
We're not googling because that's against the rules, but we figure it's okay to give you guys the same limited information we have at our disposal in the hope that you just instantly know who it might have been. Then we can just all forget about Double Hat Man and really focus on the bowling-in-a-hat issue instead.
We're pretty sure the person was from the West Indies and that he played for Somerset about the same time that Ian Blackwell did. That's all we've got. Anyone?