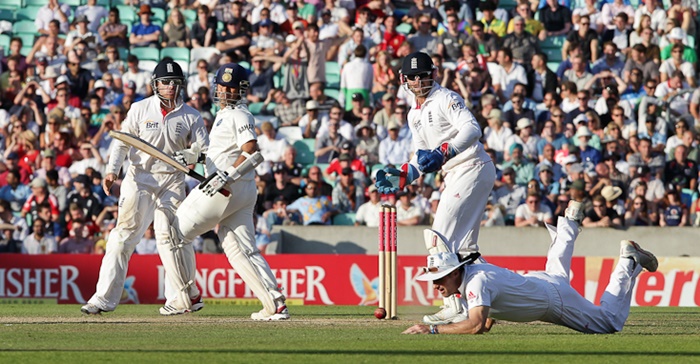 The Cricket Monthly has a wonderful article on how dropped catches impact a Test. It's a fascinating subject for how poorly it's currently understood.
Two of our favourite facts from the article are:
That Wavell Hinds was once dropped twice en route to a duck – surely a candidate for the worst Test innings there's ever been
James Tredwell suffered 10 missed chances in his two-Test career
The second brings to the fore an obvious point. Except for caught-and-bowled opportunities (which accounted for three of Tredwell's missed opportunities), at the moment at which a catch is there to be taken, the bowler has done all they can.
In many ways it makes more sense to gauge a bowler's worth by how many chances they create rather than how many wickets they take. Everything beyond that is out of their hands (and quite often out of the fielder's hands too).
Tredwell still managed to take 11 wickets in those two Tests, incidentally. It's intriguing to ponder how his figures could have looked given less buttery fingers among his team-mates.
The cost of a drop
To produce the article, Charles Davis spent Godfrey Evans knows how much time logging dropped catches. He found that roughly a quarter of chances are grassed.
It strikes us that if you take the average number of chances in a match and the average number of wickets and runs in a match, you can arrive at some sort of standard value for a wicket-taking opportunity through which we can measure the worth of a bowler.
So what is the average number of chances per match?
In the last 10 years (at the time of writing) 441,749 runs have been scored and 12,841 wickets have been taken. Of those wickets, 8,026 have been catches.
As per Charles Davis's figure, we'll assume that a quarter of chances are dropped, so 8,026 catches equates to 10,701 chances – an additional 2,675.
In other words, to take those 12,841 wickets, around 15,516 chances were created.
This means that for 441,749 runs, each wicket-taking opportunity is worth 28.47 runs.
What does this mean?
Doubtless there's more than a soupcon of wonk in those calculations – mathematics isn't our strong suit – but surely someone with more time and a better brain can arrive at a reasonably accurate means of measuring the run value of every 'chance'.
Yes, there's an obvious difference between the value of a Wavell Hinds drop and a Brian Lara drop, but who's to say what might happen next in any given situation? The whole point of averages is to take such things out of the equation.
What's the cost of a drop? About 28.47 runs, on average.
We're particularly interested in what this means for wicketkeepers. The trend at present is to place great emphasis on batting and someone likely to average 10 runs more an innings (20 runs a match) will pretty much always get the nod.
However, if each wicket-taking opportunity is typically worth 28.47 runs, that run-scoring difference amounts to significantly less than a single dropped catch per Test match.