2
minute read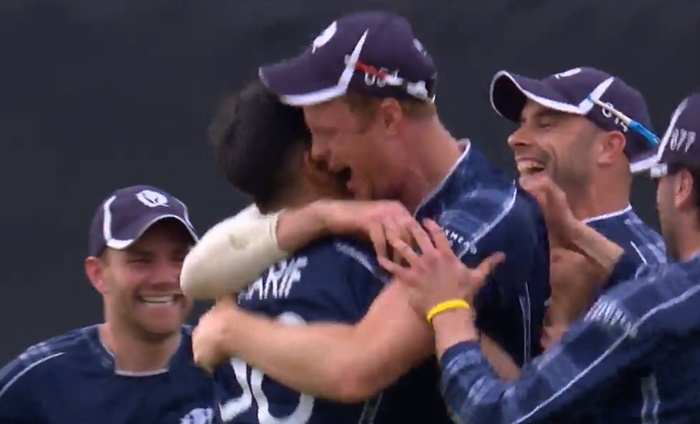 Scotland's obvious delight at beating England at the weekend was in no way matched by the anger of the England fans or the embarrassment of the players. It's not an exact mathematical thing, but normally in sport you'd expect similar sorts of weight on both sides. Why was that not the case?
If you could boil the England fans' reaction down to a jus, it would taste something like: "Bit disappointed, but happy for Scotland – it's great for them."
This is in no way appropriate and absolutely 100 per cent not what anyone from Scotland wants. Those guys want tears and this sort of phlegmatism really undermines their celebrations.
As for the opposition, when the final wicket fell, Trevor Bayliss stood up and flattened out the pocket of his hoodie. You could argue that by Bayliss standards flattening out the pocket of his hoodie pretty much amounts to dropping to his knees and roaring at the heavens, but we'd argue that it more accurately amounts to flattening out the pocket of his hoodie.
Eoin Morgan said: "It's not the end of the world for us. It was a really good run out and good to have a practice coming into the series against Australia."
That pretty much sums up the whole problem: There's nothing riding on it. There are no consequences. Scotland's big game is just a warm-up for England. The two sides viewed the game completely differently.
England's one-day side hasn't been together recently, yet they only met up the day before the Scotland match. They barely practised. The match was their practice.
That is dismissive and insulting and if you think that being beaten will make them act differently in the future, think again. It is a get-out. So long as games against Scotland are viewed as warm-ups, defeats can be shrugged off.
"Onwards to the proper stuff – we'll be playing properly come the proper stuff," will be the gist of any comments after a defeat.
Scotland are of course not invited to the one Proper Stuff event that is supposed to be about celebrating and encouraging the spread of the sport. The 'world' cup is currently a closed shop reserved only for the made guys.
People do seem to be a bit sick of this and we get the distinct impression that the 10-team format of the 2019 World Cup will be a one-off. Nevertheless, even when Scotland did get a World Cup invite, the format was generally rigged to the extent that there were still no real consequences unless the big teams suffered a whole series of poor results.
There have to be consequences. Consequences are what piss losing fans off. A guarantee that one way or another there will be a whole bunch of pissed off fans makes any cricket match infinitely more exciting.