3
minute read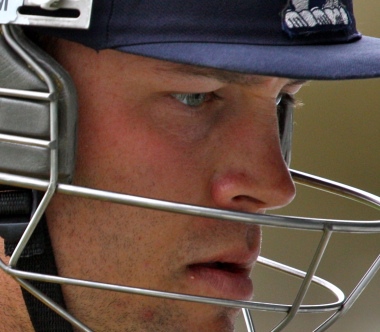 For all that we're meant to be enlightened, modern folk who are au fait with mental health issues, there's an odd reluctance to enter into specifics when someone is suffering 'a stress-related illness'.
Physical v mental
In a sense, medical problems are nobody's business but the sportsman in question. It seems invasive when we learn of Shoaib Akhtar's genital warts or the problems Tom Boonen's been having with his barse. But yet we'll hear all the details about a hamstring strain or knee problem. We'll hear too many details. We'll hear medical jargon most of us are ill-equipped to comprehend.
But with stress, we don't get a clear picture. Apparently that would be prying in a way in which providing the details about a physical injury would not. That's probably correct, but as readers we've become conditioned to expect detail. The absence breeds conjecture.
Depressive illness
'Stress-related illness' is a vague slice of the depression spectrum. There's mild anxiety at one end and suicide at the other. There are many different symptoms – such as pessimism, destructive thought patterns, persistent elevated heart rate, insomnia and self-harm – and different people will experience different combinations to different degrees.
Everything we experience goes through the brain. When that's fucked, you can't shrug it off. It's all-consuming; a muddied bottleneck which soils everything that passes through it. This is why modern society is increasingly sympathetic to sportsmen who are struggling – because more and more people understand, or, unfortunately, have experience of depression.
So why so few details?
A sportsman's personal identity and sense of self worth are invariably closely linked to performance. For a batsman, that is something intrinsically fickle and fragile. Most of us therefore understand that depression is a very real occupational hazard. Why then is the information provided to the press so vague?
Perhaps mental fragility is considered a professional weakness and therefore somehow 'off limits' to the press, but Michael Clarke's bad back is a professional weakness to which endless column inches have been devoted in recent months. What's the difference?
Is it that detailing the problem might pile extra pressure on the player who is suffering? A counter argument would be that getting things out in the open has been shown to lighten the mental load for a number of people in a similar position. Men are particularly prone to crippling themselves with their attempts to conceal their struggles and no men attempt to be men's men like sportsmen.
You'd hope we aren't seeing an aspect of the kind of institutional warrior culture so spectacularly eviscerated by Brian Phillips writing about the Miami Dolphins bullying scandal, but you suspect we might be.
So what of Jonathan Trott?
Is it related to his struggles in the first Test? Probably to a degree, because as we said above, personal identity is likely to be entwined with professional performance. However, it will certainly have been something that's been slowly building rather than a direct response. In that sense, his second innings at the Gabba could be seen as a symptom, rather than a cause.
Inevitably, there will be talk of weakness. Invariably, it will be from people who aren't worth listening to. Some Australians have a propensity to stereotype their compatriots as mentally tough, physically tough hardcases and a corollary of this is that they see the English as mentally flimsy big girl's blouses. They will take Trott's departure as vindication of their prejudices.
However, they might like to ponder something first. The man they perceive to have crushed Jonathan Trott is Mitchell Johnson. Johnson sought counselling as a result of the baiting he has received at the hands of a large number of England fans. He isn't the first Aussie quick to show mental fragility either. Shaun Tait has been open about experiencing bouts of depression. It can happen to anyone – although it's pretty obvious that it's more likely to happen to cricketers.