Match report
3
Dumbo The Suzuki Jimny writes:
My name is Dumbo. I am a little Suzuki Jimny, making my living by being Ged Ladd's car. In our neighbourhood I have lots of big relatives, mostly Range Rovers, commonly known as Chelsea tractors.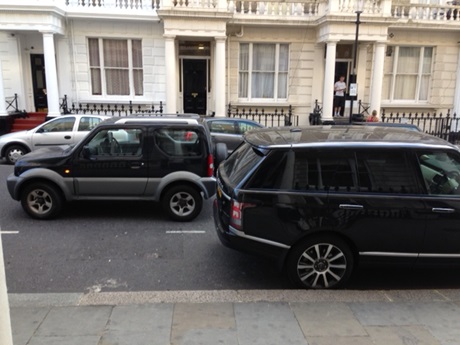 Those big posh Range Rover fellas claim that they are from the right sort of family, whereas I am not. We are all cricket lovers, of course, but the Range Rovers are members of the MCC (Motor Cricket Club) whereas I am a member of the MCCC (Motor Car Cricket Club), which the big boys tell me is a smaller, lesser brand. The bully in the photo is so big, there's neither room for me to park nor room for his big head in the photo.
Anyway, soon after Ged and Daisy's jaunt to Lord's to see the Middlesex v Durham match, I took them to Ireland for a couple of weeks, during May 2015. At the end of our holiday, we checked into our last night hotel, the Clontarf Castle, but then decided to see the Casino at Marino and also take a look at Clontarf CC.
Ged's satnav had trouble finding the Casino at Marino – the satnav wanted us to go to a cafe in Marino instead of the neo-classical house. In the end we got to the right place. Ged said that it was the least expensive visit to a casino in his entire life. He also said it was only his second ever visit to a casino and that this Marino one wasn't a gambling casino.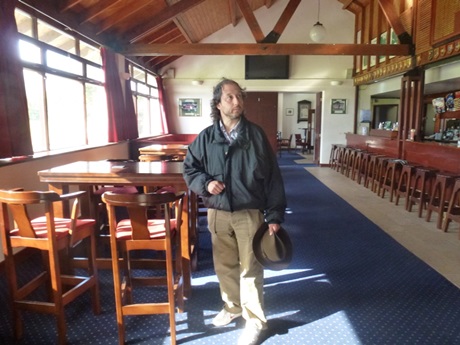 We arrived at Clontarf CC in glorious sunshine and I parked up for my first ever cricket match with a terrific view of the wicket, just beyond the boundary. Ged and Daisy wandered around to the pavilion, but by the time they got there, a shower of rain had started, so people were running around putting covers on the wicket. By all accounts the Clontarf club members and officials were very friendly with Ged and Daisy, making them feel most welcome as visitors. The locals told Ged and Daisy that Clontarf seconds were to play Leesh, weather permitting.
Ged had no idea where Leesh is and wondered why, if the club was playing against Leesh, that the score book said Laos, which is a small but beautiful landlocked country in South-East Asia where little cricket is played. But it seems that Laois (pronounced "Leesh" and not spelt Laos) is actually a small but beautiful landlocked county in Ireland where little cricket is played, so that all made sense.
Soon the rain stopped, the sun came out again, the covers came off and the game started. It all seemed very relaxed and yet taken seriously. One of the Clontarf players had to stand in for a missing umpire; Ged wondered whether he would be asked to do those duties, or perhaps to commentate on the match, as Ged is usually asked to do in his capacity as visiting dignitary when he visits remote, far-flung corners of the former British Empire.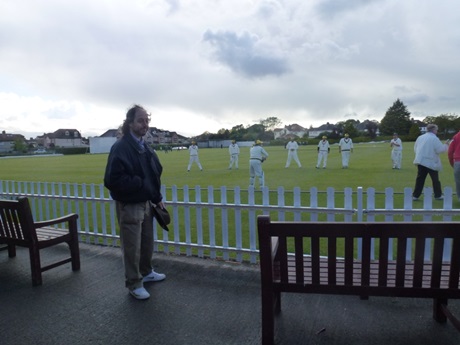 At the start of the third over, from the castle end, I noticed the Clontarf batsman eyeing up cow corner, which was exactly where I was fielding, just over the boundary. I was hoping to take a catch in the crowd or something, but then I saw Ged and Daisy running towards me and I guessed that they wanted to go.
"Ride like the wind, Dumbo," said Ged, while starting my engine. "Giddy-up, boy."
I should explain at this point that, unlike the bowler Mark Wood, who has an imaginary horse, I actually AM an imaginary horse, which is far more fun. Sometimes I'm an imaginary flying elephant instead, which is also fun.
Anyway, it transpired that Ged and Daisy had also spotted the batsman eying up cow corner and were worried that I might get injured attempting to catch the ball. As we all had a very early ferry to catch the next morning, they thought that we should cut and run before the batsman got a chance to pull and not need to run. Anyway, a few minutes after we got back to the hotel, it started to rain again, so I don't think that my first ever cricket match saw a result.
Send your match reports to king@kingcricket.co.uk. If it's a professional match, on no account mention the cricket itself. If it's an amateur match, feel free to go into excruciating detail.
3 Appeals
16
Bert writes:
The final day of the Edgbaston Test wasn't supposed to be that. In fact, at tea on day two, there was considerable doubt as to whether the final day would actually happen at all. Not that there wouldn't have been a final day, of course, that doesn't make sense. What I mean is that the day that ended up being the final day might not have happened. No, hold on, I don't mean not happened in an astronomical sense, that would be very strange. I meant that the final day of the Test match wouldn't have been played on the final day, having been played instead on what became known as, with hindsight, the penultimate day, not the final one.
Anyway, thanks mostly to the distinctly untypical efforts of some Australians, the final day did happen. This was good, because I had a ticket. No, not a ticket – a Corporate Hospitality Pass. This is better than a ticket. Tickets go in your pocket, Corporate Hospitality Passes go round your neck. This, together with a casual jacket and open-necked shirt, preferably stripy, mark you out as different from the hoi polloi. Inwardly I raged against the injustice in society that fosters such divisions, but as if reading my thoughts, a lady brought me a bacon sandwich. I relaxed.
At lunch a famous man stood up to introduce two other men, who then talked to us. The first man was missing a neck, which made me wonder where he hung his Corporate Hospitality Pass. The second and third men were also famous, probably more so than the first man, and representative of the two teams playing. They discussed the state of play, each adopting opposing and deliberately provocative stances from which they obdurately refused to shift. We learned nothing.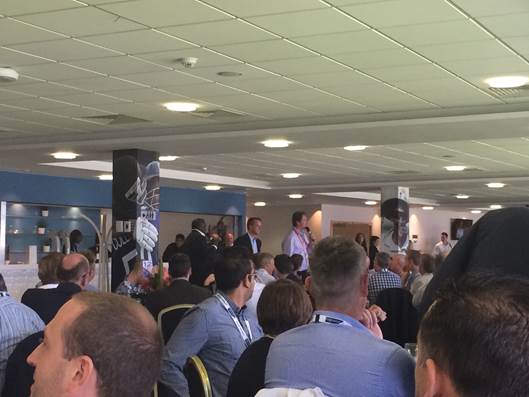 In the afternoon I chatted to the man next to me. I didn't know him, but apparently this sort of networking is what these corporate things are all about. Nice rhythm Hazelwood has got, I said. Yes, agreed the man. He looks like he could do well in English conditions, I offered. Quite, said the man. Perhaps he will come into it a bit more at Trent Bridge, I said, if the conditions favour a bit of lateral movement. Very possibly, said the man. By the way, he added, is this the first Test or have they already played some? I stopped talking to him.
I looked around the stand at my fellow pass-holders. I noticed that they were all just that – fellows. To a man, as it were. It would seem that to get a Corporate Hospitality Pass for the cricket, what you don't need is to be even vaguely interested in cricket. What you do need, however, is a cock and balls. I looked at my pass to see if there was a genitals code alongside the dress code. I checked my genitals to make sure I conformed. Always a nervy moment, but I was fine. It's not that there weren't any women there, just that all the women present were wearing identical pink dresses and handing out bacon sandwiches. They didn't seem as if they'd been selected for their cricket knowledge, but that might be unfair. I decided to protest at this state of affairs by increasing my rate of intake of champagne. That'll show 'em.
Ged was also at Edgbaston that day, but I couldn't get across to see him. I did try, but the man I asked wasn't sure why I would possibly want to leave the ignorant, misogynistic, smug, self-satisfied atmosphere of Corporate Hospitality to venture into the still-not-very-cheap seats. In any case, while my Corporate Hospitality Pass got me free drinks and food, it couldn't get me into the rest of the ground. I took this photo instead. Think of it as Where's Wally, but with Ged.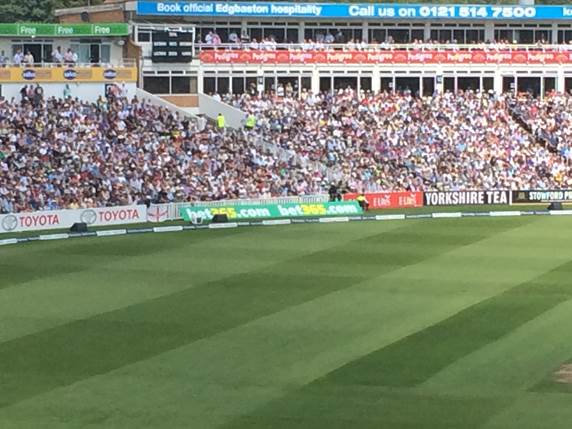 By the time I got back to New Street Station, it had become more blurred than it was in the morning. I've noticed this about stations, which I tend only to use for days at the cricket. I suspect that the constant movement of trains in and out smears reality around a bit. There's a burrito shop at New Street. I can recommend it highly, ideal for the busy man in a casual jacket with a pass round his neck who is properly drunk at five-thirty. Worth being aware, though, that in this place hot means hot.
There is a prize for the winner of the Spot-The-Ged Competition. Ged is banned from entry, of course. The prize is a week's holiday in Skegness at your own expense. There is also a bonus prize of a fish supper (in Skegness) for identifying the famous people in the first photo, all FOUR of them. The bottom photo might also contain some famous people, it's hard to tell, but if you spot any do be sure to let us know.
Send your match reports to king@kingcricket.co.uk. If it's a professional match, on no account mention the cricket itself. If it's an amateur match, feel free to go into excruciating detail.
16 Appeals
9
Ged writes:
"How did Charley the Gent Malloy get on, sitting on these infernal pavilion benches with his sore back when you came here with him the other week?" asked Daisy.
"We didn't stay here long," I replied. "Although his main beef was less the pain, more the fact that you had laughed at the email in which he described his unfortunate tumble."
"Why did you tell him I laughed?" rebuked Daisy.
"I broke down under interrogation," I said. "He made me swear that I didn't laugh, which I was honestly able to say. Then he asked me to swear that you didn't laugh either."
"If he hadn't wanted anyone to laugh, he shouldn't have written the email in comedic style, describing in detail how he prevented the laptop from getting any damage by taking the brunt of the fall himself in painful places," said Daisy. "Only a man!"
This time we both laughed.
"Anyway," Daisy continued. "These pavilion benches are agony even without a sore back. Why on earth do the gentlemen of the MCC put up with this, while at the same time they spend all that money making the rest of the seating at Lord's more comfortable?"
"That's what I always say," said the lady-half of an equally rebellious Middlesex couple sitting in front of us. "I make it more tolerable with these cushions," she continued, showing off a Middlesex-emblazoned cushion thing for rump and lower back. We discussed the contraption and other things besides with the nice couple for a while.
After seeing Daisy fidget again, I said: "You usually prefer to sit on the sun deck, Daisy, where the seating is a bit more comfy."
So we were off like a flash to the top deck. We found a very comfortable spot, right at the front of the turret furthest from the action. It had a suitable table for our picnic, as well as directors' chairs, which pleased Daisy, who had made the picnic that day. I hesitate to set out the delights of that picnic to you in detail, dear reader. My description might induce envy and upset, whereas my purpose is to provide you with levity and cheer. Suffice it to say that Daisy had pulled off a blinder that day.
Later, when the rain came, Daisy suggested we look at the new club shop behind the pavilion, which is controversially now stocking both Middlesex (MCCC) and Marylebone (MCC) cricket club goods and gimcrack. In particular, Daisy wanted to check out the lauded cushions. The delightful shop lady explained the various rump-support wares to Daisy, while I looked on the other side of the shop at cricket balls and other boy-stuff.
"There are Middlesex cushions and also MCC cushions, but you need to be a member of the MCC to buy the latter," Daisy called out to me.
"What's the difference between the two?" I asked.
"The MCC ones are twice as thick and twice as much money," said Daisy.
"So true in so many ways," I thought to myself.
9 Appeals
14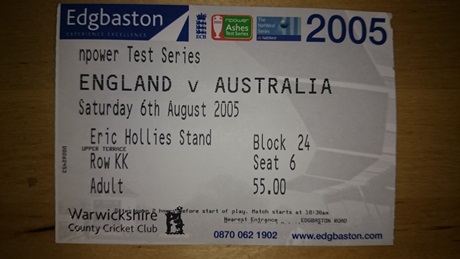 Dandy Dan writes:
The week before this Test, Will and I had been on a stag WEEK in Dublin. During the planning stages of this trip we had both been excited about this prospect. However, the reality was somewhat disappointing. The kindest thing to say is that the rest of our party weren't much fun. This culminated in a rather drunken Wednesday evening with Will awkwardly falling out with one of the other guys. The following day we sat on the sofa, quite hungover, watching the first day's play of the second Test whilst the rest of the stag party drove to the other side of Ireland. For us, it was the best day of the week.
We had tickets for the third day's play so flew into Birmingham on the Friday to meet Will's brother and associates. We immediately had more fun than on the stag.
Now despite being a fan since childhood, I had never been to a Test match before so day three was breaking my Test-watching virginity. I was obviously looking forward to this. The sands of time and the flow of ale have somewhat clouded my memory, but this is roughly what I can remember. Bullet point format might be easier here rather than trying to string these flashbacks together in any form of cohesive text.
The guy who I sold my spare ticket to made the rather poor decision to leave at lunchtime. To be fair, it wasn't looking good.
A couple of guys dressed as Eighties wrestlers took turns to power slam each other on the walkways. This was met with huge approval by members of the crowd.
I danced with a group of strangers at the end of the day's play behind the Hollies Stand repeatedly singing 'Michael Vaughan's Barmy Army!' (Is this too much cricket chat?) We really did spend a long time doing this.
Will got on an Aussie fan bus and started singing songs about Freddie.
Price made a rather poor decision to not join us on the town in Birmingham and got the train back to London (Possibly on demand of his then girlfriend).
I remember being in the Walkabout and Will having a chat with Jimmy.
The following day I undertook a frustrating journey on a train trying to get WAP signal on my phone to find out what was happening. Will had managed to get a ticket for day four and amusingly ended up sitting next to the Aussie fans whose bus he had serenaded the previous evening.
Alas, this was before the time of the camera phone so no digital memories were captured. Strangely, such a memorable day doesn't appear to have that many memories (well, within the boundaries of this reporting format). As first experiences of a Test match go however, this was quite good.
14 Appeals
7
Ged writes:
Considering that this was to be my first day of cricket in the new season, the day did not start well. The day actually started very badly. Around 5.30 in the morning we took a call from the Duchess of Castlebar, Daisy's mum, who had been hyperventilating for several minutes and had, in distress, called an ambulance. My first thought was that my day of cricket might be at serious risk. My second thought was that the Duchess might be at serious risk.
In fact, neither of the disaster scenarios came to pass. By the time we got to the Duchess's residence, 15 minutes after she called us, the wonderful ambulance crew were already there assessing her condition. After a thorough examination, the conclusion was that it was actually a minor turn and that she need not go to hospital unless she wanted to. She didn't want to.
I was off the hook and soon on my way, albeit an hour or more behind schedule at the end of all that. I decided to abandon my planned session at the gym before Lord's, instead resolving to walk rather than part-tube it. I got the bread and bagels from the bakers, made up the picnic, including the Richie Benaud-inspired Alaskan salmon, grabbed a fine bottle of Austrian Riesling from the fridge and set off on Shanks's pony to meet Charley "The Gent" Malloy at the Grace Gate.
"I've not had a good start to the day," said Charley.
"What happened?" I asked. "Considering that you are here and in one piece, I find it hard to believe that your start was worse than mine."
"I got out a really nice bottle of red wine, as promised… and forgot to put it in my bag. I realised my mistake when I was halfway here."
"No matter, Chas," I said. "We can get by with one bottle. I don't want to drink too much today, in any case."
"I was thinking, I can buy us both a glass of red in the pavilion at the end of the day," said Chas.
"Even better!" said I.
We took up position in Chas's favourite spot for the start of play; death row – right at the front of the pavilion. I told Chas what had befallen me that morning, which made him feel even worse, as I had made the picnic, forgotten nothing and even got to HQ pretty much at the appointed time.
Perhaps it was the psychological discomfort, or the ongoing pain from his recent tumble, or a combination of those and the regular physical torture from sitting on those infernal pavilion benches, regardless of any other cause… but Chas was soon keen to move to more comfy seating.
We followed the sun around the ground, eating our picnic in stages and eking out the sole bottle of wine. In the Grandstand, Chas asked: "So have you got me a ticket for the Thursday or Friday of the New Zealand test?"
"Afraid not, Chas," I said. "Daisy and I are off on holiday to Ireland, as you know. When the forms came around, I thought we might be still be away that week. Although we are actually now coming back on the Tuesday before the Test. Don't suppose there's anything worth buying at this stage for day one or two."
"Humph," said Chas. "I don't feel so bad about the wine now."
Although very early in the season, it was a gloriously sunny day. It was the kind of April day that makes your mouth water at the thought of a whole summer of cricket ahead. Even though you know that on your next visit you will be probably be wrapped up in woollies, with a hat, scarf and gloves. But in that moment, the whole summer is surely to be that kind of sunny day.
Yet the sun loses its strength early in the day, April time, so we started to feel cold and ventured back to the pavilion before stumps. The Bowler's Bar was the obvious place to take sanctuary. The Test match was on the TV and the County Championship match was out the window. "Glass of Rioja please, Chas, thanks very much". Bliss.
"Crikey," said Chas, carrying two glasses of Rioja and a fist full of change. "I handed over a score, expecting at least an Ayrton and some back." [Translation note: the gentleman proffered a £20 note, expecting the change to include at least a £10 note]
"Six pounds eighty a glass," said Chas, to make sure I understood his point. "You can get a whole bottle of wine for that."
"Indeed yes," I said. "Lidl Claret is said to change hands for as little as £5.99 a bottle. But that isn't fine MCC Rioja and it isn't served at the home of cricket with live first class cricket out the window and the Test match on yon telly."
"You are right," said Charley. "This is bliss."
There was a pause.
"…but six pounds eighty a glass."
7 Appeals
9
Chuck writes:
The last time Ireland played England in a one-day international in Malahide, Dublin, in 2013, I injured my back whilst emptying the dishwasher (at home, not in Malahide). This year, to avoid any such health and safety issues, I took myself along to the rematch instead, with a number of colleagues in tow. Having booked the tickets last autumn on the back of a cursory check of the long range weather forecast, we were somewhat disappointed in the run up to the match itself to see a storm brewing over Dublin, with its eye seemingly centred on the Malahide cricket club around noon on Friday. Oh well, we thought, they're never right about the weather, those forecasters.
On the morning of the match, it was dry, if a little overcast. I arrived at the entrance to the grounds just as the announcer, well, announced the arrival of President Higgins to greet the two teams. Thankfully, there was no ensuing crush from those outside the ground eager to see the President, although I was worried how he was going to clear the boundary. I took my seat at 10.45am precisely, alongside the first two of my colleagues who were already seated with a pint in either hand. They were proud to tell me they had been second in line at the bar at 10.30am, just behind an English supporter who was berating the staff for not serving him at 10.29am. Having vowed not to have a drink before 11am, I contented myself with a cup of tea and a couple of chocolate digestives, a packet of which I had brought along with me with a view to sharing, but they don't go with beer, seemingly. We agreed that the darkening clouds overhead suggested the forecasters might just have got it right for once.
One of a group of English supporters in front of us was wearing a full wet suit, snorkel and goggles as a commentary on the forecast. We gathered it was his stag weekend. They were ribbing one of the programme sellers, whose perm did make her look a little like 1970s-era Kevin Keegan, so there were some "I will love it if we beat them, love it!" type commentaries, which she either ignored or didn't understand. I had a pint. We were slagging off the announcer, who in between every over ended his unnecessary score updates (we can see the scoreboard, thank you) by saying, v-e-r-y s-l-o-w-l-y indeed, "… at this, the Royal London One Day Cricket International between Ireland and England at Malahide Cricket Club." I think he was worried that somebody might be at the wrong event.
We had all brought our sunglasses to encourage the weather to do its best but in the end they weren't much good against the rain, which arrived around 12.15-ish. We repaired to the beer tent and had another beer. Then we repaired to the food tent and had some food. I almost mastered the art of holding a pint, an umbrella, a burger and a basket of fries at the same time. Not quite the cuisine or the setting I had imagined for this, my first cricket match. We did spot the usual gang of Richie Benaud impersonators, who looked miserable enough wandering around the 'tented village' in their cream coloured linen jackets, although at least their wigs were keeping them dry, if somewhat itchy.
Eventually we decided to walk down to Malahide village for some proper drinks, knowing we'd only be a few minutes walk away for the inevitable resumption of play. However, the ridiculous and unnecessary abandonment of play around 3pm-ish intervened, although at least it meant that we didn't have to stir from the pub, which was just as well because it was really tipping down outside. We agreed that the guy in the wetsuit had the right idea. We got a train around 5pm and I walked a couple of miles home in the rain to clear my head, arriving just in time for dinner.
Saturday and Sunday turned out to be dry and warm, either one of which would have been just perfect for cricket. Bloody cricket administrators.
Send your match reports to king@kingcricket.co.uk. If it's a professional match, on no account mention the cricket itself. If it's an amateur match, feel free to go into excruciating detail.
9 Appeals
12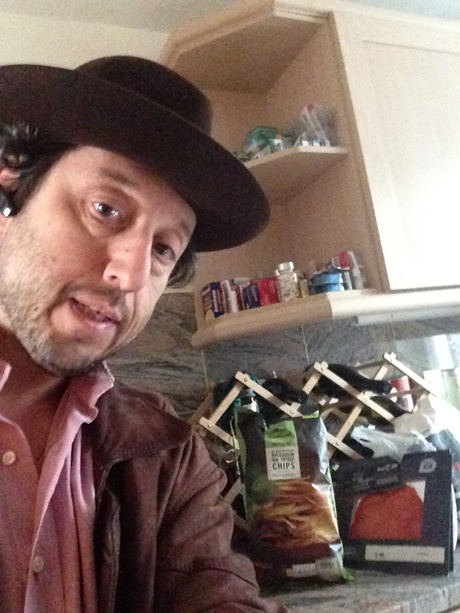 Ged writes:
It was a strange, bittersweet day, 10 April 2015. I woke up looking forward to buying in provisions ahead of Monday, which was to be my first day of cricket of the year – a traditional early season visit to Lord's with Charley The Gent Malloy. Indeed, this year the tradition continues even down to the same two teams at play. But soon after rising, I learnt that Richie Benaud had died that morning, which put rather a dampener on my spirits.
Still, by late afternoon I had got my work done and also had convinced myself that Richie would have wanted me to lift my spirits and prepare for the new cricket season, as planned. So I dug out my picnic bag, stuck the picnic crocks in the dishwasher along with the breakfast things, donned my new titfer and headed off in the direction of the shops.
Charley is very particular about his favourite picnic foods. A few years ago he became partial to my wild Alaskan smoked salmon bagels or sandwiches, but these last couple of years I could never find an example of the Pacific species of salmon in M&S or Waitrose. I raised this important matter with Daisy over the Easter and she informed me that Tesco seems to have bought up the entire UK import quota of the smoked stuff.
But could I bring myself to set foot in a Tesco Metro en route to the Mini M&S? And would such a place stock the cherished sockeye comestibles? As I got near to the grocery-store block, I asked myself "what would Richie have done?" and concluded that he would have given Tesco Metro a try in these circumstances. I entered. The place seemed quite unfamiliar – nothing like the Little Waitrose and Mini M&S. Where on earth might they put the wild Alaskan smoked salmon, if indeed they stock it at all in this size of branch?
I considered asking a member of staff, but then went through my "what would Richie have done?" thought process and concluded that Richie was a real man. Real men NEVER EVER ask directions, not even in Tesco Metro. Anyway, there was little or no sign of staff to be found. And then, as if guided by a celestial spirit, I happened upon the very aisle and the very refrigerated shelf in that aisle which contained the smoked variety of the Oncorhynchus in question (nerka). I considered letting out a bestial roar at that juncture, but that didn't feel very Richie. I also considered gently adjusting my trousers and shaking hands with a few nearby fielders, but that didn't seem quite right in Tesco. Had it been Waitrose, then handshakes and polite applause for the departing salmon (unfortunately caught) would have seemed perfectly in order.
Yet there was still one more fiendish ordeal for me to negotiate before I could progress to M&S for the rest of my shopping. The queue for the regular checkout was extensive, but the dreaded self- service checkout machines were unoccupied. What would Richie have done in this circumstance? "You have to take chances in this game of life," said my inner Richie. "Those machines are 90 per cent luck, 10 per cent skill, but don't try it without the 10 per cent skill."
I convinced myself that I must have at least 10 per cent of the skill required to operate such a machine, so put my basket down, bracing myself for the automated reprimands about bagging areas and unexpected objects. As if from nowhere, the one free-floating member of staff appeared beside me and asked me not to use that vacant machine but to use one of the others, because she needed to do something on "my" machine. This intervention seemed excessive, given that I only had one item to buy, but I was exiled to the other bank of vacant machines, to be robotically reproached by a machine other than the one of my choosing.
Yet I emerged having purchased my goods and progressed to M&S. There I bought the other items I needed and also bought some little packets of wheat-free tortilla chips. I always thought that tortilla chips were made of corn anyway, but apparently wheat free ones are a special thing. Old friends of me and Charley will know of a legendary shopping trip while at Edgbaston a few years ago, when Charley and I debated vociferously the relative virtues (in Charley's case) or evils (in my case) of Doritos as picnic food. "Like an old married couple rowing" was the cruel but perhaps not unfair description. Anyway, these little bags are not Doritos, they are M&S wheat free tortilla chips with lime zest etc. – which is an entirely different thing. Guaranteed to raise a continuity smile, if not a laugh, come Monday. Richie Benaud would have liked that touch.
Send your match reports to king@kingcricket.co.uk. If it's a professional match, on no account mention the cricket itself. If it's an amateur match, feel free to go into excruciating detail.
12 Appeals
6
Ged writes:
It was the last day of the cricket season and I was working that day – mostly from home. I got urgent stuff out of the way first thing, with a view to going to the gym mid to late morning, ahead of my one meeting of the day. I was hoping to catch some of the match at the gym while I toiled.
My plans to follow the match at the gym were confounded two-fold. Firstly, the seemingly endless gym refurbishment had moved on to the corner where the Sky equipment is kept, so there was no Sky Sports on the screens.
"No matter," I thought. "I can still hear the game on the Freeview radio channel."
I switched to channel 706. The screen said, "Cricket – Lancashire v Middlesex," but the sound was golf commentary. I tried some channel hopping and stuff but to no avail – golf on two BBC bloke channels and cricket on none – what was going on? It took about 10 minutes for someone to announce that they were broadcasting the golf in the cricket slot because there was rain and early lunch at Old Trafford.
My exercise completed, I went on to my one meeting of the day, which was lunch with Jessica – a journalist friend and neighbour of mine. We met through comedy writing "back in the day". She wanted to pick my brains about economics and finance, as she has been commissioned to give a talk to a bunch of German bankers, in German, on "whither finance?" or some such topic.
Jessica had offered to cook me lunch for this small slice of my brain, which seemed like a decent deal given the lack of inconvenience involved – I walk past her place on the way to and from the gym.
I informed her that nobody has any idea where the world of economics and finance is going, but some people are deluded enough to think that they do know what is going on. I also suggested that she relentlessly bash French bankers when talking to German bankers in London, much as I would advise her to bash German bankers if she were giving the talk to French bankers in London. This limited but sage advice was apparently plenty to justify a rather splendid home cooked lunch, centred around a very tasty chicken pie.
Rather than venture straight home, I checked the score and thought I had better get some grub in for after-theatre supper this evening, so I looped around via Big Al DeLarge's place to get some posh nosh – Daisy should expect nothing less. I tried to banter with Big Al about the cricket match, but he was unaware of it. Once I explained the context and current match position, he said that he would follow the match on the radio for the rest of the day. Still, he seemed more pre-occupied with the impending fate of his beloved Burnley FC and suggested, surprisingly cheerily, that relegation battles had become the story of his sporting life.
Home via the dry cleaners to collect my clean clobber from Irma la Douce. I don't think Irma is into cricket and today didn't seem the right day to broach the subject for the first time. Through my front door and on with the TV, but with so much to do and so little time left in the afternoon in which to do it, I thought I had better go straight up to the office and get work stuff done now, before the denouement of the match possibly became unavoidably thrilling.
It was hard to concentrate on work during this part of the day but I did my best, keeping half an eye on the Cricinfo score ticker. By the time I was ready for another break and went down for a cuppa, Charles Colvile was waffling on about some minor details of match post mortem, as the game had ended.
Daisy and I had been very much looking forward to theatre and after-theatre supper all week – indeed both proved to be excellent. But, as I said to Daisy when she arrived at the flat before the play, I'd probably had enough drama for one day already.
Send your match reports to king@kingcricket.co.uk. If it's a professional match, on no account mention the cricket itself. If it's an amateur match, feel free to go into excruciating detail.
6 Appeals
18
Sam writes:
My baby was due to enter the world on February 18th, just a few days into the tournament. Not ideal timing, but at least he wasn't interrupting The Ashes.
In the end, he was late. Five days after the scheduled start of his innings, at risk of being timed out, things began to stir. We were just getting used to the comfortable preliminary round, experimenting with fielding positions and fine-tuning the batting order, when the situation suddenly became a bit more serious. Flashing lights, pained expressions, screaming and shouting – we were now well and truly into the knockout stages.
You can do all the net practice you like, but out in the middle it's a different matter entirely. I proved myself a useful partner at home, picking up singles and keeping the partnership ticking along, but once in hospital I froze. All padded up with nowhere to go, I stood paralysed at the non-striker's end as my darling wife held firm in the face of an almighty onslaught. Time and again she went down; the physio told her to retire hurt, to accept a runner, but she would not budge. She stared back at the bowler with a determined glare, took a deep breath and re-marked her guard.
The moment of triumph, when it came, was strangely muted. Despite having had my eyes fixed on this life-changing landmark for so long, I hadn't really considered how I might react when it finally arrived. Should I look to the heavens and thank the Almighty? Get down on my knees and kiss the pitch? Or embark on a lap of honour, arms aloft, twirling my bat to the four corners of the stadium?
Nothing has been the same since. They say you never forget your first – a monkey off the back, an unsullied glimpse of a dazzling future, your place in the world secure forever. There will undoubtedly be low points – dips in form, tantrums, bad decisions, horrific collapses, entire days lost to bad weather. But a platform has been set, and now we must make hay while our son shines.
18 Appeals
9
Ged writes:
Late season, I always try to take in a day of county cricket with my old friend, Charley "The Gent" Malloy. It helps us both to prepare for the inevitable winter withdrawal symptoms to come. The cricket season starts earlier and ends later each year, yet it seems to fly by faster than ever, in the batting of an eyelid. Where do the months go?
In order to investigate this temporal phenomenon, which I shall paraphrase as 'in search of lost time,' I decided to add a large packet of madeleines to the picnic. I had bought a large pack of shop madeleines for day two of the Sri Lanka Test, but the combination of The Lord's Throdkin and other delicacies had rendered them unnecessary that day. Each time I looked at the packet subsequently, I wondered about shop madeleines with at least three months on the best before date and decided to leave them for another day. But that September expiration date was fast approaching. Besides, as any fool knows, when in search of lost time, what you need more than anything else is madeleines.
Charley and I spent the morning session in the pavilion, where we met a delightful chap, originally from Halifax, who lived in Sussex but preferred the delights of Lord's to those of Hove. He spent most of the time on his gadget looking at the Yorkshire score when he wasn't talking to us.
Both Charley and I were suffering under the inevitable back strain arising from the traditional pavilion benches, as explained in match reports passim. On this occasion, Charley had done his back gardening (side strain) while I had done my neck by falling face-first on the macadam while playing tennis with Daisy a few week's previously. We both agreed that the relative comfort and sunshine of the Mound Stand would please us more, as soon as lunch was called.
Once comfortable in The Mound, we tucked in to one of my traditional picnics. An especially good smoked salmon sandwich (Scottish, not Alaskan, although we debated whether the next batch of Scottish salmon would be a foreign import if the referendum next week were to go "yes"). A fine bottle of Kiwi Sauvignon Blanc. Some fresh fruit. A delightful prosciutto sandwich, which went well with the last of the wine.
Then, finally, the madeleines. No sooner had the crumbs touched my palate than a shudder ran through me and I stopped, intent upon the extraordinary thing that was happening to me. An exquisite pleasure had invaded my senses. Whence did it come? What did it mean? How could I seize and apprehend it?
And suddenly the memory revealed itself. The taste was that of the little piece of madeleine which on Sunday mornings nanny would hand me, after dressing me in my little sailor suit, when I went to say good morning to mama in her boudoir.
"Are you getting involuntary memory from these?" I asked.
"Yup," said Charley. "I can recall the rare occasions in that grim North-Eastern mining town, when mum would put a small pile of cakes on the table and the whole family would fight like wildcats in the hope that a few crumbs might touch yer palate."
"Hmm", I said. "I think we might both be getting false memory rather than involuntary memory from these shop madeleines. Must be the lack of lemon zest. Still, they're surprisingly good. I'll have another."
"Me too", said Charley.
Indeed, we ate three or four each and Charley took the remainder home to share with his wife and bairns. Bless.
Send your match reports to king@kingcricket.co.uk. If it's a professional match, on no account mention the cricket itself. If it's an amateur match, feel free to go into excruciating detail.
9 Appeals