Match report
13
Bert writes:
Some years ago, one of this site's regular correspondents set what I imagine he thought would be an all-time altitude record for match reporting. He claimed that the match was taking place at an altitude (and I quote) of 3,500m.
Now there is something rather strange about this, don't you think? What are the chances of that altitude being exactly 3,500m? Given that there are 100 possible combinations of digits for the final two places, what are the chances of them being zero-zero? In other words, what are the odds of this one thing happening out of 100 chances? I've done some calculating, and I can tell you that the odds are less than one in a billion, which is therefore zero.
What this means is that the reported altitude of 3,500m is almost certainly a rounding (or as it is also known, a lie). Now nobody would round down, so it is virtually certain that the actual altitude was less than 3,500m. Given that there are far more numbers less than, for example, 3,465m than there are between 3,465m and 3,500m, the odds heavily favour the actual altitude being lower than 3,465m.
So, to business. I've just been on my holidays, and I took this photo of Kapil Dev playing cricket at the Jungfraujoch, at an altitude of 3,466m. This is therefore the new altitude record for cricket match reporting on this website. Thank you very much.
Kapil Dev, being an international captain of much experience, had elected to bowl on a fairly green wicket. In a rather unusual move, he had set a field comprising almost entirely of extremely short mid-ons and mid-offs. John Embury was clearly finding it difficult to find his rhythm with such a field, as can be seen in this photo of him playing a rather flat-footed straight drive when nobody is bowling.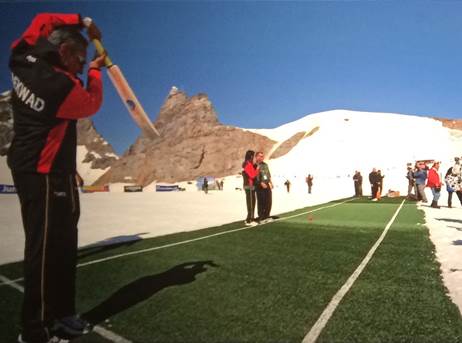 Chris Broad also played, hitting a six onto the glacier at one point. The six-over match was won by one of the teams – the one who scored more runs than the other.
Er, what else can I tell you. Oh, I know, Farokh Engineer was also playing. As were some other people.
Now I know that reporting of actual cricket is frowned upon in these parts, so some of you might have found the last few sentences somewhat disturbing. But never fear, because strictly speaking what I actually took was a photo of a photo of Kapil Dev playing cricket at the Jungfraujoch in August 2009, on a poster in the visitor tunnels. In 2009 I was on holiday in the Lake District, but I would certainly have been following the match closely if I'd known about it. In fact, I do recall having a vague feeling of slight cold one afternoon, which with hindsight can only have been due to a psychic connection with the crowd in the Berner Oberland.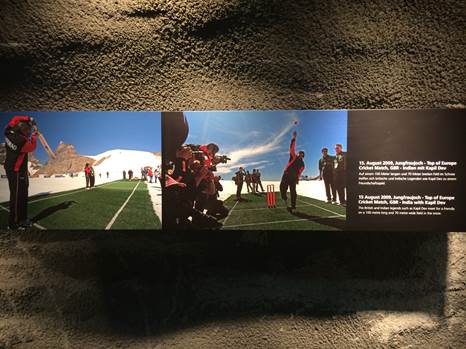 These details in no way invalidate the altitude record, which is mine forever.
13 Appeals
5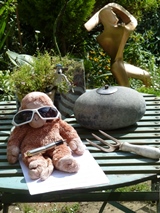 Bananarama Monkey-Face writes:
I'm originally from Pickering, so I always get very excited when I come up to North Yorkshire with Mum, Dad and brother Hippity. All the more exciting this time, because Mum and Dad had arranged, as part of their trip, to go to t'cricket at Scarborough for t'day.
It was first time for Mum and Dad, Scarborough cricket, but Hippity and I had been before some years ago, to report on a match for MTWD. I must warn you, if you click on that MTWD link, you might read stuff actually about cricket.
Mum and Dad were going to be all poncey in t'pavilion and that for most o't'day, so Hippity and I said we'd stay on t'bed in t'hotel. But once Mum and Dad set off for t'ground, we hot-footed it using a short cut across t'beach, got to t'ground before them and secreted ourselves in t'sizeable crowd.  We could get home before t'oldies same way, so they'd be none t'wiser.
Local folk in Scarborough are incredibly friendly and made us feel very welcome. There were lots of other youngsters there – school holidays had just started – so Hippity and I didn't look out of place.
Towards t'end of t'day's play, quite a lot of people from t'crowd left, apparently because t'local guest houses tend to serve tea (that's dinner to you snobby southerners) on t'dot of six-thirty. A swarm of local seagulls saw their opportunity and swooped in to scavenge t'scraps, over-running large swathes o't'outfield. For a while, seagulls stopped play, as t'umpires tried to get t'players to clear t'gulls, with only limited success. I think this photo will be allowed on King Cricket, as it was taken during that break in play. Anyroad, I don't like rules and think that you'll all like this picture.
Once t'umpires realised that t'gulls were staying for t'evening, they decided to resume play despite; soon after that it really was time for stumps.
Mum and Dad were in a cracking good mood in Scarborough before t'cricket and an even more cracking good mood after it – all of us were. We'd all thoroughly recommend a day of county cricket at Scarborough – it's t'dog's bollocks.
Send your match reports to king@kingcricket.co.uk. If it's a professional match, on no account mention the cricket itself. If it's an amateur match, feel free to go into excruciating detail.
5 Appeals
10
Tom writes:
I sort of watched the T20 World Cup final. Here is roughly what happened.
A motley crew of myself, and myself's pals William, Lottie and Millie assembled at my house for the purposes of watching something approximating cricket. This was convenient for me as it is closer to where I live than any of my comrades' dwellings. However, I do not have Sky television and thus do not have the channel briefly known as Sky Sports Ashes, now referred to as Sky Sports 2, which broadcasts international cricket.
After much deciding it was decided that we would decide how to decide how to watch the cricket over lunch. I have the good fortune to live opposite a very nice pub called the Highwayman, so we went there to eat. They didn't have Sky either. The Highwayman doesn't have a TV – it's not that sort of pub.
Three of us had roast beef and; I shan't name any names, but Millie had something off the regular weekday menu. We ordered extra roast potatoes. Always order extra roast potatoes.
We returned to my house, thus far puddingless, to indulge in some fruit pastille ice lollies. ESPN Cricinfo reliably informed us (mainly just me and William) that fifteen overs of the first innings had already been bowled and that some runs had probably been scored. This meant, for unobvious reasons, that it was time to take my housemates Teasle and Moppet – who happen to be dogs – for a walk. We just went for a quick one up the road, because Teasle cut her paw recently and we didn't want to aggravate the injury.
When we returned from the walk, we decided that it was such a nice day that we would have a drink in the garden. We had a drink in the garden (each, not between us). Between sips, the significance of the offside rule to cricket was explained for the benefit of some.
At the end of the day, some people went home, some people didn't, and some people were already at home. I think Barcelona won after Kevin Pietersen scored the winner.
Send your match reports to king@kingcricket.co.uk. If it's a professional match, on no account mention the cricket itself. If it's an amateur match, feel free to go into excruciating detail.
10 Appeals
9
Ged writes:
When Daisy and I go to a day of international cricket at Lord's these days, I apply for seats in the Lower Compton or Lower Edrich, as Daisy likes to hide from the sun. These seats are relatively unpopular with the county members, so we tend to get seats pretty close to the front of that stand, where the seats are just fine for both of our tastes.
I made a similar picnic to that for the lads' outing on the previous day, including the remainder of The Lord's Throdkin and two types of Banh Mi sandwiches – one small sandwich each traditional Hanoi style, with the remainder of the char siu from yesterday; another small sandwich each "Lord's Banh Mi" style, using the remainder of the Iberico streaky bacon, with mustard mayonnaise rather than sweet chilli sauce mayonnaise. Only at Lord's.
At lunch, Daisy and I went for a stroll round to the MCC members' side, where you get a higher class of floor piss in the gents' toilets and a higher class of soap in the hand wash dispensers. On leaving the toilet, I ran into Johnny Friendly, an MCC member whose family are all clients of Daisy's. Delighted to learn that Daisy was with me that day, we three gathered for a chat.
"What do you think of the cricket today?" asked Daisy.
"I've hardly seen any, frankly," said Johnny. "I was playing real tennis for most of the morning session. Have you ever seen real tennis?"
"Yes," I said. "At The Queen's Club".
"No," said Daisy.
"Would you like to see some?" asked Johnny.
"I can think of nothing that would give me more pleasure," said Daisy, sliding effortlessly into Jane Austin-style language for the occasion.
So within seconds we were sitting in the viewing area of a real tennis court, having the game explained to us patiently by Johnny Friendly. After about ten minutes of this, Daisy displayed her ability at Jane Austin-style manners by exclaiming: "This is so wonderful, I think I could delight in watching real tennis rather than cricket all afternoon. But we must allow you to return to your business, Mr Friendly. Thank you so very much indeed for your kindness." (Or words to that effect.)  Only at Lord's.
We had a bunch of beer-spilling posh boys in front of us – similar in many ways to the beer-spilling posh boys I had suffered behind my group the day before. Today's posh lot had also been mixing Champagne and beer to clear ill effect on their full-beer-skiff-balancing-skills. At least this time it wasn't my party but some other poor victims (a rather sweet, elderly couple as it happens) getting systemically soaked in beer.
The sweet couple were charming with gentle reproaches to the posh boys. "Please try not to spill the beer over us again this time." The day three posh boys were at least polite and apologetic to their victims and weren't talking so much rubbish about the cricket. They also had more staying power than the day two posh, sticking around all day.
Towards the end of the day, a few people in the Lower Compton, including our posh boys, produced some beer skiff snakes, much to the frustration of the stewards. Compared with Old Trafford and Edgbaston, these beer skiff snakes were pathetic in their length and potency, but that didn't stop some enterprising rascals commissioning a couple of young kids to "run the snakes" to frustrate the stewards, which was genuinely funny for a while. Nor did it stop the stewards from (idiotically) calling the police in at one point. Once that excitement had died down, the posh boys in front of us attempted a skiff snake with their multitudinous empty Champagne-flute-skiffs, with predictably hilarious results. Only at Lord's.
Send your match reports to king@kingcricket.co.uk. If it's a professional match, on no account mention the cricket itself. If it's an amateur match, feel free to go into excruciating detail.
9 Appeals
10
Ged writes
"I've been a complete idiot," said Big Al DeLarge when he phoned me on the Monday before the Test match. "I wrote the date down in the diary but not on the wall chart. My assistant has booked a holiday and I simply cannot take that day off now. I'm furious with myself and so sorry."
"Don't worry about it, Al," I said.
But I had promised the Lancastrian nephew-in-law, Escamillo Escapillo that he wasn't to be the token northerner – Big Al hails from Burnley – and I wasn't so confident that I could drum up a replacement. I sent an e-mail to King Cricket in the hope that he might fancy a day at HQ and be able to come at short notice, but (as I suspected) he did fancy such a day but was otherwise engaged.
As good fortune would have it, in the gym the next morning I ran into Jim Hawkins, with whom I have discussed cricket for the twenty-or-so years we have both been going to that place. I know he is self-employed, so I thought he might well be up for a day at Lord's on the off-chance.  He was free – problem solved – except for the fact that Jim is not a northerner.
"You'll be sitting with a strange assortment of folk," I said. "Me, my old friend, Charley "The Gent" Malloy and the Lancastrian nephew-in-law, Escamillo Escapillo, who was hoping for the company of a northerner, so you might be a bit of a disappointment for him."
"I love Test cricket at Lord's," said Jim. "I'd sit next to Hitler if need be."
"I don't think Test cricket would have quite been Hitler's bag," I said. "I can't imagine The Führer getting the idea of playing for the draw towards the end of five days of battle."
I had planned some culinary delights because Big Al loves his food – indeed by his own admission he can be "a bit cheffy". So I had made the Lord's Throdkin for this match and also produced some Hanoi-style Banh Mi sandwiches, as Big Al tends to like my take on oriental food. In any case, Daisy and I were also going to the match the next day and both ideas had the legs for two-days-worth of picnic.
The grub all went down very well with the lads. Escamillo-Escapillo remarked that his only previous encounter with throdkin had been gloopy, which he didn't think would work as picnic food.
Sitting behind us were some idiotic posh boys, talking rubbish about the cricket and getting incredibly drunk, incredibly early in the day. They had brought several bottles of Champagne, which presumably were gone by the first drinks interval, at which point they switched to buying beer.
Much of the beer they were buying during the second hour, they somehow contrived to spill over our feet and bags, but plenty was surviving and going down their throats. It was a very hot day and we were exposed to the sun in the Upper Compo. I wondered how the posh boys would cope with a whole day of such excess. Answer – they returned after lunch briefly and then disappeared for the rest of the day. In short, they couldn't cope.
Our group was certainly not quitting early, although Jim Hawkins got the call from his girlfriend around the time that stumps were supposed to be drawn and withdrew gracefully. The rest of us saw out the whole day and finished the last bottle of red as the sun set behind the Warner Stand. Bliss.
Send your match reports to king@kingcricket.co.uk. If it's a professional match, on no account mention the cricket itself. If it's an amateur match, feel free to go into excruciating detail.
10 Appeals
8
Sam writes:
They say organising a wedding is one of the most stressful things in life. Whoever they are, they have obviously never tried to stage a cricket match the following day.
Having completed the marital formalities and danced Saturday night into Sunday morning, friends and family gathered at my village club for a cobbled-together 15-over thrash. Fiercely competitive as ever, bride and groom acted as captains.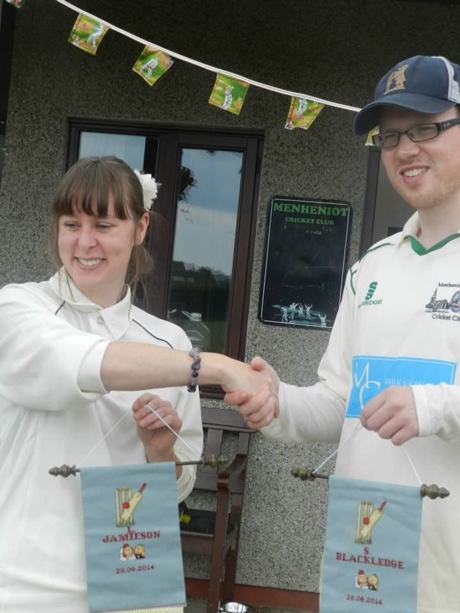 At 2pm we had about 18 players between us, some willing and some cajoled, of all ages from 7 to 82. There were four 'proper' cricketers who we hoped might hold things together if it all threatened to go a bit Wirrall CC.
Following a refreshments emergency – in the flurry of confetti and champagne the clotted cream had been left in the marital fridge – my wife won the toss and chose to bowl. I sent best man Oliver in to open with wicketkeeper Martin, as they were our only two batsmen of note. I could tell because they both had full kitbags. They even had helmets – not strictly necessary given the plastic ball.
Such was the inexperience of most other players, we agreed that the umpires would turn a blind eye to wides and no-balls. A good thing too – if strict league rules had been enforced we might still be out there now. Despite the bowlers exploring what was later generously described as "an unplayable line", we made a good start before Ollie was stumped, fishing for one which rolled down the corridor of uncertainty on the adjoining strip.
Young Billy went in at three. Billy never said a word to me all day, but did everything I asked of him without complaining. Think Jimmy Anderson in an oversized helmet and without the sulky attitude. The young man's unerring commitment to the cause was soon to prove his undoing.
Fancying a bit of a hit myself, I took the captain's prerogative and called Martin in on 39. Personal milestones have no place when victory is as stake, as my hero Michael Atherton will tell you. Graeme Hick might disagree.
I managed to connect with a few agricultural hoiks, wary of my double-jointed brother's spitting cobras and careful to keep my back foot planted with my dad ready to pounce behind the stumps. Keeping the family tradition alive, Billy drove a ball straight back to his mum Alice. Keen to get the strike, I yelled 'yes!', quickly followed by 'no!' and a lunge back to safety. But Billy had dutifully set off on the first call and we were now face to face. The perplexed lad was told he had to go, done up like a kipper by his skipper. Memories of Strauss v Hussain at Lord's flooded back. Maybe it will be the making of the kid.
The missing clotted cream had arrived and been correctly placed between jam and scones.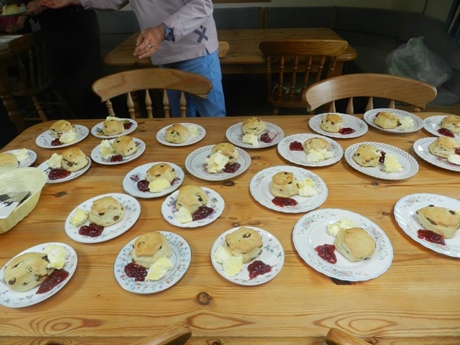 A more welcome sight was that of club stalwarts Zac and Tom strolling up for an afternoon net. I seized on them to bolster the line-ups for the second innings, a decision which would come back to haunt me.
Our ringers were no doubt perplexed by this motley crew of odd characters. My number five batsman Kate was dressed as a dog (I still don't know why), and several small children wandered around the square throughout, either putting themselves in funky field placings or trying to find their way back to the pavilion. Billy's little brother Joseph fielded for a few overs before stomping off with the words 'I don't even like cricket!' We all knew exactly how he felt.
Tom opened the run chase with my wife's uncle Kev, child-sized pads strapped to his hulking frame. He was soon trudging back, caught and bowled by Ollie. My dad, who played a good standard of club cricket once upon a time but now turns out just once a year, took the game away from us in a second-wicket stand with Tom.
Another family anecdote was forged as I bowled a rank long hop and dad pulled it hard straight to my octogenarian grandad at backward square leg. Luckily grandma had already left, but the thought of what she would say if he returned home with a nice round bruise on his bonce awoke his reflexes. He ducked and watched the missile race away for four.
I eventually got my old man, another short ball scooped to safe hands Zac on the boundary. My brother followed, caught close in, and suddenly we had a chance. I went on the attack, placing Ollie at slip. An edge went straight to him. He dropped it. I was fuming. Luckily the wedding had already happened, or I might have been looking for a new best man.
They say the first rule of marriage is learning how to lose. We had been man and wife for about 24 hours, but the post-match handshake and trophy presentation felt like a sign of things to come. I'm already plotting anniversary revenge.
Send your match reports to king@kingcricket.co.uk. If it's a professional match, on no account mention the cricket itself. If it's an amateur match, feel free to go into excruciating detail.

8 Appeals
14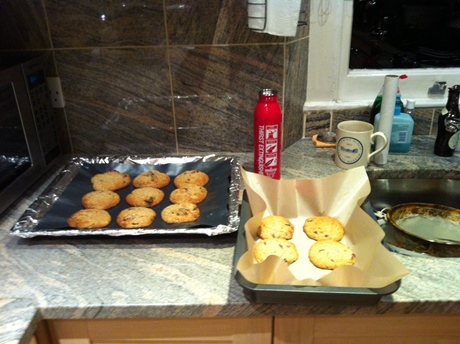 Ged writes:
"Am I to be the token Northerner?" asked the Lancastrian nephew-in-law, Escamillo Escapillo, viz our impending visit to the first Lord's Test of the 2014 season. "Not at all", I replied. "Big Al DeLarge is originally from Burnley".
But that got me thinking, what with Big Al being so fond of fine food – by his own admission he can be "a bit cheffy" – I'd need some imaginative ideas for the picnic. And what better, with two of our party being big-eating Lancys than to try cooking King Cricket's recommended dish – throdkin.
Now here's the thing. Try finding an actual recipe for throdkin on the web. The Wikipedia entry for throdkin provides clues, but not a recipe. Indeed, I could find no actual recipe for the dish anywhere on the web. Some chat, but no recipe.  I decided, from the clues, that throdkin is a form of baked oatmeal with bacon, so found a recipe for that and adapted it a little. My first attempt was gloopy, salty, only slightly sweet and impractical for cricket match picnic purposes.
The next thing that happened was bizarre and coincidental. A client of Daisy's recommended that she buy some Iberico streaky bacon from Lidgates for a posh carbonara pasta. Daisy went mad and ordered a kilo of the stuff. It made an amazing carbonara, by the way, but we needed no more than half a kilo for the pasta dish. "I'm having the rest of that bacon for the Lord's throdkin," I said, explaining my plan. Daisy thought I had taken leave of my senses, but a workable recipe for a throdkin-like delicacy was starting to form in my brain.
I switched my culinary thinking from "a variation on a theme of baked oatmeal" to "a variation on a theme of oatmeal cookies" and guessed, correctly, that I could find plenty of US recipes for bacon oatmeal cookies.  I experimented with some ordinary bacon and one of those recipes. Big tick in the box for simplicity, good texture and basic flavour, but the cookie was insanely sweet using the recommended quantities of brown sugar and white sugar in the cookie, plus icing sugar and maple syrup on top of the cookie. With that sort of sugar rush at breakfast each morning, no wonder American kids grab guns (readily accessible in all good US homes) and cause havoc with them on a regular basis.
But I had figured out the idea now.  Daisy tasted the sweet cookie and agreed that a poshed up, less sweet version of that recipe would work.  She just wanted nothing to do with it other than the eating.
Thus, "The Lord's Throdkin" was fully formed. I saw everything that I had made, and, behold, it was very good. So here it is: Ged Ladd's recipe for The Lord's Throdkin.
14 Appeals
8
Ged writes:
It seemed like an excellent plan when the idea was hatched.  In the absence of first class cricket between Middlesex and Essex for the foreseeable future, Charley "The Gent" Malloy and I would take in a day of second XI cricket between our two teams.  As luck would have it, the day that suited me and Charley for this cricketing purpose also suited Daisy and Mrs Malloy for an evening meal at the Daisy House. Charley and Mrs Malloy had still not seen the house, although Daisy has now been in situ there for nearly three years. The Malloys were especially keen to see the garden.
The only problem with that superb plan was, of course, the English weather. As the appointed day approached, the forecast got worse and worse. Indeed, the night before the event, I wrote to Charley saying, "not even my relentless cricket-watching optimism imagines that we'll get to see any cricket tomorrow. Let's take stock in the morning just in case, but I'm going to spend the rest of this evening building an ark and guess that I'll see you tomorrow evening at the house!"
It was pouring down when I woke up on the day and the forecast suggested that it would pretty much rain all day. I did a bit of work and sorted out some of those domestic things I never normally quite get around to sorting out unless/until they are emergencies. Naturally, just before I set off for the house in the early evening, the rain stopped and the sun even started to peep through.
At least the better evening weather enabled us to show Charley and Mrs Malloy the garden in the sunshine.  In preparation for the day at Radlett, Charley had bought a cricketing gingerbread man, which we admired for its aesthetic but all decided not to eat.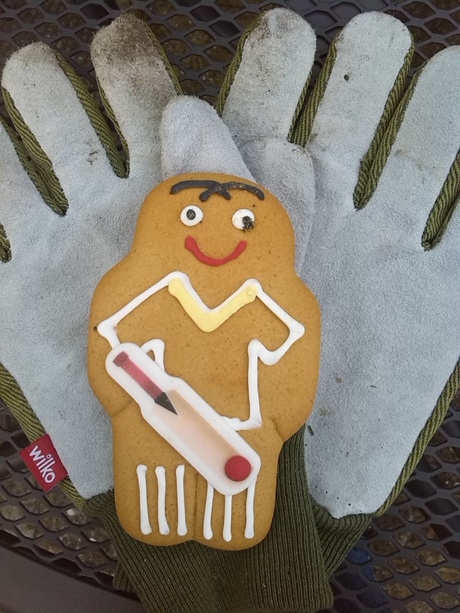 Instead, we enjoyed Daisy's superb Alaskan salmon baked in a banana leaf, with new potatoes, home-made tartare sauce and leaf salad.
After dinner, I played my baritone ukulele. Charley and Mrs Malloy listened like aficionados at a music concert – a little unnerving given the novelty of my hobby and my general lack of dexterity. "You don't move your fingers quite as much as, for example, Albert Lee did at the concert we went to the other week", said Charley. "Shhh, Charley", said Mrs Malloy, who then joined in when I sang I Guess It Doesn't Matter Any More. Charley stifled his coughing a couple of times and I saw tears welling up in his eyes at the sound of Leonard Cohen's Suzanne and Neil Young's Out On The Weekend.
Then Charley said: "I read a review of the latest Neil Young album the other day; it said that Young now sounds like an old man in a retirement home singing to himself before medication time." I took that comparative comment as a great compliment.
Send your match reports to king@kingcricket.co.uk and on no account mention the cricket itself.
8 Appeals
4
Ged writes:
Over Easter, the Lancastrian nephew-in-law, Escamillo Escapillo (EE) and I schemed to meet up for the Middlesex v Lancashire fixture at Lord's this year, even if we could only manage half-a-day off during the working week.
In the flurry of subsequent e-mails and texts, I said that I could do day three (Tuesday) and he agreed wholeheartedly that the afternoon of the 12th would be splendid.  So we agreed to meet at the Grace Gates at 3.30pm, entirely unaware of our miscommunication.
So, on the Monday afternoon, I was quietly minding my own business when I received a text from EE: "At the gate – where are you?…"
"…elsewhere – we agreed day 3 tuesday, no?  – really sorry – cannot get there today…"
"…and I cannot get there tomorrow, might be good for wednesday though – depends on work"
"yes – should be fine for me – try for that," I texted.
That Monday evening, Daisy remarked that such a diary confusion was a pretty poor show, "coming from two seemingly competent businessmen."  I thought that was a bit rich, given that she and the niece, Lavender, two seemingly competent professional women, are constantly getting their meeting times and locations messed-up.
By good fortune, my working week was, for once, really quite rejiggable. Equally by good fortune, it turned out that we'd have seen little (rain-interrupted) cricket, had we met up on either Monday or Tuesday afternoon. Wednesday, however, was set for glorious weather. By not such good fortune, though, Escamillo texted me on Wednesday morning: "No chance of cricket today – big deal on – see you saturday".
So I wandered over to Lord's on my own with a good book and some journal papers to read. I found a very quiet spot in the pavilion for the morning session. Sky had erected its camera platform on the middle balcony slightly to one side, leaving just a few unwanted seats on the wrong side for this match – north – right beside the Lancashire players' balcony. No-one else would choose to sit there. The book was about the financial/money system and whether alternatives might be better. Given the mess we're in, "better than the current system" seems a fairly low benchmark, so I think the answer is yes, although some of the suggested alternatives were quite daft.
After lunch, when the shade hits even that north side of the pavilion, I wandered around to the Mound Stand to continue my cricket watching and reading there in the sun. I ran into one of the old diehard fans who used to be a regular "Middlesex Till We Die" (MTWD) reader/contributor back in my day. We chatted a bit – agreeing that neither of us have visited MTWD for years. We also chatted about the internet radio commentary, which the nice fellow said he doesn't like much because they chat about all sorts and don't focus enough on the cricket. I thought about recommending the King Cricket match reports to him, but decided against.
I thought about returning to the pavilion as the end drew nigh, but it was so pleasant sitting in the early evening sunshine in the Mound Stand, I decided to stay put and make a speedy exit once stumps were drawn.
Escamillo and I got some serious ribbing from Lavender and Daisy about our temporal mishap, when the young couple came around for dinner shortly after. I tried to get my own back by playing my rendition of And It Stoned Me by Van Morrison on the baritone ukulele, but it must have been a truly beautiful sound because it brought tears to young Lavender's eyes. Escamillo Escapillo suggested that I try some Oasis numbers instead. Typical.
4 Appeals
15
Dandy Dan writes:
I recently met Price for a few beers for the first time since my rather glorious night of drinking with the England cricket team. The glory has somewhat been tainted by the events in the winter, but hey ho.
Anyway, I obviously wanted to talk about it again. I said to him my only regret was not actually having a chat with Cook instead of just sharing a nod at the urinals. Price wanted to know why I didn't even say hello. I told him that there was loud music in the toilet and that he had come in and gone to the end urinal.
This displeased Price. He is firmly of the view that the England cricket captain should have enough alpha-male confidence to stride into any toilet situation and take the urinal closest to the middle, not one at the end.
Now I'm not sure I agree with him 100 per cent, but I can certainly see where he is coming from. There have been a couple of moments recently where Alastair has not demonstrated 'pissing in the middle urinal' captaincy. For example, in the first Test, he should have said: 'Sorry Gary, I know it's a ton at Lords but I'm going to declare and have a few overs at them tonight'. But he didn't. He didn't piss in the middle urinal.
We're certainly going to be looking for examples of pissing in the middle urinal captaincy for the rest of our lives, and examples of where it should have been applied too. If I ever have the chance to meet Mike Brearley, I'll mention it to him. He might want to include it in a revised edition of The Art of Captaincy.
15 Appeals