Match report
14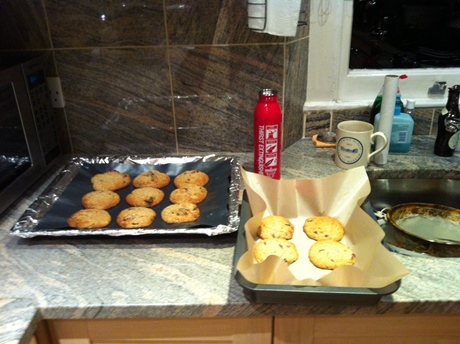 Ged writes:
"Am I to be the token Northerner?" asked the Lancastrian nephew-in-law, Escamillo Escapillo, viz our impending visit to the first Lord's Test of the 2014 season. "Not at all", I replied. "Big Al DeLarge is originally from Burnley".
But that got me thinking, what with Big Al being so fond of fine food – by his own admission he can be "a bit cheffy" – I'd need some imaginative ideas for the picnic. And what better, with two of our party being big-eating Lancys than to try cooking King Cricket's recommended dish – throdkin.
Now here's the thing. Try finding an actual recipe for throdkin on the web. The Wikipedia entry for throdkin provides clues, but not a recipe. Indeed, I could find no actual recipe for the dish anywhere on the web. Some chat, but no recipe.  I decided, from the clues, that throdkin is a form of baked oatmeal with bacon, so found a recipe for that and adapted it a little. My first attempt was gloopy, salty, only slightly sweet and impractical for cricket match picnic purposes.
The next thing that happened was bizarre and coincidental. A client of Daisy's recommended that she buy some Iberico streaky bacon from Lidgates for a posh carbonara pasta. Daisy went mad and ordered a kilo of the stuff. It made an amazing carbonara, by the way, but we needed no more than half a kilo for the pasta dish. "I'm having the rest of that bacon for the Lord's throdkin," I said, explaining my plan. Daisy thought I had taken leave of my senses, but a workable recipe for a throdkin-like delicacy was starting to form in my brain.
I switched my culinary thinking from "a variation on a theme of baked oatmeal" to "a variation on a theme of oatmeal cookies" and guessed, correctly, that I could find plenty of US recipes for bacon oatmeal cookies.  I experimented with some ordinary bacon and one of those recipes. Big tick in the box for simplicity, good texture and basic flavour, but the cookie was insanely sweet using the recommended quantities of brown sugar and white sugar in the cookie, plus icing sugar and maple syrup on top of the cookie. With that sort of sugar rush at breakfast each morning, no wonder American kids grab guns (readily accessible in all good US homes) and cause havoc with them on a regular basis.
But I had figured out the idea now.  Daisy tasted the sweet cookie and agreed that a poshed up, less sweet version of that recipe would work.  She just wanted nothing to do with it other than the eating.
Thus, "The Lord's Throdkin" was fully formed. I saw everything that I had made, and, behold, it was very good. So here it is: Ged Ladd's recipe for The Lord's Throdkin.
14 Appeals
8
Ged writes:
It seemed like an excellent plan when the idea was hatched.  In the absence of first class cricket between Middlesex and Essex for the foreseeable future, Charley "The Gent" Malloy and I would take in a day of second XI cricket between our two teams.  As luck would have it, the day that suited me and Charley for this cricketing purpose also suited Daisy and Mrs Malloy for an evening meal at the Daisy House. Charley and Mrs Malloy had still not seen the house, although Daisy has now been in situ there for nearly three years. The Malloys were especially keen to see the garden.
The only problem with that superb plan was, of course, the English weather. As the appointed day approached, the forecast got worse and worse. Indeed, the night before the event, I wrote to Charley saying, "not even my relentless cricket-watching optimism imagines that we'll get to see any cricket tomorrow. Let's take stock in the morning just in case, but I'm going to spend the rest of this evening building an ark and guess that I'll see you tomorrow evening at the house!"
It was pouring down when I woke up on the day and the forecast suggested that it would pretty much rain all day. I did a bit of work and sorted out some of those domestic things I never normally quite get around to sorting out unless/until they are emergencies. Naturally, just before I set off for the house in the early evening, the rain stopped and the sun even started to peep through.
At least the better evening weather enabled us to show Charley and Mrs Malloy the garden in the sunshine.  In preparation for the day at Radlett, Charley had bought a cricketing gingerbread man, which we admired for its aesthetic but all decided not to eat.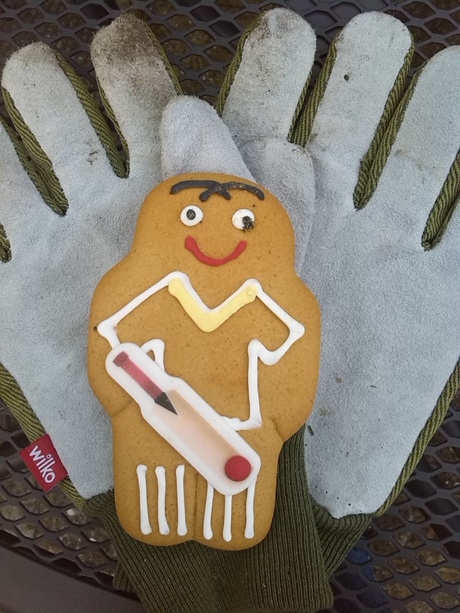 Instead, we enjoyed Daisy's superb Alaskan salmon baked in a banana leaf, with new potatoes, home-made tartare sauce and leaf salad.
After dinner, I played my baritone ukulele. Charley and Mrs Malloy listened like aficionados at a music concert – a little unnerving given the novelty of my hobby and my general lack of dexterity. "You don't move your fingers quite as much as, for example, Albert Lee did at the concert we went to the other week", said Charley. "Shhh, Charley", said Mrs Malloy, who then joined in when I sang I Guess It Doesn't Matter Any More. Charley stifled his coughing a couple of times and I saw tears welling up in his eyes at the sound of Leonard Cohen's Suzanne and Neil Young's Out On The Weekend.
Then Charley said: "I read a review of the latest Neil Young album the other day; it said that Young now sounds like an old man in a retirement home singing to himself before medication time." I took that comparative comment as a great compliment.
Send your match reports to king@kingcricket.co.uk and on no account mention the cricket itself.
8 Appeals
4
Ged writes:
Over Easter, the Lancastrian nephew-in-law, Escamillo Escapillo (EE) and I schemed to meet up for the Middlesex v Lancashire fixture at Lord's this year, even if we could only manage half-a-day off during the working week.
In the flurry of subsequent e-mails and texts, I said that I could do day three (Tuesday) and he agreed wholeheartedly that the afternoon of the 12th would be splendid.  So we agreed to meet at the Grace Gates at 3.30pm, entirely unaware of our miscommunication.
So, on the Monday afternoon, I was quietly minding my own business when I received a text from EE: "At the gate – where are you?…"
"…elsewhere – we agreed day 3 tuesday, no?  – really sorry – cannot get there today…"
"…and I cannot get there tomorrow, might be good for wednesday though – depends on work"
"yes – should be fine for me – try for that," I texted.
That Monday evening, Daisy remarked that such a diary confusion was a pretty poor show, "coming from two seemingly competent businessmen."  I thought that was a bit rich, given that she and the niece, Lavender, two seemingly competent professional women, are constantly getting their meeting times and locations messed-up.
By good fortune, my working week was, for once, really quite rejiggable. Equally by good fortune, it turned out that we'd have seen little (rain-interrupted) cricket, had we met up on either Monday or Tuesday afternoon. Wednesday, however, was set for glorious weather. By not such good fortune, though, Escamillo texted me on Wednesday morning: "No chance of cricket today – big deal on – see you saturday".
So I wandered over to Lord's on my own with a good book and some journal papers to read. I found a very quiet spot in the pavilion for the morning session. Sky had erected its camera platform on the middle balcony slightly to one side, leaving just a few unwanted seats on the wrong side for this match – north – right beside the Lancashire players' balcony. No-one else would choose to sit there. The book was about the financial/money system and whether alternatives might be better. Given the mess we're in, "better than the current system" seems a fairly low benchmark, so I think the answer is yes, although some of the suggested alternatives were quite daft.
After lunch, when the shade hits even that north side of the pavilion, I wandered around to the Mound Stand to continue my cricket watching and reading there in the sun. I ran into one of the old diehard fans who used to be a regular "Middlesex Till We Die" (MTWD) reader/contributor back in my day. We chatted a bit – agreeing that neither of us have visited MTWD for years. We also chatted about the internet radio commentary, which the nice fellow said he doesn't like much because they chat about all sorts and don't focus enough on the cricket. I thought about recommending the King Cricket match reports to him, but decided against.
I thought about returning to the pavilion as the end drew nigh, but it was so pleasant sitting in the early evening sunshine in the Mound Stand, I decided to stay put and make a speedy exit once stumps were drawn.
Escamillo and I got some serious ribbing from Lavender and Daisy about our temporal mishap, when the young couple came around for dinner shortly after. I tried to get my own back by playing my rendition of And It Stoned Me by Van Morrison on the baritone ukulele, but it must have been a truly beautiful sound because it brought tears to young Lavender's eyes. Escamillo Escapillo suggested that I try some Oasis numbers instead. Typical.
4 Appeals
15
Dandy Dan writes:
I recently met Price for a few beers for the first time since my rather glorious night of drinking with the England cricket team. The glory has somewhat been tainted by the events in the winter, but hey ho.
Anyway, I obviously wanted to talk about it again. I said to him my only regret was not actually having a chat with Cook instead of just sharing a nod at the urinals. Price wanted to know why I didn't even say hello. I told him that there was loud music in the toilet and that he had come in and gone to the end urinal.
This displeased Price. He is firmly of the view that the England cricket captain should have enough alpha-male confidence to stride into any toilet situation and take the urinal closest to the middle, not one at the end.
Now I'm not sure I agree with him 100 per cent, but I can certainly see where he is coming from. There have been a couple of moments recently where Alastair has not demonstrated 'pissing in the middle urinal' captaincy. For example, in the first Test, he should have said: 'Sorry Gary, I know it's a ton at Lords but I'm going to declare and have a few overs at them tonight'. But he didn't. He didn't piss in the middle urinal.
We're certainly going to be looking for examples of pissing in the middle urinal captaincy for the rest of our lives, and examples of where it should have been applied too. If I ever have the chance to meet Mike Brearley, I'll mention it to him. He might want to include it in a revised edition of The Art of Captaincy.
15 Appeals
16
Ged writes:
It was a beautiful sunny day, the London Underground was on strike and I had arranged to work from home.  I thought it would be a good idea to head over to Lord's, catch some of the cricket and catch up with an increasingly large pile of background reading. The office staff more than understood.
I had a conference call scheduled for 10am and a few other bits and pieces of work to get out of the way before heading off. The call went as planned, but a few other bits and pieces came in while I was on the call. By 12.30pm, I realised that any thought of the morning session was futile, other than grabbing a quick bite of lunch at home and listening to that last half hour before lunch on the Internet radio while I ate.
The walk from my front door to the Grace Gate takes me 37 minutes, give or take one minute or so.  That makes me 10% faster than Google Maps' (other route planning apps are available) expectations. Conveniently, if I leave home as soon as the umpires call lunch, I know from experience that I can get to Lord's on foot just before the resumption.
As I arrived at Lord's, one of the female stewards said: "Hello, nice to see you. Hurry up, they're just about ready to start," as if the officials and players had been waiting for my arrival. I grabbed a seat at the sunny end of the Warner just in time. I soon relocated to the Grandstand for a while, before moving on to catch the end of the session in the Pavilion.
I read some stuff on big data. I also pondered three philosophical questions on ethics in financial services, the answer to all of which, sadly, was almost certainly no. I watched some cricket. I chatted briefly with some Middlesex friends before walking home.
I spent roughly as much time walking as I spent at cricket.  It certainly was worth it.
16 Appeals
6
Ged writes:
Early season, I always try to take in a day of county cricket with my old friend, Charley "The Gent" Malloy.  It helps us both to get over those winter withdrawal symptoms.
Charley has his favourite place to sit at the start of play – "Death Row" right at the front of the Pavilion, close to but not exactly behind the wicket.  By 11am, we were well set in those seats.  But Charley was in thoughtful mood.
"I'm going to be very careful what I say today," said Charley.
"Why's that?" I asked.
"Because anything I say might end up in your King Cricket report, showing me to be the idiot and you to be the clever clogs."
"But if you don't say anything worth reporting at all, you know I'll just make stuff up," I replied.   Charley laughed.
We tucked in to smoked salmon rolls (whisky smoked – the salmon, not the rolls) with a nice little Alsatian Gewürztraminer to wash them down.  Later we had Parma ham in Ciabatta bread, washed down with a rather elegant albeit Australian Shiraz. Between and beyond those major courses were other tasty morsels, including honey-roasted cashews, savoury sesame cracker-thingies and some very jolly posh chocolate biscuits.
We discussed many things during the day, including my latest hobby, learning to play the baritone ukulele very badly; the latest exploits of Charley's son and daughter; together with news of the house refurbishment carried out by Charley and Mrs Malloy over the winter.
While in the Grandstand for the middle session of the day, a chap sitting with a friend not far behind us, started to snore, increasingly loudly as the session went on.  At tea, the sleeper woke up and said: "It really is lovely being with you here at Lord's," to which his mate replied: "I'm not sure you have entirely been with me."
"Hmm," said the sleeper. "I suppose I might have nodded off for a moment just then."
At stumps, Charley wondered what I might report about him on King Cricket. "Will you tell them about me trying to remember a pint-sized cricketer who looked a bit like that little-feller on the field of play, only to discover that the little feller was the very chap I was trying to remember?"
"Unlikely to make the cut", I replied.
"What about me not realising that your baritone ukulele is different from the instruments that George Formby used to play?" asked Charley.
"A mistake that many would make, Charley. The baritone ukulele is normally tuned as a four-stringed guitar, very different from the banjolele and conventional ukulele, but the distinction is a bit music-geeky."
Charley and I decided not to have a final, post-stumps drink – I needed to get home and prepare for work the next day. I walked home my usual route. Three minutes from home, as I'm walking past the Prince Edward, a loud voice rings out, "Ged Ladd" (or words to that effect).
"Stentor Baritone", (or words to that effect), I reply.  An extraordinary  coincidence for several reasons, not least because I had never heard of a baritone ukulele, let alone a Stentor Baritone ukulele, when I granted my MCC friend that KC pseudonym some years ago. Also because Stentor no longer lives on my patch, nor does the publisher chum, also an acquaintance of mine, with whom Stentor was having an outside drink, en route to a restaurant.
Being an MCC member, Stentor Baritone was naturally unaware that today had been a match day at Lord's, nor indeed that the cricket season had even begun.  Equally naturally, I joined the pair for a quick drink, leaving my work preparation to a slightly foggier, later hour.
6 Appeals
3
Raaj writes:
I didn't even want a mobile phone but, after conceding that my post-Uni employability depended upon being contactable, I caved in and took on my schoolboy cousin's chunky, silver Ericsson when he upgraded. It worked; I got a job and earned enough money to fly to Bombay to watch the first Test of the 2004 India v Australia series. I'll always call it Bombay because that's what it was when I first visited, as a 10 year old, in 1989. The trip was memorable because I got bad diarrhoea and we got stuck at the airport for ten hours on the way home.
Back to 2004. The plan was to stay with a cousin for two weeks, see the sights and watch the Test. My cousin, who had moved out there from London a few years beforehand, will tell you he gave me a bed, took me out and introduced me to his friends. That he did. However, if I tell you that 'taking me out' meant watching him work out at Gold's Gym, you'll get the idea that he didn't change his routine much to accommodate me. He didn't, in fact, change his routine at all.
At least I had the cricket to look forward to. There was talk of my cousin's friend sorting out some tickets and taking me down there but by day three I realised it wasn't going to happen and went on my own. The train down to the hilariously-named Wankhede was nice and cool because the carriages were open, like the ones on which American hobos hitch rides. The signage for the stations en-route was in the same style as the London Underground.
At the stadium I bought my 500 rupee (about a fiver) ticket and started queuing. They don't bother with unnecessary luxuries such as stewards in India – they hire moustachioed coppers with wooden sticks. It was a couple of these who told me I couldn't take my mobile phone into the stadium – a policy introduced after the Madrid train bombings. My protestations that extortionate roaming mobile charges meant that I couldn't afford to detonate anything via text message fell on deaf ears, so I asked them what I should do with my weapon of mass destruction. Amazingly, they had no suggestions. There wasn't even a bush nearby under which to hide it.
The phone was useless in India and worthless back home. It had served its purpose and I hadn't paid for it. I chucked it away and joined the enthralled masses inside, who were roaring as if it was a rollercoaster T20 rather than a Test.
Except for some reason I didn't do that. What I actually did was go back to my cousin's flat, mobile millstone in hand, and watched the match on TV. I'd like to say it was on principle but I don't think it was. As has been the case for much of my life, I didn't have a clue what I was doing or why.
The pitch was a raging turner, Michael Clarke took a six-for and Tendulkar made a sixty-something that was probably worth more than his many centuries. Australia were spun out cheaply and lost the match. It all happened on that third Day.
A few days later, deciding there was nothing else to detain me in the vibrant, exotic land of my forefathers, I cut short my stay and went home. Another sound decision, I'm sure you'll agree.
Send your match reports to king@kingcricket.co.uk and on no account mention the cricket itself.
3 Appeals
6
Ged writes:
Late season, I always try to take in a day of county cricket with my old friend, Charley "The Gent" Malloy.  It helps us both to prepare for the inevitable winter withdrawal symptoms to come.
By 11am we were already tucking in to sesame bagels stuffed with honey roasted salmon, washed down with a perfumed Austrian Riesling, quite similar to the German jobbie we had enjoyed at Chester-le-Street.
"I did something very metrosexual the other week; about as metrosexual as it gets", said Charley. "Can you guess what it was?"
I looked him up and down carefully. "Nothing to do with hair gel?" I stated, more than asked. "But was it something to do with clothes?"
"Listen carefully to what I said," instructed Charley. "I DID something. Not wore something. But that's more than enough clues. You have until one o'clock to guess what it was."
The puzzle felt a bit light on clues, actually, but then Charley is like a TV quiz master without quiz structure. And without prizes.
Around 12:15, Charley said to me: "Any idea yet what my uber-metrosexual deed was, then?"
"Still, pondering, Charley, still pondering," I said. "I've got until one o'clock anyway, so plenty of time to mull some more and possibly even watch some cricket just now."
"You've got until 12:30," said Charley. "That's when lunch is being taken."
"But you said one o'clock, Charley," I protested. "I forgot that everything is half-an-hour earlier in September," he replied.
Just shy of 12:30, I decided to distract Charley by changing the subject. "By the way, I saw your boy on the TV the other evening, right at the end of the Women's Ashes T20 at Chelmsford. I'm certain it was him." Charley smiled and said: "Yup, all three of us were there; the missus too. Well done. Had you worked it out all along then?"
"Worked it out? Oh…" I winked at Charley and secretly winked at myself.
"Taking the family to women's cricket. It doesn't get much more metrosexual than that, does it?" effused Charley. "Shame you spotted the boy on the TV – made my puzzle too easy for you."
"I'm sure you'll find something more challenging for next season, Charley," I replied.
6 Appeals
13
Dandy Dan writes:
As rain was forecast for most of the day, Becky and I decided not rush to Manchester. We both arrived at our salubrious Ibis hotel at lunchtime and headed immediately to the ground. Soon the rain returned so we spent the afternoon waiting to see this sign.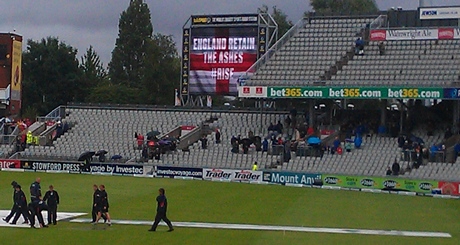 We cheered. Praying for rain gave me a nostalgic feeling for the 90s.
Leaving the ground we headed back to the hotel, showered and changed, and headed into the glittering Manchester evening. After dinner we went into a slightly wanky bar, but I couldn't be arsed traipsing around. We ordered a very nice bottle of Beaujolais and propped up the bar.
After a while, I needed the toilet. Whilst I was in the gentlemen's, Becky sent me a text that read 'Keep your shit together'. Puzzled by this as that's not normally the reason why you go to the toilet, I returned to the bar to be presented with the scene of KP, Ian Bell and Jonathan Trott sitting at the bar. I calmly returned to my seat.
Obviously, I texted everyone I knew.
Price responded telling me I should tell Trott he needed to pull his finger out and score some runs. After a couple of minutes I caught Trott and Bell's eye, nodded and raised a glass. They returned the gesture.
Fed up with playing it cool, Becky decided to go and chat to them. I duly followed suit. We were having a polite chat until Becky relayed Price's message. Jonathan seemed less than impressed. A few moments later, Ali Cook, Tim Bresnan, Graeme Swann and Jimmy walked in and joined us. The evening was going well. We ordered another bottle of Beaujolais.
From then on, things start to go a little bit hazy. I had a discussion with Graeme about Led Zeppelin (he thinks they're over rated. I corrected him. We agreed that Pink Floyd are very good). I'm sad to report that none of them had heard of/read King Cricket. Ian Bell was completely unaware of the Lord Megachief of Gold title that was bestowed upon him a couple of years ago. This saddened me.  I didn't get a chance to speak to Alastair. He didn't stay very long but we did share a nod when we were stood next to the urinals. Tim was as cheery as you'd expect him to be.
I asked Jimmy if he remembered a man dressed as a vagina screaming at him at Headingley. He did and found it most amusing when I told him it was me. He immediately turned to Graeme and said: "You remember that vagina I told you I saw at Headingley? That was him."
Graeme laughed and I felt somewhat proud that my antics had entered the England dressing room. Jimmy apologised to me for not coming over and signing my flaps and he bought me a drink to say sorry. I accepted his apology. Embarrassingly, I asked him for a photo. One of the bar staff did an excellent photobomb.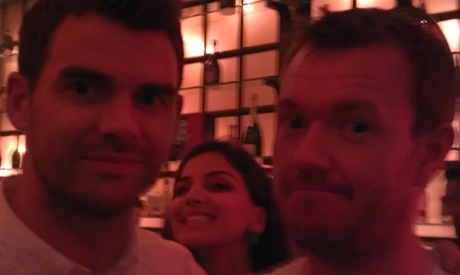 I told them that I had their names as table names at my wedding a couple weeks earlier. Graeme was pleased when I told him I had moved him up the order to number four (I lied). I didn't tell Jimmy that I had put love hearts next to his name. I didn't want him to think I was strange.
They decided to leave and Jimmy and Graeme invited us to join them in another bar. Not having any other plans, we accepted this offer.
I don't remember getting back to the hotel.
13 Appeals
13
Chuck writes:
I have never been to a cricket match of any description, level or length, even though it is my all time favourite sport. Despite that, or maybe because of it, I had absolutely no intention of attending the Ireland/England versus England/Ireland one-day international in Malahide in person. (Old Irish joke – why did Malahide? Because Terenure. I think it's in Ulysses. You probably need to be from Dublin.)
However, a back injury sustained the previous Sunday evening by bending down to put a fork into/take a fork out of (my memory on this point is hazy) the dishwasher, while my able-bodied and supple-backed wife and three children looked on, meant that I would have to track the proceedings on Cricinfo from home as opposed to doing so from work.
Yes: dilemma. It's easy skiving off work to follow the cricket scores, but how does one skive off being incapacitated to check the cricket scores?
By Tuesday, scarred by two nights of interrupted sleep, I didn't get around to checking the score until about the point where Porterfield had scored his century. This is because of the slow and deliberate moves required to locate the power cord to our laptop, which the children had cunningly hidden in a location most likely to trouble somebody with a chronic back problem.
Lunch was not a picnic: no smoked salmon or Champagne, no Pimm's or hot steak sandwiches from Jamie, no steak and kidney pie or pints of lager. No, lunch was a cheese toastie, two chocolate digestives and a cup of tea.
Given I was further scarred by the non rock 'n' roll nature of my back injury (I mean, what can people ask you? "So, what, were you putting on – a full power wash or an eco-cycle?"), my second visit to the ball-by-ball score was at the exciting point of England/Ireland being four wickets down with Morgan and Bopara at the crease.
Having by this time realised that the furtive joy of sneaking looks at the ball-by-ball coverage is more heightened in a work context (particularly a pressurised work situation) than a sick-at-home context, while also realising that the stage was set for a Morgan ton to do down his country of birth, my third and final look at Cricinfo coincided with Bopara's ton and Morgan's winning runs.
Didn't do much for my back, as you can imagine, which took a further seven (seven!) days to heal. On the positive side, we are getting a cat, which I can only hope will be conspicuously indifferent to cricket.
13 Appeals