Match report
1
Raaj writes:
I didn't even want a mobile phone but, after conceding that my post-Uni employability depended upon being contactable, I caved in and took on my schoolboy cousin's chunky, silver Ericsson when he upgraded. It worked; I got a job and earned enough money to fly to Bombay to watch the first Test of the 2004 India v Australia series. I'll always call it Bombay because that's what it was when I first visited, as a 10 year old, in 1989. The trip was memorable because I got bad diarrhoea and we got stuck at the airport for ten hours on the way home.
Back to 2004. The plan was to stay with a cousin for two weeks, see the sights and watch the Test. My cousin, who had moved out there from London a few years beforehand, will tell you he gave me a bed, took me out and introduced me to his friends. That he did. However, if I tell you that 'taking me out' meant watching him work out at Gold's Gym, you'll get the idea that he didn't change his routine much to accommodate me. He didn't, in fact, change his routine at all.
At least I had the cricket to look forward to. There was talk of my cousin's friend sorting out some tickets and taking me down there but by day three I realised it wasn't going to happen and went on my own. The train down to the hilariously-named Wankhede was nice and cool because the carriages were open, like the ones on which American hobos hitch rides. The signage for the stations en-route was in the same style as the London Underground.
At the stadium I bought my 500 rupee (about a fiver) ticket and started queuing. They don't bother with unnecessary luxuries such as stewards in India – they hire moustachioed coppers with wooden sticks. It was a couple of these who told me I couldn't take my mobile phone into the stadium – a policy introduced after the Madrid train bombings. My protestations that extortionate roaming mobile charges meant that I couldn't afford to detonate anything via text message fell on deaf ears, so I asked them what I should do with my weapon of mass destruction. Amazingly, they had no suggestions. There wasn't even a bush nearby under which to hide it.
The phone was useless in India and worthless back home. It had served its purpose and I hadn't paid for it. I chucked it away and joined the enthralled masses inside, who were roaring as if it was a rollercoaster T20 rather than a Test.
Except for some reason I didn't do that. What I actually did was go back to my cousin's flat, mobile millstone in hand, and watched the match on TV. I'd like to say it was on principle but I don't think it was. As has been the case for much of my life, I didn't have a clue what I was doing or why.
The pitch was a raging turner, Michael Clarke took a six-for and Tendulkar made a sixty-something that was probably worth more than his many centuries. Australia were spun out cheaply and lost the match. It all happened on that third Day.
A few days later, deciding there was nothing else to detain me in the vibrant, exotic land of my forefathers, I cut short my stay and went home. Another sound decision, I'm sure you'll agree.
Send your match reports to king@kingcricket.co.uk and on no account mention the cricket itself.
1 Appeal
6
Ged writes:
Late season, I always try to take in a day of county cricket with my old friend, Charley "The Gent" Malloy.  It helps us both to prepare for the inevitable winter withdrawal symptoms to come.
By 11am we were already tucking in to sesame bagels stuffed with honey roasted salmon, washed down with a perfumed Austrian Riesling, quite similar to the German jobbie we had enjoyed at Chester-le-Street.
"I did something very metrosexual the other week; about as metrosexual as it gets", said Charley. "Can you guess what it was?"
I looked him up and down carefully. "Nothing to do with hair gel?" I stated, more than asked. "But was it something to do with clothes?"
"Listen carefully to what I said," instructed Charley. "I DID something. Not wore something. But that's more than enough clues. You have until one o'clock to guess what it was."
The puzzle felt a bit light on clues, actually, but then Charley is like a TV quiz master without quiz structure. And without prizes.
Around 12:15, Charley said to me: "Any idea yet what my uber-metrosexual deed was, then?"
"Still, pondering, Charley, still pondering," I said. "I've got until one o'clock anyway, so plenty of time to mull some more and possibly even watch some cricket just now."
"You've got until 12:30," said Charley. "That's when lunch is being taken."
"But you said one o'clock, Charley," I protested. "I forgot that everything is half-an-hour earlier in September," he replied.
Just shy of 12:30, I decided to distract Charley by changing the subject. "By the way, I saw your boy on the TV the other evening, right at the end of the Women's Ashes T20 at Chelmsford. I'm certain it was him." Charley smiled and said: "Yup, all three of us were there; the missus too. Well done. Had you worked it out all along then?"
"Worked it out? Oh…" I winked at Charley and secretly winked at myself.
"Taking the family to women's cricket. It doesn't get much more metrosexual than that, does it?" effused Charley. "Shame you spotted the boy on the TV – made my puzzle too easy for you."
"I'm sure you'll find something more challenging for next season, Charley," I replied.
6 Appeals
13
Dandy Dan writes:
As rain was forecast for most of the day, Becky and I decided not rush to Manchester. We both arrived at our salubrious Ibis hotel at lunchtime and headed immediately to the ground. Soon the rain returned so we spent the afternoon waiting to see this sign.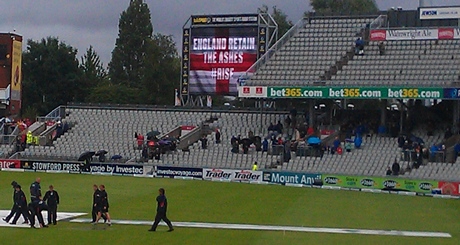 We cheered. Praying for rain gave me a nostalgic feeling for the 90s.
Leaving the ground we headed back to the hotel, showered and changed, and headed into the glittering Manchester evening. After dinner we went into a slightly wanky bar, but I couldn't be arsed traipsing around. We ordered a very nice bottle of Beaujolais and propped up the bar.
After a while, I needed the toilet. Whilst I was in the gentlemen's, Becky sent me a text that read 'Keep your shit together'. Puzzled by this as that's not normally the reason why you go to the toilet, I returned to the bar to be presented with the scene of KP, Ian Bell and Jonathan Trott sitting at the bar. I calmly returned to my seat.
Obviously, I texted everyone I knew.
Price responded telling me I should tell Trott he needed to pull his finger out and score some runs. After a couple of minutes I caught Trott and Bell's eye, nodded and raised a glass. They returned the gesture.
Fed up with playing it cool, Becky decided to go and chat to them. I duly followed suit. We were having a polite chat until Becky relayed Price's message. Jonathan seemed less than impressed. A few moments later, Ali Cook, Tim Bresnan, Graeme Swann and Jimmy walked in and joined us. The evening was going well. We ordered another bottle of Beaujolais.
From then on, things start to go a little bit hazy. I had a discussion with Graeme about Led Zeppelin (he thinks they're over rated. I corrected him. We agreed that Pink Floyd are very good). I'm sad to report that none of them had heard of/read King Cricket. Ian Bell was completely unaware of the Lord Megachief of Gold title that was bestowed upon him a couple of years ago. This saddened me.  I didn't get a chance to speak to Alastair. He didn't stay very long but we did share a nod when we were stood next to the urinals. Tim was as cheery as you'd expect him to be.
I asked Jimmy if he remembered a man dressed as a vagina screaming at him at Headingley. He did and found it most amusing when I told him it was me. He immediately turned to Graeme and said: "You remember that vagina I told you I saw at Headingley? That was him."
Graeme laughed and I felt somewhat proud that my antics had entered the England dressing room. Jimmy apologised to me for not coming over and signing my flaps and he bought me a drink to say sorry. I accepted his apology. Embarrassingly, I asked him for a photo. One of the bar staff did an excellent photobomb.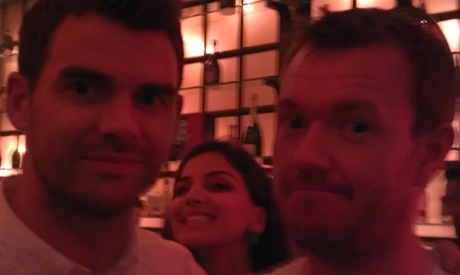 I told them that I had their names as table names at my wedding a couple weeks earlier. Graeme was pleased when I told him I had moved him up the order to number four (I lied). I didn't tell Jimmy that I had put love hearts next to his name. I didn't want him to think I was strange.
They decided to leave and Jimmy and Graeme invited us to join them in another bar. Not having any other plans, we accepted this offer.
I don't remember getting back to the hotel.
13 Appeals
13
Chuck writes:
I have never been to a cricket match of any description, level or length, even though it is my all time favourite sport. Despite that, or maybe because of it, I had absolutely no intention of attending the Ireland/England versus England/Ireland one-day international in Malahide in person. (Old Irish joke – why did Malahide? Because Terenure. I think it's in Ulysses. You probably need to be from Dublin.)
However, a back injury sustained the previous Sunday evening by bending down to put a fork into/take a fork out of (my memory on this point is hazy) the dishwasher, while my able-bodied and supple-backed wife and three children looked on, meant that I would have to track the proceedings on Cricinfo from home as opposed to doing so from work.
Yes: dilemma. It's easy skiving off work to follow the cricket scores, but how does one skive off being incapacitated to check the cricket scores?
By Tuesday, scarred by two nights of interrupted sleep, I didn't get around to checking the score until about the point where Porterfield had scored his century. This is because of the slow and deliberate moves required to locate the power cord to our laptop, which the children had cunningly hidden in a location most likely to trouble somebody with a chronic back problem.
Lunch was not a picnic: no smoked salmon or Champagne, no Pimm's or hot steak sandwiches from Jamie, no steak and kidney pie or pints of lager. No, lunch was a cheese toastie, two chocolate digestives and a cup of tea.
Given I was further scarred by the non rock 'n' roll nature of my back injury (I mean, what can people ask you? "So, what, were you putting on – a full power wash or an eco-cycle?"), my second visit to the ball-by-ball score was at the exciting point of England/Ireland being four wickets down with Morgan and Bopara at the crease.
Having by this time realised that the furtive joy of sneaking looks at the ball-by-ball coverage is more heightened in a work context (particularly a pressurised work situation) than a sick-at-home context, while also realising that the stage was set for a Morgan ton to do down his country of birth, my third and final look at Cricinfo coincided with Bopara's ton and Morgan's winning runs.
Didn't do much for my back, as you can imagine, which took a further seven (seven!) days to heal. On the positive side, we are getting a cat, which I can only hope will be conspicuously indifferent to cricket.
13 Appeals
9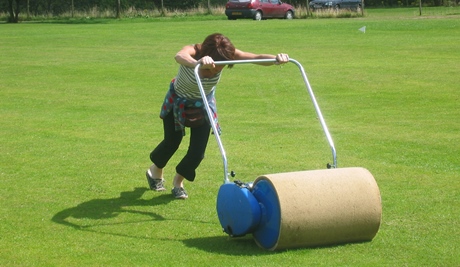 Ged writes:
A change of venue for the Heavy Rollers Test match jaunt this year; in the absence of a Test match at Edgbaston, we opted for the first three days at Chester-Le-Street.  Nigel "Father Barry" White, Charley "The Gent" Malloy and I were the three regular rollers on display. Daisy joined us to make a fourth, honorary roller.
Charley "The Gent" was especially skittish in the evenings.  He tried to sell Daisy several lines of bullshit about the Heavy Rollers' exploits over the years and also took great pride in explaining his persuasion techniques for getting exactly what he wants when booking rooms, tickets, nets etc.
"You have to find the right person in authority and then gently persuade them; it's just transactional analysis basically…"
By contrast, Nigel "Father Barry" White seemed quite subdued this year.  He seemed especially irked when Charley tried to convince Daisy that Nigel is a top rate singer. I had never heard Nigel sing.
When we met Nigel at the ground just before the start of day three, he seemed like a man transformed; pumped even. The first bars of Jerusalem blared through the speakers and Nigel was off, singing Jerusalem at full pelt. Impressive singing too – more "Barry White" than "Father Barry".
It transpired that Nigel's mood had been improved by none other than Jonathan Agnew. Nigel had come to the ground very early in order to buy a personally signed copy of Aggers' new cricket anthology at an early morning book signing. Back in the mists of time, Nigel had played in a friendly match against Aggers and had dropped him on his way to a rare 50. Aggers didn't remember batting that well, nor the specific drop, but he did remember playing in those friendly games and reminisced briefly with Nigel. Aggers then emblazoned Nigel's copy of the book: "To Nigel – even Geoffrey's mum would have caught that," which amused and pleased Nigel very much.
Charley "The Gent" studied the book and inscription very carefully before saying: "I fancy one of those for my boy. Let's go to the shop at lunch."
Of course, at lunch there was no actual Aggers book signing, but a pile of pre-signed copies available for purchase.
"I want a personal inscription," said Charley to a sales assistant, showing her Nigel's copy. "Look, he's inscribed my friend's copy. I want him to inscribe my copy too."
"I'm sorry," came the reply, "but Aggers isn't coming here again today.  He's in the media centre doing his radio work.  He's coming here for another book signing early tomorrow morning."
"But I'm not here tomorrow" said Charley. "I'll be on my way home. Please take my copy of the book up to the commentary box and get him to inscribe it for me there. It's the least you can do."
"I'm really sorry, I cannot help you there," came the predictable, polite reply.
"But it's for my boy." Charley cried. "Just a short inscription – corridor of uncertainty, grandmother, stick of rhubarb, something along those lines." Charley continued to mumble, with decreasing confidence and increasing incoherence.
Nigel counselled Charley kindly. "The metaphorical umpire has lifted the finger, Charley. Tuck your book under your arm and stride away from the metaphorical crease while you still have your dignity."  Nigel then gently guided Charley out of the shop and back to his seat.
Daisy couldn't stop laughing when Nigel related this sad tale. Charley disappeared a couple of times during the afternoon and evening sessions; we guessed he was returning to the shop to have another go. But Charley was silent about the matter for the rest of the day, so we suspect that his fail-safe persuasion techniques drew blanks that day. Goodness only knows what the shop staff made of Charley "The Gent," mumbling Boycott Bingo phrases while seeking Aggers' personal inscription.
9 Appeals
22
Dandy Dan writes:
The day started well. I got married.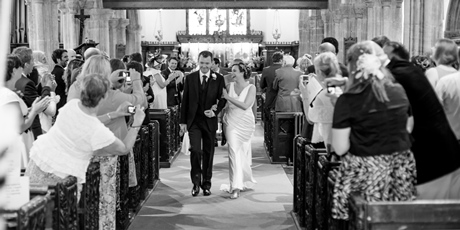 Once that was out of the way, the serious matters of the day came into view. I've been to a fair few weddings over the years and in most, I've found there to be a 'lull' at some point. Eager for this not to affect my own wedding, I asked The So Called Will to borrow a Kwik-Cricket set from his school and to organise a game.
The rules were established. Each batsman had one over to score as many runs as possible. Five runs would be deducted for each loss of wicket. Being the Groom, I went first.
Things started well. Will was bowling to me in a repetition of school holidays circa 1987-1995. A loose, short one outside off stump allowed me to execute a glorious back foot cut over Price's head for four.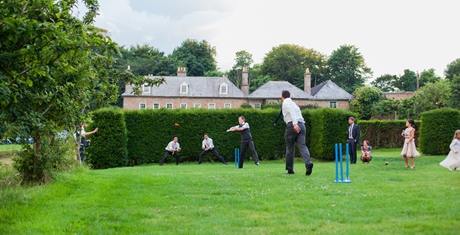 The next ball was flicked off my hips for an agreed two. A drive through mid-on brought four. Will was not enjoying this trip down memory lane. He focused on line and length. The right thing to do, but against a batsman in this sort of form, pointless. He was dispatched for a disputed six over his head.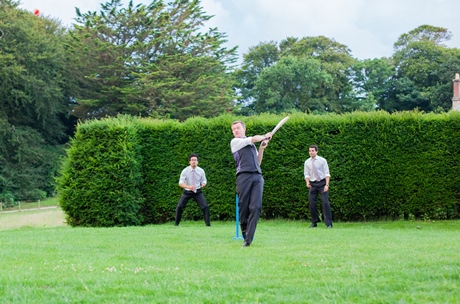 Another cut brought a further four with a solid block ending the over. The block was slightly exaggerated just to prove the point that I could do it. 20 runs off the over. I was pleased with that.
Will and I swapped places. I opened with some off spin. This immediately brought turn AND bounce. First two balls went straight through the gate but narrowly missed the stumps. The third brought an LBW appeal. Will insisted it was going down leg-side. Knowing there was no way he could now overtake my score (and in the interests of keeping the spirit of the day friendly) I agreed. Not wanting to show off, I finished the over with some medium-fast.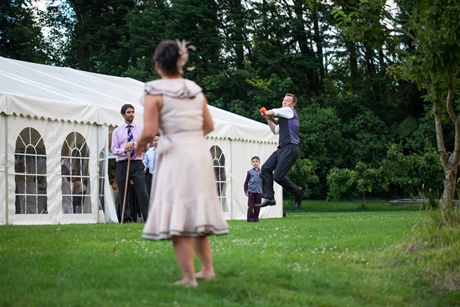 Others came and tried to better my score, but fittingly no one managed to. My new cousin Kieran (age eight) enjoyed fetching the ball for the 'grown-ups'. This was the first time I've ever found a use for a child at a wedding.
My Australian friend Kai (who had come all the way from Sydney for the event) did a pretty good job at being an Australian cricketer. He was rubbish. Mark J adopted the unusual fielding technique of biting on the plastic pint glass so he had two hands free for a catch. By doing this he had impressively kept both priorities at the top of his agenda.
Tanya got involved by first bravely adopting a position at silly mid-off and then later picking up the bat to face some of Gareth's slow-medium. Ben showed disappointing form with the ball it has to be said. Didn't see Price's innings alas, but I know he didn't score as many as me. My best man Rob was reasonably destructive with the plastic, although at one point he did hit my nephew's girlfriend with a wild pull. The ball fired straight into the side of her rib-cage. She didn't flinch. Good girl.
Inevitably, rain stopped play. However, we had to get on and have a first dance anyway so it all worked out well in the end.
22 Appeals
15
Ged writes:
An occasional, regular feature of my summer these days is to spend a few evenings with friends in the nets at the Lord's Indoor School.  29 July was our third net this year; me, Escamillo Escapillo and Charley "The Gent" Malloy.  I was sporting my new "Thirst Extinguisher" water flask, a recent gift from my American business partner, Timothy Tiberelli.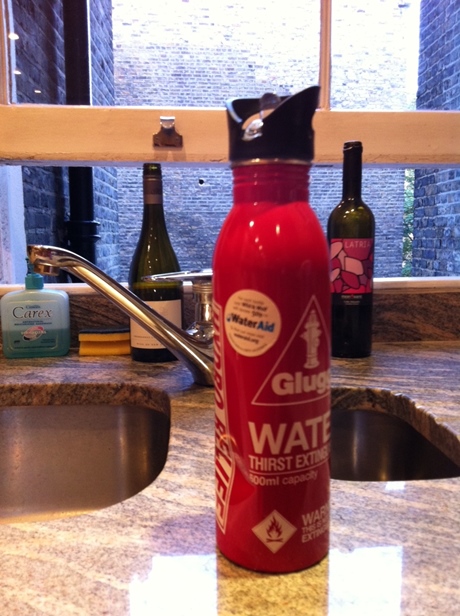 I batted first and did rather well by my own (rather low) standards. Charley "The Gent" can usually manage a bit of gentle swing and at times can beat me when he gets his line and length right, but there are usually a few to hit.  Escamillo Escapillo is a little more tricky; mostly left-arm orthodox spin but he can also bowl the Chinaman without changing his action enough for mere mortals like me to pick. The good news with his disguised Chinaman is that he rarely gets the length right, so you can usually avoid the worst  and sometimes get a real pie from the buffet. Still, if he keeps practising, Escamillo Escapillo could be Rochdale's answer to Simon Kerrigan.
Charley "The Gent" batted second. My slow right-arm dobblers were coming out nicely that evening, though I say so myself. It's mostly overspin in my case, which can make the flight a bit tricky but it also means that I need to bowl a little too full if the ball is to go on and hit the stumps. I managed to send quite a few six inches over middle and off stump, which counts for nothing of course. Charley proved his "sandpaper man" credentials in the main; few risks, few big shots, few chances.
When Charley marched off to remove his pads, I took a long swig of water from my thirst extinguisher, taking care to put the flask down again on the other side – off-side to the left-hander, so that only a near-perfect off drive through long off might go anywhere near the flask. First ball to Escamillo Escapillo, round the wicket to the left-hander, overadjusted for the angle, just a little too full, CERR-RRUNCH, straight into my brand new thirst extinguisher. Escamillo Escapillo could not stop laughing. "You could send down another hundred deliveries just like that one and I swear I couldn't hit that thing, even if my life depended on it".
Charley "The Gent" then spent the rest of he net complaining bitterly that Escamillo Escapillo was batting left-handed. This seemed very odd to me, as we have played a few matches together and spent many sessions in the nets bowling at eachother and Escamillo Escapillo always bats left-handed. After that disastrous first ball, I managed to get my lengths right around the wicket to the left-hander, whereas Charley got himself into such a lather about this left-handedness business, he hardly landed any in the right place.
After a very pleasant dinner together, when I got home, a few clicks on the trusty gizmo and I had ordered three more Thirst Extinguisher flasks. Daisy had already taken a shine to Timothy's gift and wanted one herself. And I clearly need to have at least one  spare on standby at all times, especially the way I bowl.
15 Appeals
7
Ged writes:
It was one of those ridiculously fortunate errors. November 2012. Ged Ladd, distracted, filled in his Lord's 2013 International Application Form carelessly, failed to tick the box which says "do not send tickets for lesser seats if the area I have chosen is not available". Naturally, the ticket office saw the error and thought, "aha, we can send this mug some shady Lower Compton tickets". I was none too pleased – last time I bought tickets down there we near froze to death in the cold breeze and I swore never to buy down there again.
Roll the clock forward eight months. Daisy was looking forward to a day at the Test, of course, but dreading a whole day in the blazing heat-wave sun. "Fear not", said Ged with his chivalrous voice. "I have bought tickets that are guaranteed to be shady and comparatively cool all day."
Very different crowd down there, in those shady lower stands, compared with the mix of stout yeoman county members and Hooray Henries in the uppers, roasting in the sun.  Next to us, to our left, a father and son combination from Perth – a little grumpy at first, then friendly around lunchtime, then grumpy again as the day wore on. To our right, a father and son combination from Bucks – both a little grumpy at first, then the son became increasingly friendly while the dad became increasingly, perhaps totally, blotto.
Naturally, I had prepared the picnic.  We made early headway into assorted delights of my picnic bag – some mini croissants from the artisanal bakery that kindly opened a couple of years ago no more than 50 yards from my front door.  Then on to the smoked trout bagels I had lovingly made, with my own special recipe horseradish butter and lemon.  The fishy delight needed white wine; I brought a very interesting little Austrian Riesling. Some readers might already know that Ged and Daisy abstain from all forms of Australian wine for the duration of Ashes series. I thought the choice of Austrian was a little edgy, but safe enough.
After the smoked trout, smoked eel bagels – embellished in similar fashion to the trout. Daisy found the eel a little rich for her taste.  Bags of pork scratchings and some portions of soft fruit kept the afternoon interesting enough in the food department.
I visited the poshly refurbished toilets at the Nursery End and then took what I thought would be a short stroll round the ground, stopping off at the Middlesex Office to check the county score (you try getting wireless or 3G reception at Lord's on a big match day). I was walking back past the pavilion when I bumped into a delightful old MCC member I knew through work years ago, who has been retired for several years.  I have spoken to him at Lord's more than once before on county days, but he seemed oblivious of that fact, a little merry and delighted to "discover" that I like cricket.  Wanting neither to disabuse him nor diss him, I stuck around for the same conversation he and I have had about three times now; but on this occasion it was a Test match, so I suppose that made that conversation so much more important and pleasant this time around.
When I returned to my seat, I found Daisy making a start on the home made shortbread (not home made by me, you understand) which I found a little impolite – perhaps even disloyal.  "I waited and waited until I could wait no longer", was her excuse and who could disagree with that?
Later, the ham sandwiches on tomato bread encouraged us to launch into the bottle of red – a jolly little Tuscan number.  The delightful day at Lord's came to an end – we wandered  home – we fell asleep ludicrously early and then woke up ludicrously early the next day.
7 Appeals
31
Sam writes:
Birmingham gets a lot of stick. I've never been sure why. I think it's because nobody really knows what it is. Is it north or south? Is it Britain's second city or just a collection of old car factories? The comedy accent doesn't help, nor does the list of famous people hailing from the area. Jasper Carrot, Noddy Holder, Alan Titchmarsh, Karren Brady – although she was actually born in London, but you get my drift.
Anyway, I grew up in Birmingham and most of my family are still there, despite their best efforts. So I still have a soft spot for the place, and Edgbaston in particular, where I spent much of my youth freezing my nads off watching Warwickshire win yet another County Championship.
Edgbaston doesn't have any Test matches this year, for the first time in living memory. So the powers that be obviously decided to make amends by giving them a load of matches in the Champions Trophy. I went to the first one. We were sat in the Eric Hollies stand, otherwise known as the "popular" stand. Which means it's where all the drunken idiots in fancy dress congregate.
In front of us was a group of men, most of whom were dressed in overalls and hard hats and one in a long blue dress and necklace. It was only when he turned around and revealed his mask that I realised they were Thatcher and the miners.
We saw a couple dressed as Mr Blobby (he was a novelty 1990s TV character, kids. Ask your dad). There were also a group of extremely irritating people sitting near us who didn't seem remotely interested in the action. At one point the most annoying man had his trousers pulled down by the others. They got steadily more intoxicated and didn't come back after the break.
At the interval, we went to the shop. It was kitted out just like the rest of the ground – entirely in bland ICC branding. It was almost like someone had erased Warwickshire from the history of the sport.
My cousin was playing Kwik Cricket on the outfield. I couldn't really make him out. I later discovered he had also been one of the mascots standing in front of the Australia players during the national anthems.
Having been behind the stand for the first innings, the sun finally made an appearance in the afternoon. We spent most of the remainder of the game unsure whether we were too hot or too cold. Every removal of cardigan or jumper seemed to prompt a re-appearance of the sun, and vice-versa.
As the end of the match approached (sorry die-hard KC fans, cricket mention alert) Nasser Hussain stood waiting at the boundary edge, poised for his presentation duties. As the last-wicket partnership dragged on he just stood there, clipboard and microphone in hand. Nobody spoke to him for what seemed like an eternity. He kept glancing at his notes and shuffling his papers, as if he was standing in the corner of a bar pretending he hadn't been stood up.
Then we went home and played badminton in the garden.
Send your match reports to king@kingcricket.co.uk and on no account mention the cricket itself.
31 Appeals
21
Ged writes:
An annual tradition in my business is to have a day of County Championship cricket at Lord's with Uncail Micheál, my Irish-American business partner.  Uncail Micheál is a real stickler for spelling and grammar.  Indeed, he has specifically become a stickler for English spelling and grammar; he was horrified when our last book was "translated" into American spelling and grammar for joint publication on both sides of the pond.
Uncail Micheál especially berates staff if they confuse the name spellings "Lloyds" (Lloyds TSB, the bank) with "Lloyd's" (Lloyd's of London, the insurance thingamajig), as that is not only a confusing misspelling but also an apostrophe aberration.
The early morning before one of our cricket days out tends to be a fairly fraught affair, with both of us trying to clear any urgent overnight e-mail workload before setting off for the ground.  I fired off what I thought would be my final e-mail to Uncail Micheál, but it seemed I had missed him, as seconds later I received an out of office reply:
Out of the office at Lords… "Many Continentals think life is a game; the English think cricket is a game."  George Mikes.
I love that Mikes line; one of my favourites.  Mikes is pronounced Mik-esh by the way, in case you didn't know.  But Hell's bells – Uncail Micheál has spelt Lord's incorrectly – without the apostrophe.  What will people think?  Can we avert this potential apostrophe catastrophe?  Thinking quickly, I rapidly e-mail Uncail Micheál back, pointing out the potential disaster, copying in his assistant and hoping for the best.
We were in luck.  Uncail Micheál hadn't yet actually left his desk, so he corrected his out of office reply and informed me that linguistic-Armageddon had been averted.  Thus we both set off for Lord's relieved and ready for our day at cricket.
I am delighted to report that the rest of the day passed without further incident.
Send your match reports to king@kingcricket.co.uk and on no account mention the cricket itself.
21 Appeals