2
minute read
Bert writes:
Pride comes before a fall, they say. But surely that's obvious. If you're ever going to be proud, the time to do it is definitely BEFORE a fall. There's nothing to be proud about AFTER the fall – you're too busy being embarrassed and having grazed knees.
With that in mind, here is another graph: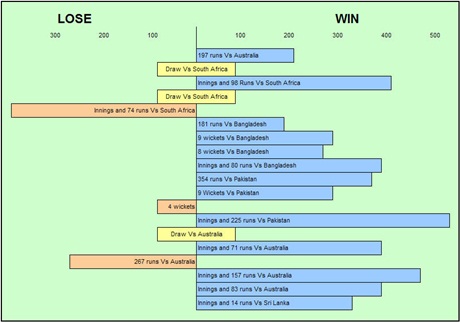 This one shows England's results in their last 19 Test matches. 19 is the number that all statisticians would naturally use in circumstances like this.
Each wicket you win by is worth 30 runs, so an innings win adds 300 to the result. I've used the average score for a Test match innings to calculate this, which as everyone knows is 300 (it was 300 in the Eighties, and that's good enough for me).
In the last Ashes I thought that Australia had become the new England. They had a selection policy that caused more harm than good, their best bowler was decent only 20 per cent of the time, awful otherwise, and they always seemed to be carrying a ready-made batting collapse with them everywhere they went.
However, it turns out from this graph that England is the new Australia. Just look at it! The average win is by 333! England's past was one of eking out an advantage, then giving it up like the small kid in the playground gives up his sweets. Right now they are the school bully, ready with a swift kick to the balls as soon as their opponent stumbles.
This week, they won a Test match by doing nothing more than frightening their opponents into submission. Swann is the new Warne. Anderson is the new McGrath. Trott is the new Hussey (bizarrely high Test average but you wouldn't want to be sat next to him at a dinner party). We haven't found a new Ponting yet, but I'm sure when some brainless shouting at an umpire is needed someone will step up to the mark.