< 1
minute read
Bert writes:
Ged has proved that life is better explained by diagrams, so I've made a graph.
It shows the innings scores from this Ashes series. The fall of wickets is indicated by numbers. I've used blue for England because they play ODIs in blue, and yellow for Australia because they play all their sports in green and yellow.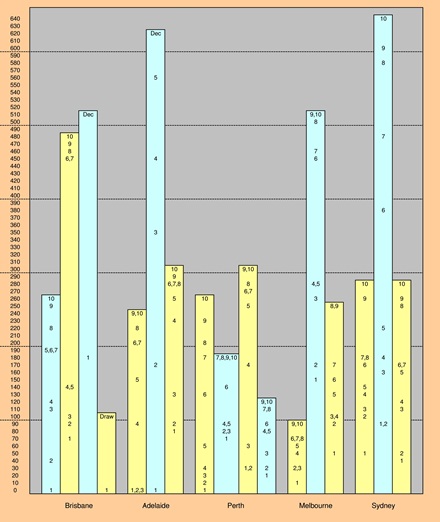 It is a thing of beauty, possibly the single most beautiful image ever created that doesn't involve a cricketer straddling a hairy pig. When it was completed, I had a little cry. I followed that with twenty-five minutes of laughing.
Analysis abounds, but my favourite is that every time England reached 300, they also reached 500. In fact, Australia took only six wickets in that range in the whole series.
This is in diagram form what KC said the other day (or last year, depending on when he posts this) about England being ruthless.
My other best graph-fact is that if you examine it carefully you can just about see that Australia are rubbish.
No doubt people can find their own little favourite bits. That's the thing about great art – it has something for everyone.